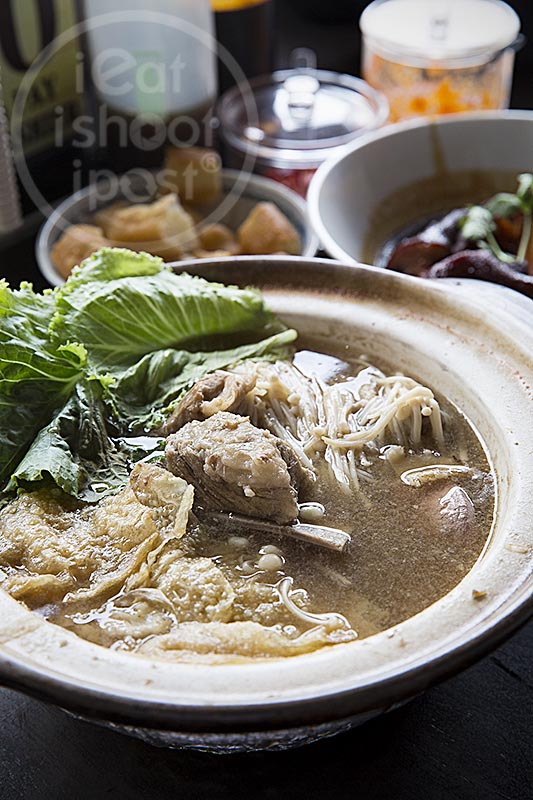 I met Jabez Tan 2 years ago when he started selling Bak Kut Teh at Jalan Kayu. He had just started out at the time, so his Bak Kut Teh still needed a bit of tweaking before I was prepared to recommend it on the blog. What had attracted me to the stall was the background story which you might have come across. It is one of those inspiring stories of a bad boy who spent many years in and out of prison who finally decided to make good. Much as I would have liked to help promote the fledgling stall then, the food was still not up to par. So we left him with some suggestions on how he could improve on the dishes before we re-visited again.
I am glad that Jabez is still at it two years later and that his Bak Kut Teh had improved markedly. This time round, we had a really good meal of Bak Kut Teh which I felt had the right balance of quality, environment and price that makes one happy to go back to again and again. The dishes here are best described as "Darth Vaderish" – black, bold, baritone. Don't play play, you are going to be tempted by dark side of the sauce. This is the kind of food that uses strong, unmitigated flavours that would make you feel like you are eating in a coffeshop in Malaysia.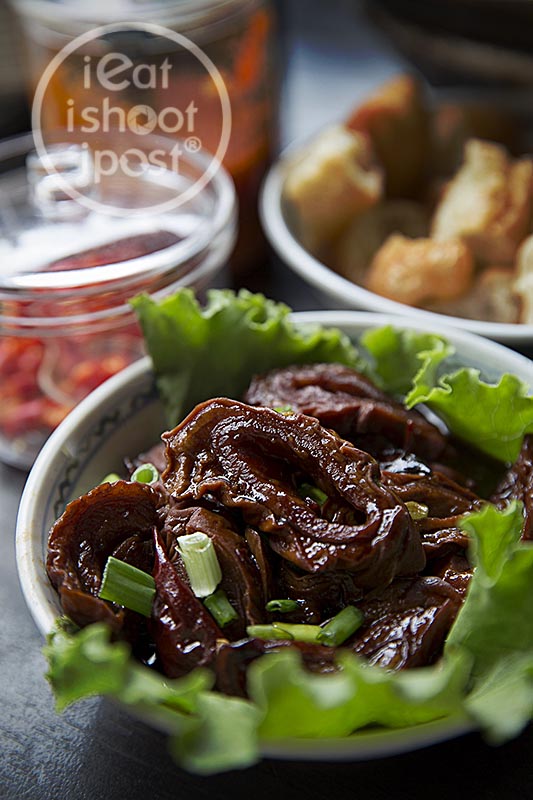 Jabez describes his Bak Kut Teh as a mix of both Malaysian and Singapore flavours. This has been his style since he started and he has been working on getting the right balance of herbs to suit the Singaporean palate. I am sure that those of us who have traveled to Malaysia to eat Bak Kut Teh will immediately spot the tau kee (bean curd skin) which is so characteristic of the Bak Kut Teh sold there.
The soup is good, though it's probably not herbal enough for those looking for a true Malaysian style Bak Kut Teh. It is actually done on purpose as Jabez did not want to mask the natural flavours of the pork. Overall, it is an enjoyable bowl of Bak Kut Teh which is a refreshing departure from the usual garlic and white pepper variety that we are more accustomed to here. The Argentinian pork ribs are tender and falling off the bone without the porky odor which is quite acceptable. However, there is still room for a bit more oomph in the soup. Perhaps a bit more of a peppery punch would be nice. 4/5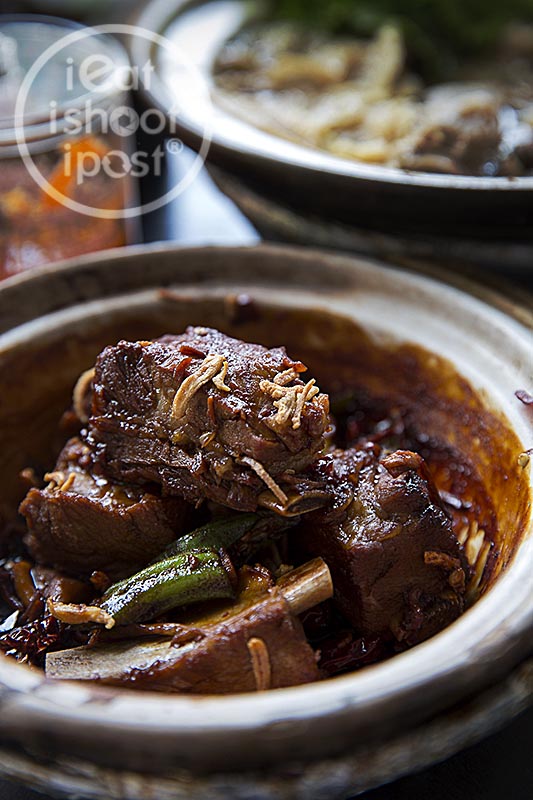 The dry Bak Kut Teh will no doubt grab your attention. This is a dish which Jabez thought up himself (after trying a version of it in Malaysia) and it's the kind of stuff that goes very well with rice. Upon ordering, the pork ribs and soup are placed in the claypot and boiled until the soup is reduced to a flavorful stock. Then black sauce, ladies fingers and dried chillies are added and then topped with crispy fried cuttlefish. The cuttlefish was a brilliant idea and it adds an extra crunch and umami that elevates the dish from very good to very shiok! 4.25/5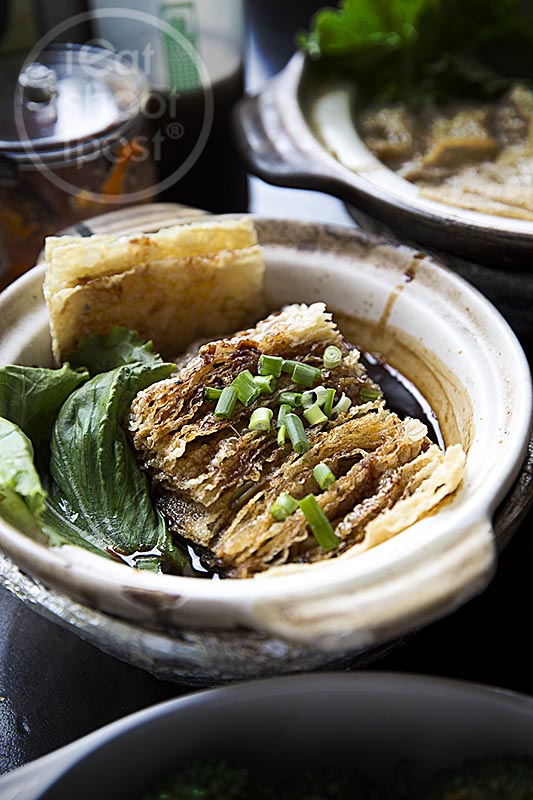 Braised Tau Kee (bean curd skin) is actually a misnomer since the Tau Kee isn't actually braised, it is simply pre-fried Tau Kee that is enjoying a hot spa in the braising sauce. This dish apparently came about because one of the customers asked for just Tau Kee with the braising sauce one day and it became a hit, so they decided to put it on the menu. It's actually quite a nice side dish to order and our kakis ended up ordering an extra bowl of this. 4.25/5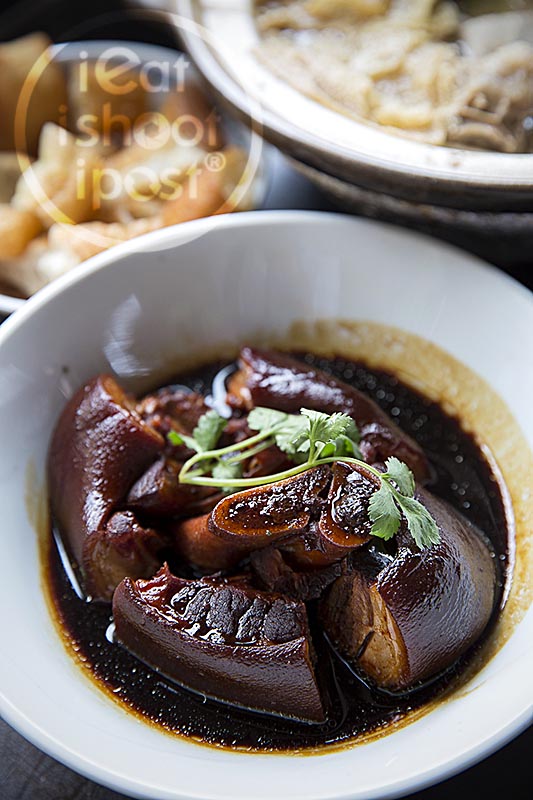 As I alluded to earlier, the braising sauce here is dark and rich. It really reminds me of the kind of stuff you get in Malaysia and you really need a bowl of rice to complement it. I was hoping the pork knuckle was going to turn out well but alas, the meat was a tad dry, so it really needs some reworking so that the meat retains its moisture while still falling off the bone. That means a low and slow braise to coax the meat into submission rather than steamrolling it with furious heat. 3/5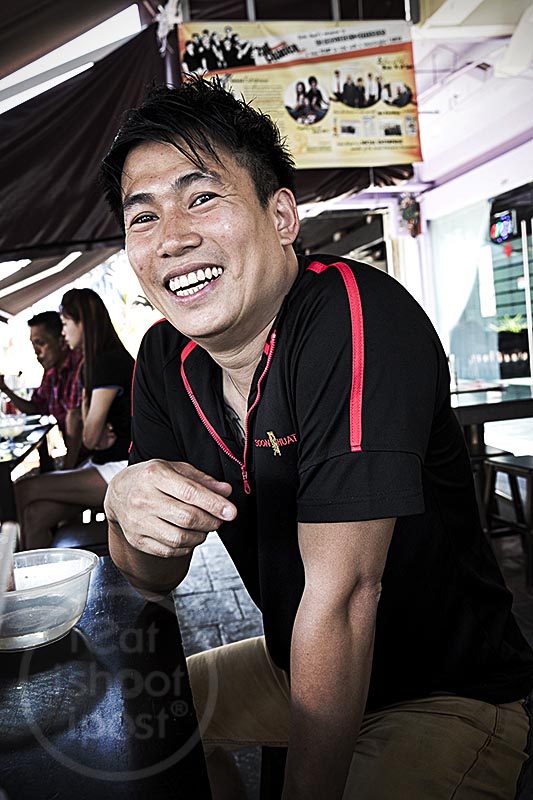 I have always felt very inspired by people like Jabez. Our lives can't be more different. I have always been the do-gooder, the prefect at school, the eldest in the family who always tried to do the right thing. Jabez on the other hand tells me that he had only passed primary one. He left school at primary seven (in those days you could study till primary 8 if you can't make it to sec school) and got involved with the gangs around the Redhill area. Soon he was into gang fights and drug trafficking which landed him into Boy's town and eventually into prison where he spent a total of 13 years with 12 strokes of the cane.
Yet, we share a common faith and from that faith, we enjoy a certain camaraderie. Even though our lives are poles apart, we had something in common. We both needed to be free. This is perhaps more evident in Jabez than myself since spending time in prison is such a significant event. But I know that a lot of people who are imprisoned. Prison does not necessarily mean physical incarceration. I know a lot of people who are imprisoned by self made plans, expectations, bad habits, addictions, unforgiveness, pride and obstinance. What they really need is a breakthrough in order to experience true freedom.
For Jabez, he eventually found his freedom when he became a Christian. Freedom first from his own dark past, then from physical imprisonment. During his final stint in prison between 2003 to 2007, while cooking for condemned prisoners, the light finally dawn on him and he made a final break with his previous life and literally experienced a re-birth.
Now, seven years later, he is happily married and runs this Bak Kut Teh restaurant in Simpang Bedok with the aim of giving other ex-inmates a 2nd chance at life. The pressing need for most inmates who have left prison is to be able to find a job and a place to belong. It is said that most prisoners face a 2nd prison after they have been release. Still being rejected by family and society, they often find it hard to find their purpose in life. So he gives them a job, teaches them a skill and even rents a place near to the restaurant where they can live. It isn't easy dealing with such individuals. They often need a lot of counseling after work and it takes a lot of patience and time to fully integrate them back into society. But having experienced a 2nd chance at life, he can't help but want to pay it forward.
Conclusion
This is not just a place where you patronize just because you want to support a good cause. The food is good and the whole place will make you feel as if you are sitting in a sleepy coffeeshop in Malaysia. The Bak Kut Teh is not your usual Teochew version but more of cross between the Malaysian and Singaporean styles. The pork knuckle needs a bit more work but I heard that he has managed to find a new Sifu recently, so I am looking forward to tender knuckles in the future!