Congrats to Shien Hanten for winning One Michelin Star 2016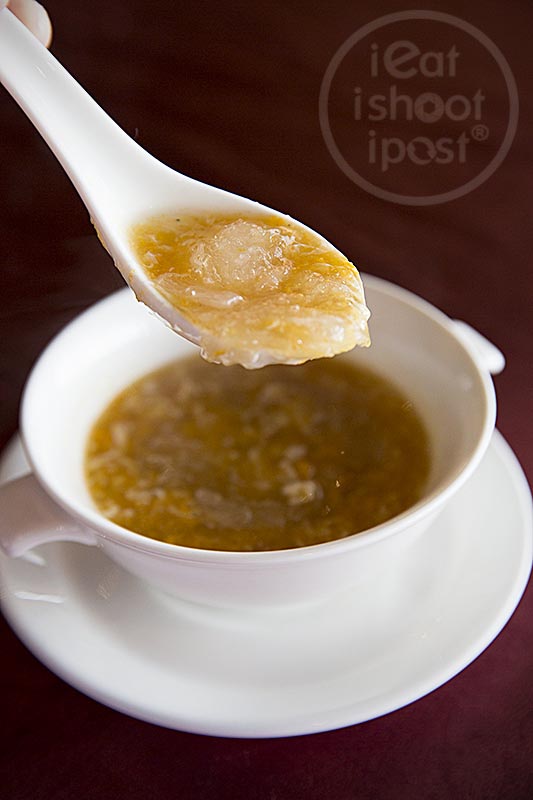 I am a big fan of the Iron Chef series so when I heard that Iron Chef Chinese, Chen Kenichi was in town to open the Singapore branch of Shisen Hanten (四川饭店), I just had to head down to the Meritus Mandarin to see what Iron Chef cuisine tastes like.
Those of you who have been following the series would be familiar with Iron Chef Chen's exploits on the show. If memory serves me well, he is the longest serving Iron Chef with the longest streak of 14 consecutive victories. But more than that, I have always been impressed by his affable personality and down to earth modesty whenever he speaks to the audience.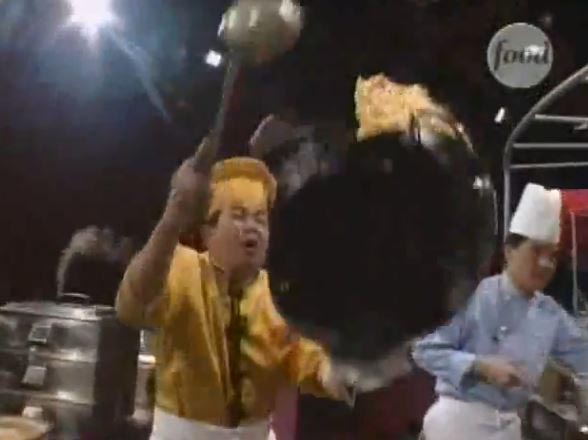 One of Chef Chen's most iconic exploits is his wok flip where he throws a wok full of stuff impossibly high up in the air and catches it just before it hits the ground. I have seen some pretty weird and wonderful dishes that has been cooked in that wok and have always wondered what it would have tasted like! Chef jokingly told me that he had to come up with something to capture the audience attention and that was how he started doing the wok flip!
The bird's nest with crab roe is good example of the kind of food he could have wok flipped during the show. (Yes, imagine flipping a soup such that it turns 180 degrees in the air!) I was surprised to learn that this was a creation of his father, Chen Kenmin (aka "The Sichuan Sage") who arrived in Japan from Sichuan just after WWII. Chen Kenmin is widely acknowledged as the father of Sichuan cuisine in Japan. There was a lot of difficulty procuring authentic Sichuan ingredients in the early days, so he had to improvise with whatever ingredients he could lay his hands on to create dishes which best reflect the cuisine of his hometown.
The bird's nest with crab roe would not doubt remind you of sharksfin soup. I had initially assumed that this dish was a new creation in response to the decreased demand for sharksfin soup. But it has been around for decades. It is actually a great substitute for sharks fin soup and the bird's nest has a soft gooey, wispy texture which is quite delectable. The soup base has that special smokey, earthy flavour characteristic of Sichuan food which combines very well with the crab roe to make it rather shiok! 4.5/5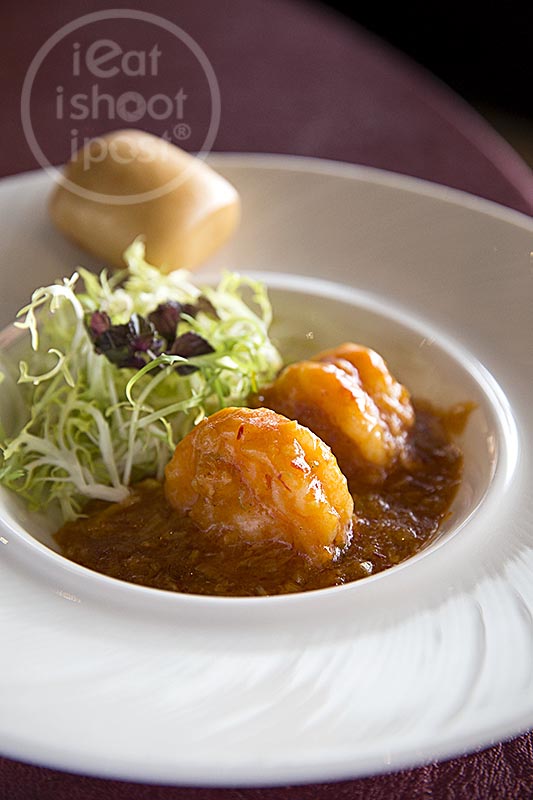 Another signature dish is the chilli prawns. Now, don't be shocked when I tell you that the sauce actually tastes very similar to our own chilli crab sauce. Sure enough, I found out Chef Chen's recipe includes the use of tomato ketchup and dou ban jiang (豆瓣酱 – chilli bean paste) which is quite similar to the recipe for chilli crabs. In Singapore, he serves this with a fried mantou because he knows of our local preference. The sauce is very good, but I was a little disappointed with the prawns that they use. Chef tells me that in Japan they use very nice prawns but over here they are still trying to procure the prawns that they want. 4/5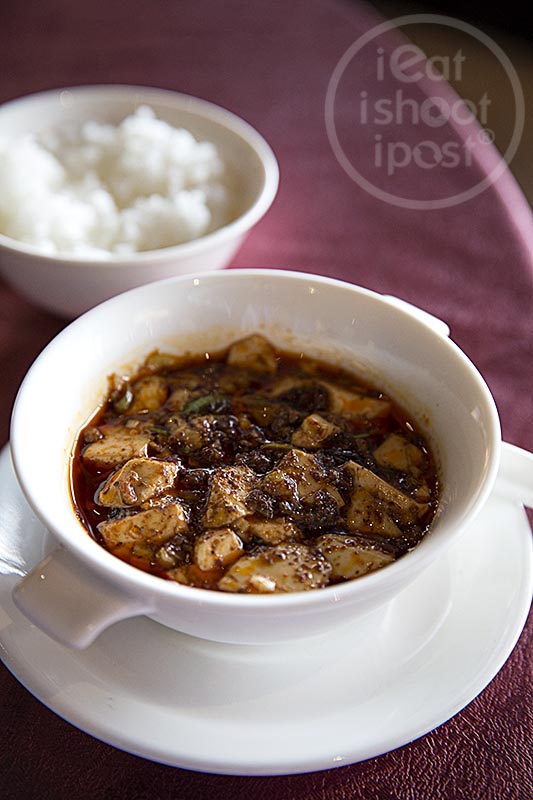 Mapo Tofu 麻婆豆腐 (pockmarked grandma tofu) is another of his signature dishes. Chef Chen tells me that his intention has always been to promote Sichuan cuisine by keeping it as authentic as possible. All the essential sauces are imported from Sichuan including the dried chilli which is one of the key ingredients of Sichuan cuisine. Mapo Tofu is one of those dishes that I make at home myself and I was pretty happy with my own version till I tried Chef Chen's dish. That was when I realized just what Mapo tofu was supposed to taste like. The sauce has that wonderful spicy, smoky, pungent, tangy flavour which leaves your palate with a pleasing numbness characteristic of Sichuan peppers. I found out later that they use a very special dou ban jiang from Sichuan which has been fermented for three years! I guess that is quite different from the stuff that I buy at the supermarket! 4.5/5
The rest of the dishes were all very well executed as you would expect of any top class Chinese restuarant. There is just those little touches here and there that gives away the fact that the chef is Japanese, like how they debone the chicken wing in the stewed abalone dish and add homemade rice crisps to the kung pao scallops. Essentially, it tastes like well executed Chinese cuisine with a more delicate touch.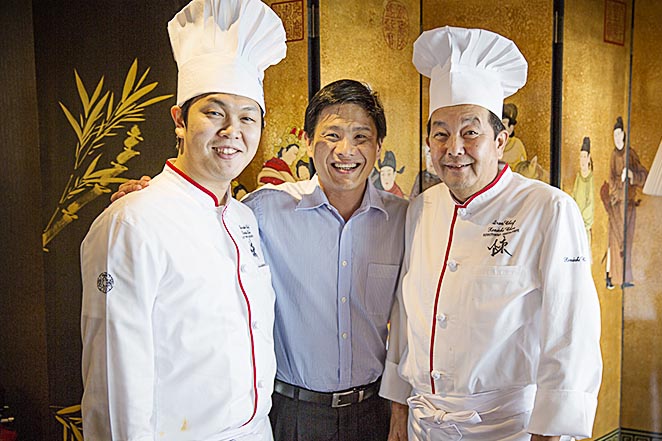 The job of helming the first Shisen Hanten restaurant outside of Japan falls on the shoulder of 3rd generation Chen Kentaro who grew up observing his father in the kitchen. He was sent to Sichuan to work for 3 years in order to expose him to the authentic flavours of the region as well as to be immersed in the culture. He is already considered one of the rising stars in Japan and I am sure we will be seeing much more of him in our local media soon.
Conclusion
Well executed Sichuan cuisine. I haven't been to Sichuan so I can't tell you just how authentic it is. All I can say is that it feels and tastes more Chinese than Japanese although there are a few touches here and there which betrays its Japanese roots.
Disclaimer
1. This was a media invited review
2. I am a huge fan of Chef Chen Kenichi