This restaurant is closed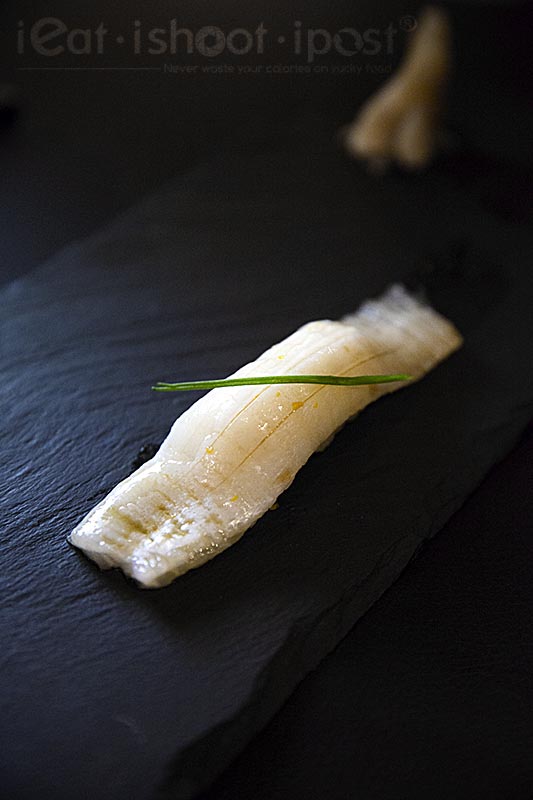 When I started blogging in 2006, a $200 meal (per pax) was considered expensive. Then Marina Bay Sands opened and suddenly the price of an "expensive" meal went up from $200 to $500, making your date think that you are a bit of a kiam kana (lit salty preserved olive – ie stingy) if the meal you brought her to only costs $200/pax. This sudden increase has made Singapore one of the most expensive places in the world for fine dining. Yet, no one seems to complain, or maybe some of us do complain while others still happily pay the exorbitant prices, thus keeping the prices sky high.
Why should dining in Singapore be so expensive? Compared to Hong Kong, our rentals are still lower, yet the price of fine dining there is more affordable. Is it the fact that manpower costs are going up or that it costs more to have our food imported? I don't have the answer, but I suspect that it is just high simply because there are enough people here still willing to pay for it.
The price of eating at a top end Sushi restaurant can easily cost $300-$500. For that kind of price, one can expect that each of the 150 grains of rice is aligned in the same direction and that the fish made its way here in the first class cabin of Singapore Airlines, fin cuffed to armed security guards. But not everyone is willing to pay the for price of perfection all of the time, so the real question is what are you willing to compromise on when you can't charge the meal to your company account?
It is this niche that Sushi Kuu tries to fill.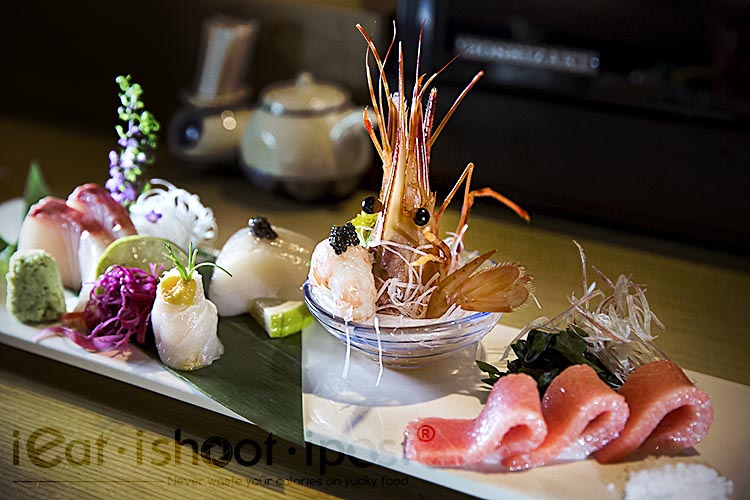 I must admit that my expectations of Sushi Kuu was not too high when I first stepped into the restaurant. It wasn't a traditional style sushi counter like Tatsuya or Hashida where you feel a sense of intimacy with the taisho and your hands come to rest on the smooth hinoki wood counter. Sushi Kuu is designed like the typical modern style Japanese restaurant with a bar counter as well as booths and regular table arrangements. In short, it didn't really look like the kind of place that took their sushi very seriously.
However, that initial perception changed when we were presented with the sashimi platter. The quality and generosity of the portions was a clear signal that they were serious about delivering quality food at a reasonable (compared to top end sushi restaurants) prices. Admittedly, the wasabi wasn't freshly grated but they use a pre-made wasabi which has the gingery texture of real wasabi which was quite acceptable. Their otoro, cut from a block of fresh pacific blue fin tuna caught from the Japanese waters was excellent. This sashimi is the standard platter for their omakase course which starts at $150++. It's another $20 to include Wagyu beef. 4.5/5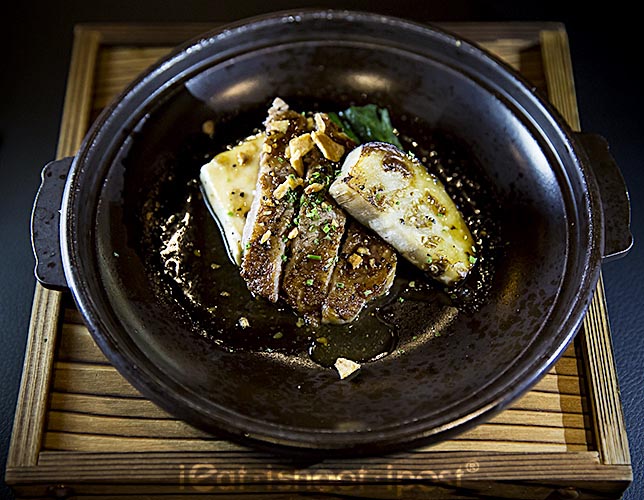 Here, they use A4 instead of A5 Kagoshima Wagyu which is an example of the kind of compromise which works for me. An A5 Wagyu would have cost a lot more with a less than proportionate increase in the level of enjoyment. In other words, the Pleasure/Price ratio of A4 is higher than that of A5 which equates to better value. Although our beef was slightly overdone, it was still very juicy and the sauce that came with it was really good which speaks a lot about Executive Chef Satoru's skills in balancing flavours. It would have been excellent if they the beef was done medium rare. 4.25/5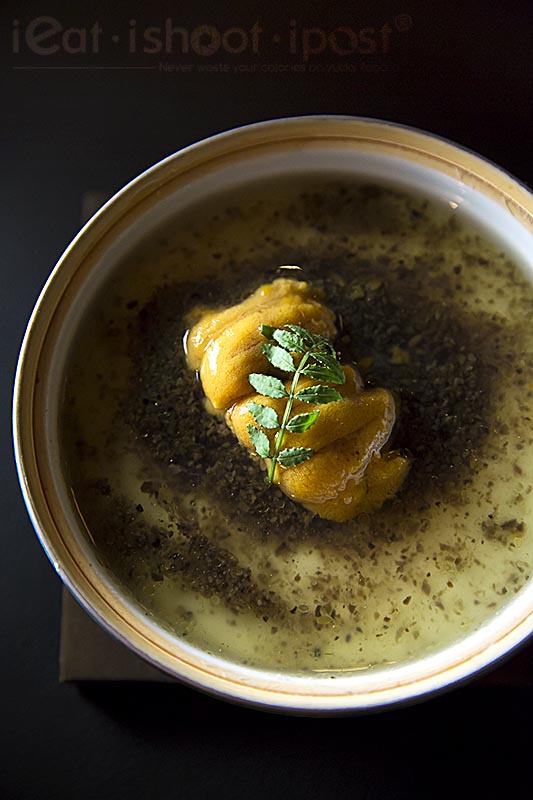 Our next dish of Chawanmushi with black truffle topped with uni is the kind of dish that anyone who see it would claim "Win oredi lor!" (Win already!). Usually when one is presented with a dish like this, it always seems a tad small which leaves you with that "I wish I could have more" feeling. However, the portion at Sushi Kuu is quite generous and by the time I finished the bowl, I felt quite contented. The chawanmushi could have been smoother but otherwise it is yet another very satisfying dish. 4.25/5
By the time the soup was served, Rocket girl and I were already feeling quite full. Something you seldom complain of when eating at high end sushi places. But as I have alluded to earlier, the portions here are quite generous, so for a middle aged guy like myself, it was quite filling. (If you are a big eater, this might not apply to you). The tea pot soup was not as outstanding as the previous dishes but it was competent. The dashi is made everyday from konbu and katsuobushi rather than from a pre-mix which is another indication of how seriously they take their food. Admittedly, they don't actually shave the katsuobushi themselves, but this is a practice that even some of the top sushi chefs don't do nowadays. 4/5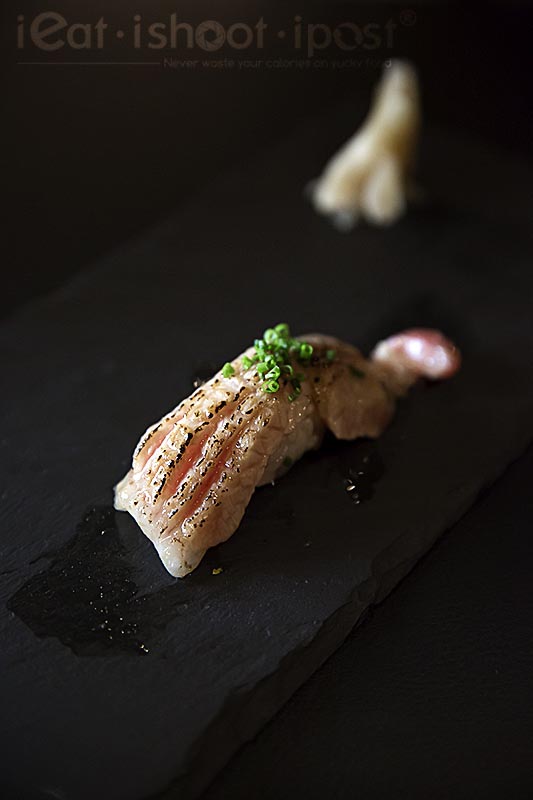 After the inTEAmission sic, we were presented with a few pieces of sushi which were all well presented. Although they use a Hokkaido sushi rice, it was still very good but just misses top marks in terms of the rice seasoning. Both the engawa and aburi otoro sushi were very good. 4.25/5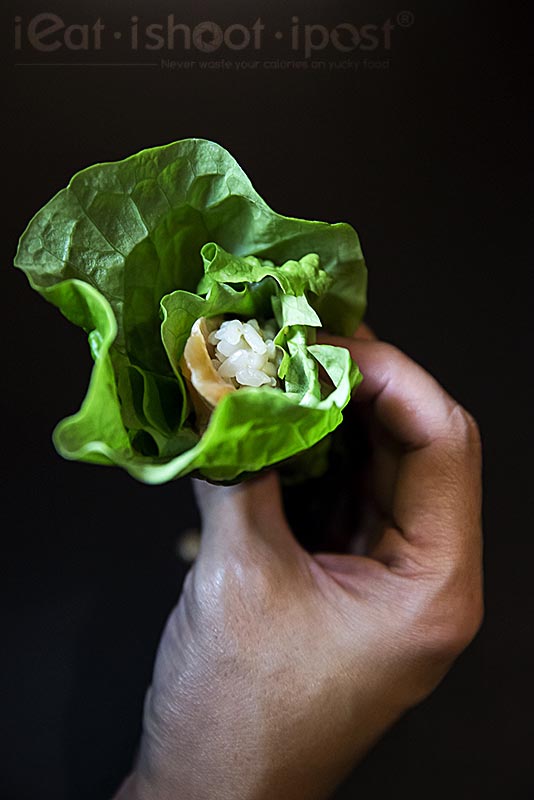 What was refreshing was the salmon handroll which was wrapped in Japanese lettuce instead of nori. I found this very good, but I must admit that I am very partial to the combination of goma sauce, rice and lettuce. This combination works with a wide range of meats from teriyaki beef to korean style marinated pork. Suffice to say, it works well with lightly broiled salmon belly too! 4.25/5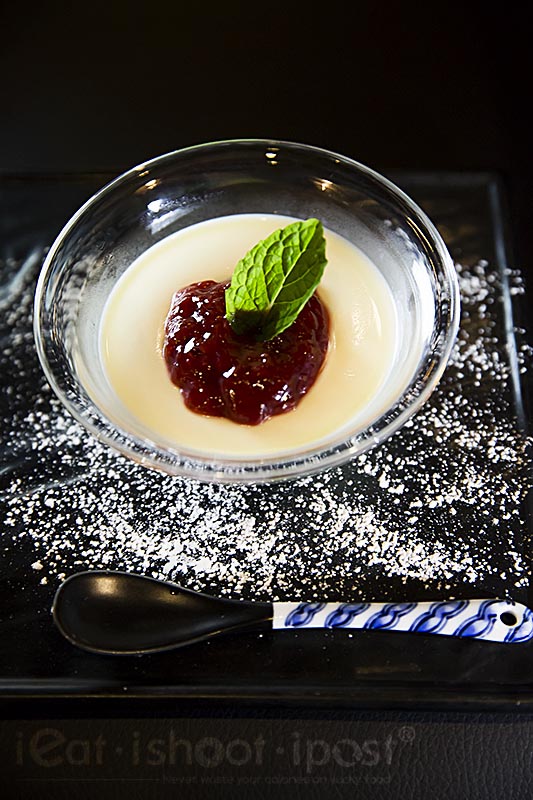 For dessert, I highly recommend their Hokkaido milk pannacotta with homemade strawberry jam. The pannacotta is light yet smooth, milky and satisfying. Great way to end the meal. 4.5/5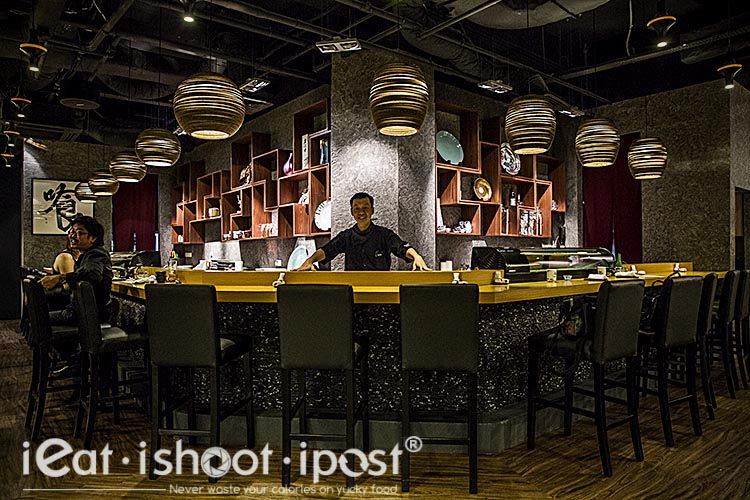 Conclusion
We were quite pleasantly surprised with the quality of the food at Sushi Kuu. $200 per pax is still quite an expensive meal, but compared to the high end sushi restaurants, it feels like a good deal. This is not the place to go for the ultimate, perfect sushi experience, but if you are willing to compromise on some not-so-essentials like having a Japanese taisho behind the counter and a hinoki wood counter, then you would have quite a competent and tasty Japanese meal.
Postscript:
Their $45 Wagyu Beef Don Lunch set and $38 Chirashi lunch sets seem like pretty good deals!
This was an invited review