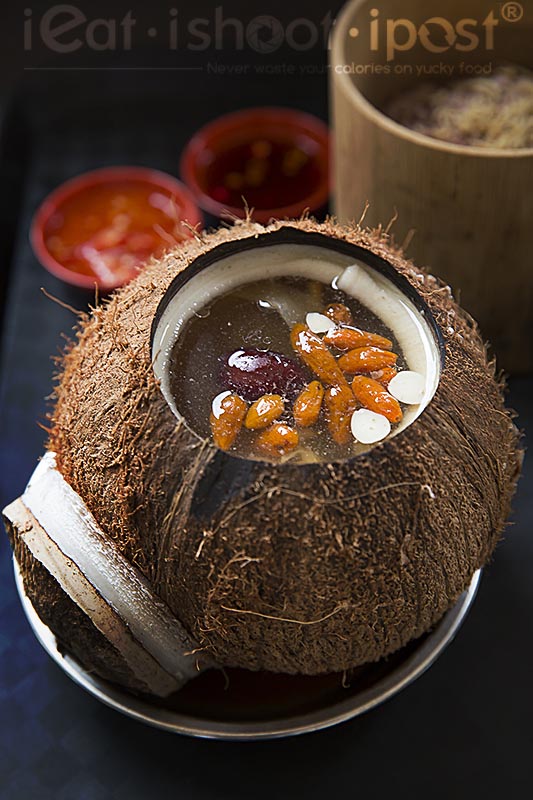 With all the Chinese New Year feasting, I am sure everyone is looking for something that would help to ease the conscience of having binged on high fat, high salt, high sugar foods like Bak Kwa and pineapple tarts, right?
Well, here's one place that I can recommend for healthy, yet tasty food — something that is not easy to find at the coffee shops.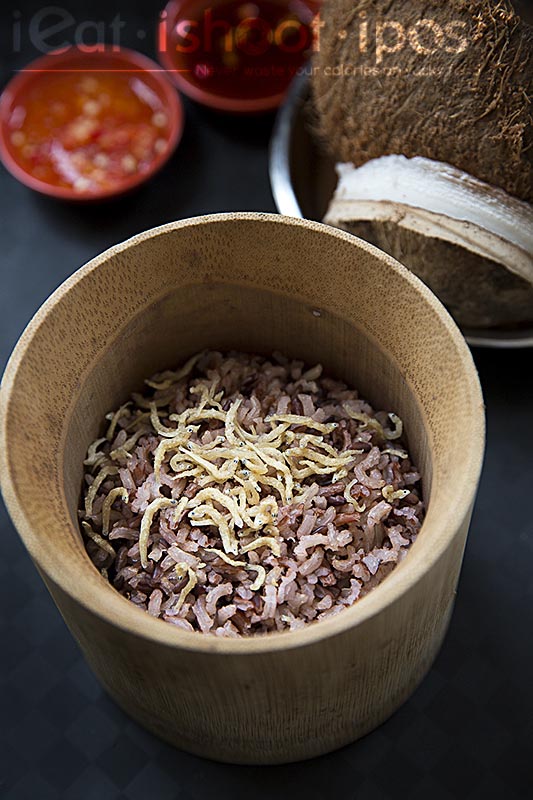 Double boil herbal soups and "old fire soups" (老火汤) have become very popular in the past decade as Singaporeans seek to have healthier choices when dining at hawker centres. I have found however, that in many of these places, the amount of salt, msg and oil in the soups can still be quite high. The difference between a proper double boil soup and 老火汤 is the temperature at which the soup is cooked. With double boil soups, the ingredients are heated over water or steam so that it is always indirect heat which never exceeds 100 degrees C. This gentle form of cooking results in a soup which is clear, yet flavourful. 老火汤 on the other hand is heated directly over the fire which results in a soup which is cloudy. Both forms have their merits and they are just different styles of soups.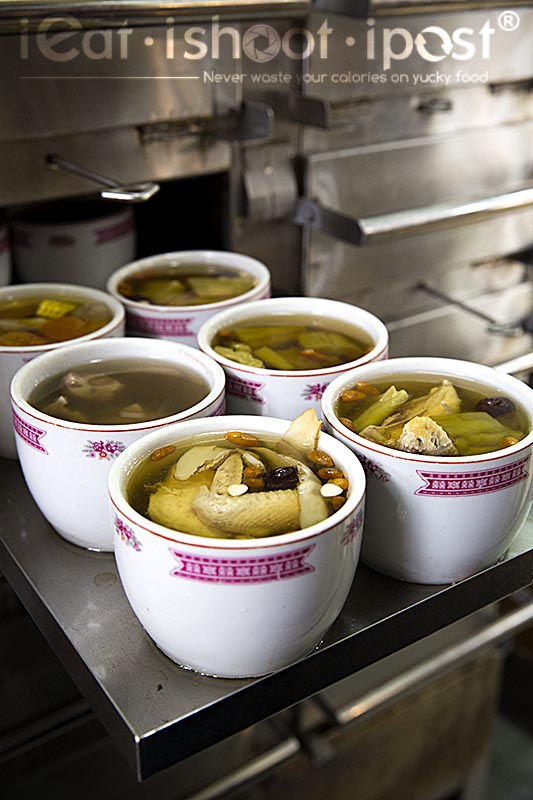 The owner of Lim Soup, a banker by the name of Eric loves double boiled soup, but was frustrated with the quality of soups that were being sold and so he started his own stall at this newly opened coffeeshop in Bukit Merah Central owned by Dong Fong Fatt or the chicken rice fame.
What really impresses me about Lim Soup is this next generation hawkerpreneur's focus on providing healthy tasty food. He refuses to add msg to the soup, so there is none of the white crystalline powder in his kitchen. He also doesn't add any chicken powder or stock powder which usually contains msg. The soup is made in two stages. The first stage is making the master stock from boiling pork and chicken bones overnight. T his stock is then placed into small bowls and herbs, meats and other ingredients are added then it goes into the steamer for four hours. In order the boost the savoury, umami flavour, he borrows a trick from the Japanese and adds a slice of konbu to the soup! The resulting soup has a fuller mouth feel, yet still light on the palate!
Aside from the usual double boil soup, they make a very special version here which is steamed in a whole coconut. As you can see from the photo, they have spared no efforts and have even invested in a special tool to cut the top off the coconut so nicely.
The steamed coconut soup comes in a herbal and plain versions. My preference is for the plain version as you can fully appreciate the warm, sweet flavours of the old coconut. With the herbal version, the flavour of the coconut is somewhat muted. The soup is excellent and it leaves the mouth with a crisp palate with a hint of sweetness. We Teochews call it "Karhm, karhm".4.5/5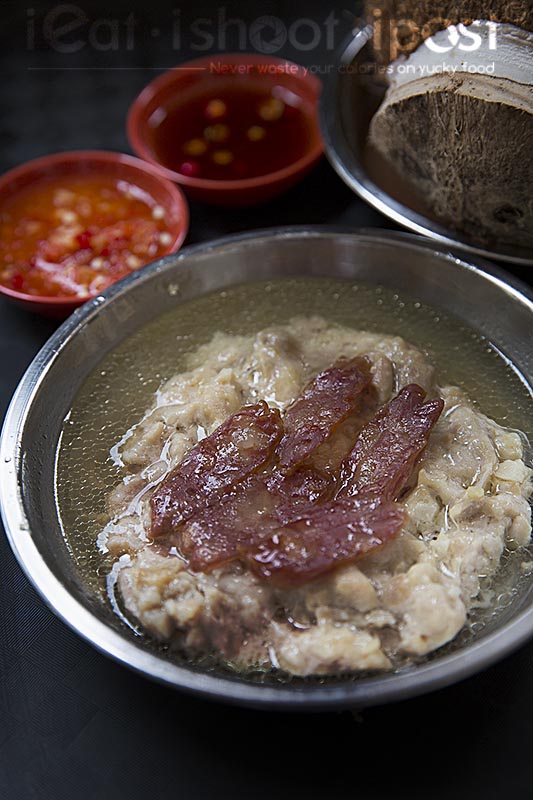 The side dishes comprise of steamed minced pork or chicken in a variety of flavours. They use a mince which has less fat and roughly ground such that the texture is very good. In order to compensate for the lack of fat, they add cubes of water chestnuts to maintain a level of juiciness in the pork. Both the salted egg and the salted fish versions are very good. Of special mention is the braised mushroom version. Their shitake mushrooms are stewed till they are plump and flavourful. The lup cheong version uses a special grade of lup cheong from Hong Kong which has that wonderful bright floral aroma of rice wine. Instead of ordering this separately, you can have it steamed together with rice and topped with Beijing cabbage which makes for a very nice one dish meal! 4.25/5.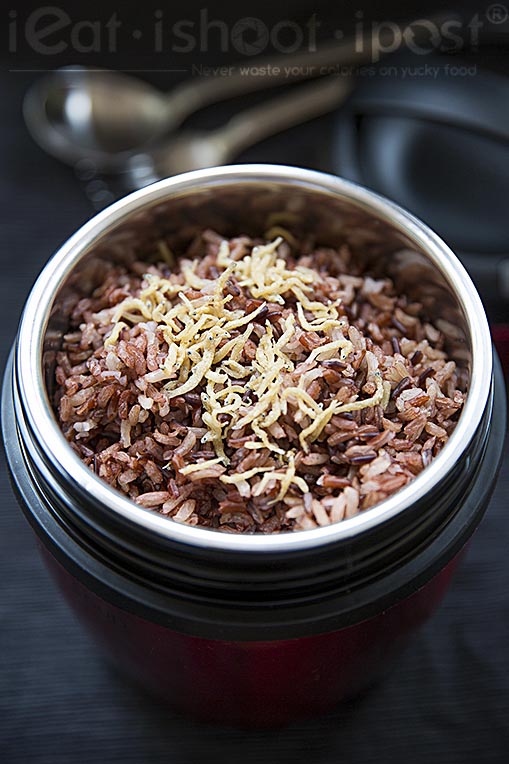 Here is an idea of how the new gen of hawkers are changing the way we eat. If you have too much work and are unable to leave your desk, you can ring up Lim Soup and have them deliver your soup and rice to you in a thermos flask! The delivery fee is only $5 for up to 8 sets and they will come back to collect the thermos after you are done!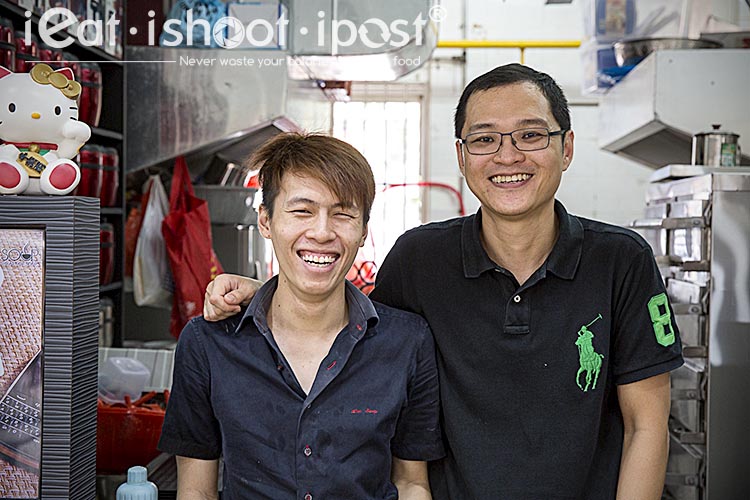 So here are our two next generation hawkerpreneurs. On the left is Chee Siang who leaves his home in JB every morning at 5am to come to work. He sees making the best double boil soup as his life work and spends 16 hours a day on his craft. On the right is Eric who is a dealer by night and hawker by day. He loves double boiled soup a lot but is sensitive to MSG so much so that he decided to open his own shop! He also doesn't believe in microwaving double boil soup which is why he specially sourced thermo-flasks which will hold the soup hot for 2 hours! An unlikely couple, don't you think?
Conclusion
I don't often blog about "healthier" food because it is often hard to find one that is both healthy and tasty at the same time. So I am very happy to have found this particular stall who are doing a great job providing good quality, healthier dishes in an innovative way. This is the kind of food where you are walk away with a full stomach, a satisfied palate and not feel that you have to pay penance by going to the gym the next day!