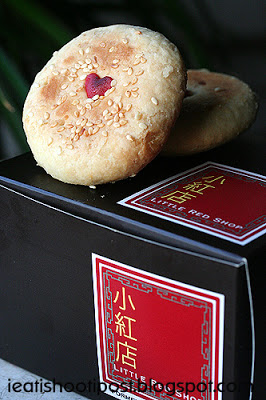 The good bakers at 611 Tau Sar Piah have changed their brand to "Little Red Shop" and have come up with a great little gift idea for Mother's day! I guess if you are reading this your Mum would be in that generation where they would actually enjoy Tau Sar Piah! So if you are looking for something to surprise Mom this Mother's Day, you might want to consider visiting 611's new shop over at Vivo City.
The Mother's Day Tau Sar Piah comes in 2 flavours and each one has a little red heart on it. It comes in a box of 10 @ $8.80 with a special gift tag.
Little Red Shop
Formerly 611 Tau Sar Piah
VivoCity #B2-K10
Open 10am to 10pm
Tel: 63768611
Disclosure: I got to know the bakers at 611 quite well after I blogged their Tau Sar Piah last time and this is just an update to help them announce their new brand name. It is not a paid advertisement though I did get a box of Tau Sar Piahs for free.