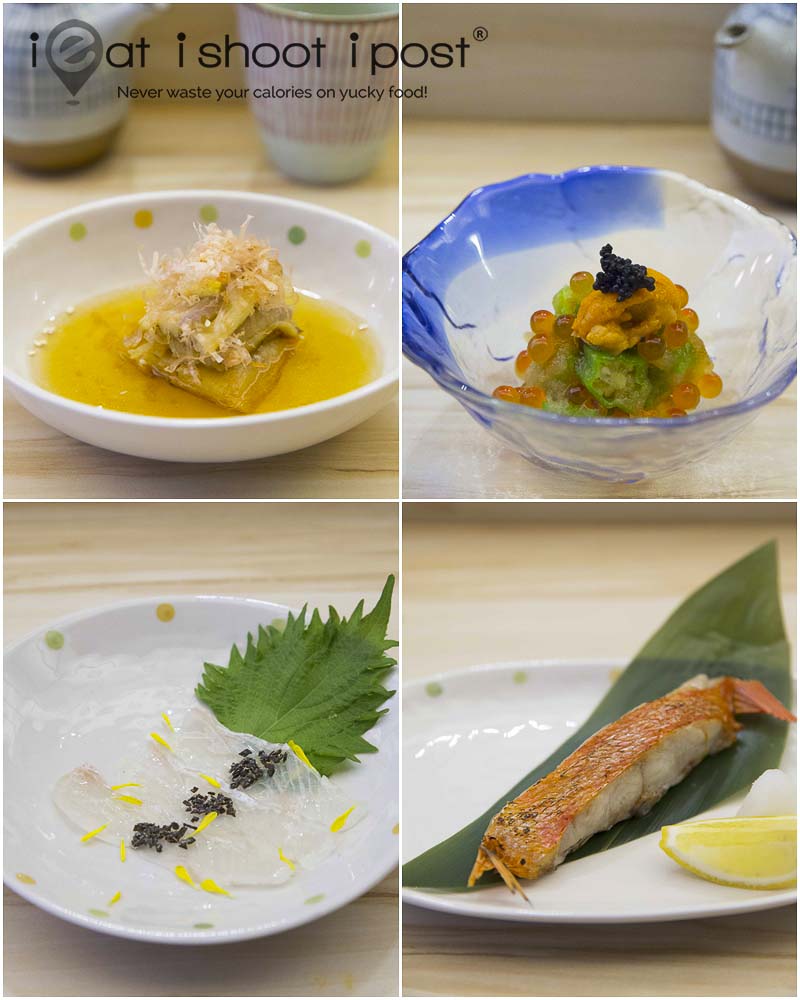 It has been 8 years since I started eating sushi.   Like most Teochew Ah Hia, the thought of laying aside a nice hot bowl of porridge for expensive slices of raw fish was a bit of a mental hurdle.  But since I was a budding food blogger then, I thought that I better start learning how to eat sushi since it was starting to get really popular.
To get me started on my sushi adventure, I sought out the most influential sushi chef back then, Chef Nogawa, (still considered the father of sushi in Singapore) to teach me the basics of sushi etiquette.  I still remember Nogawa-san showing me how to pick up sushi with my hands and how he boasted that every nugget of rice he makes contains exactly 150 grains of rice! (You can watch the video here)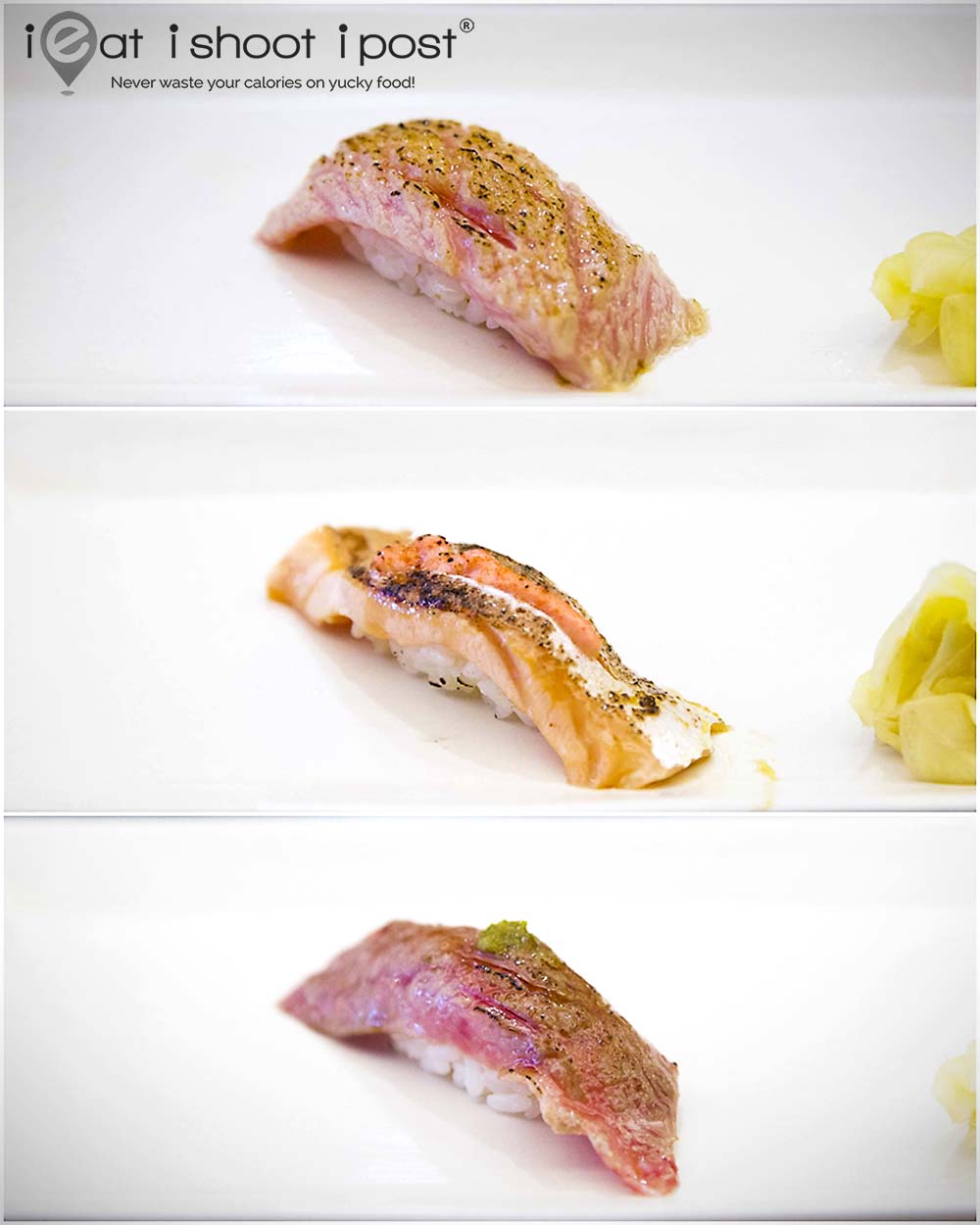 I was spoilt, and since then, I really only enjoy eating sushi at the counter with each piece is presented to me one at a time.  I seldom eat kaiten sushi and the last time I actually ordered a plate of assorted sushi was when I was in Japan.  So therein lies my problem.  The kind of sushi I enjoy is quite expensive,  with a dinner omakase costing upwards of $300 at a top tier sushi-ya which is not sustainable unless you have an unlimited company account!
But thankfully, there are quite a few local chefs who have since come out on their own to offer quality sushi at more affordable prices. However, unlike the the top tier sushi-ya where you can be assured that everything from the solid hinoki wood counter to the daikon radish would have been airflown from Japan, the quality and prices of the sushi in this mid – tier segment can vary quite a bit.  So, the challenge is to find the right one.
Now, Singaporeans are very practical.  We are used to eating at hawker centres, so when the food is good, we are willing to sit next to a bus to eat it.  When it comes to sushi, I am quite happy to forego niceties like a solid wood counter, kimono clad service staff, hot towels and imported sudachi (lime) and  if it means I can get quality sushi at a fraction of the price.
So, let's get down to what I like about Matsuya Sushi Bar.
First of all, I think Chef Benson is quite passionate about his craft.  He has been working in the Japanese kitchen for almost thirty years and he knows what he is doing.  For our sushi omakase course, he started us with a dish of natsu ohitashi which is roasted eggplant topped with  katsuobushi followed by okura oroshi ikura which is an interesting dish of sliced lady's fingers with grated daikon and ikura.  The sticky sap of the lady's fingers had a texture similar to yamaimo (mountain yam).  This was followed by a plate of sashimi and grilled kinmedai before he proceeded to present several pieces of unctuous aburi sushi made from otoro, salmon belly and Kagoshima wagyu.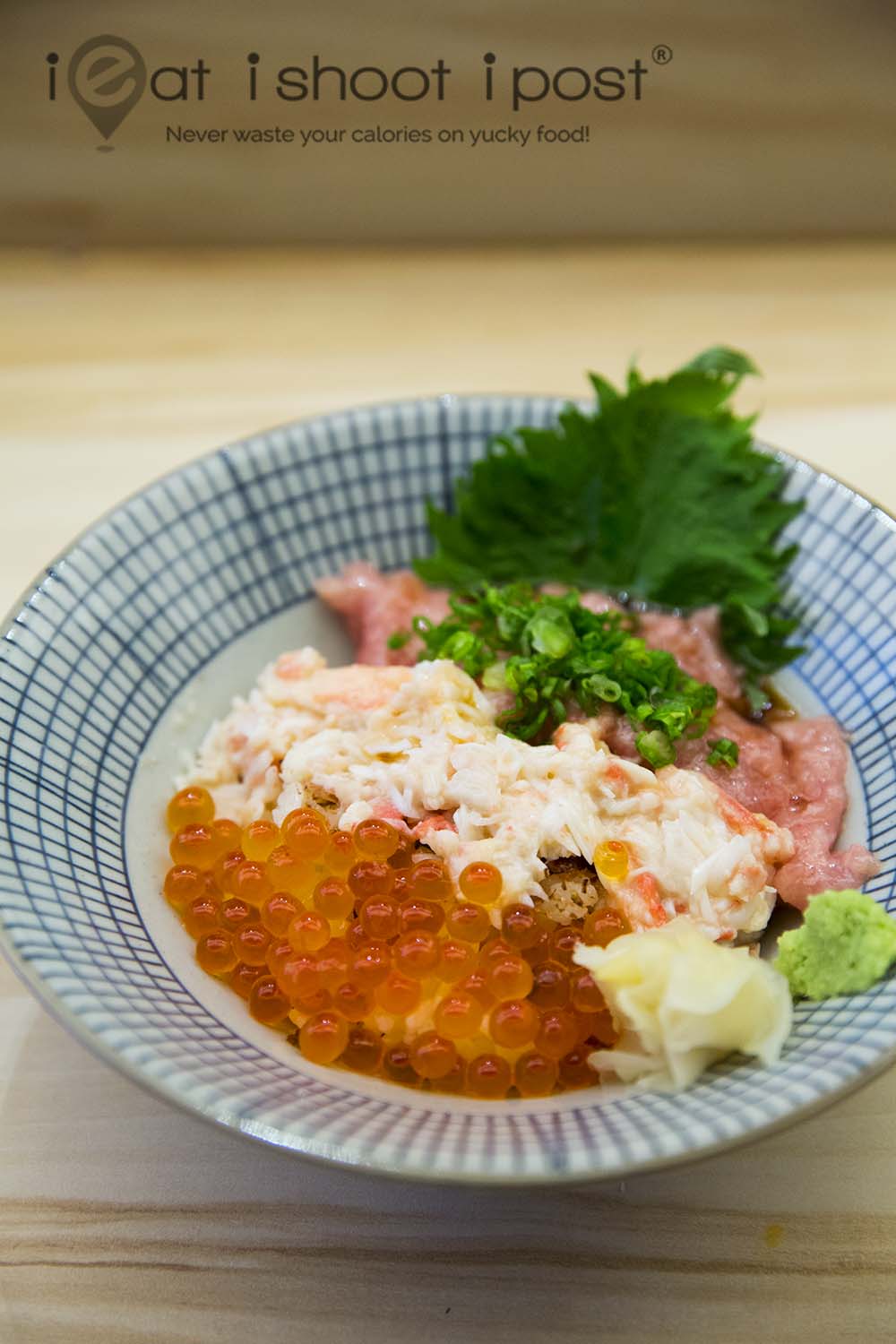 Then he presented his rice bowl topped with kani, negitoro and ikura which I really enjoyed. It might be just raw seafood on rice, but it was very well balanced and the flavours just came together  so nicely. Although he doesn't use the top grade koshihikari rice the texture and flavour of the don was not compromised.  More importantly, he buys chilled tuna in blocks, so the the negitoro was excellent! 4.5/5
Of course, I am not saying it was the perfect sushi meal. There are little things here and there that a fastidious sushi-tsu won't hesitate to point out; like the use of a disposable "smart towel" instead of proper oshibori (hot towel) or that the shisho leaf was slightly wilted and that the fish wasn't grilled over binchotan.  But as I had alluded to earlier, most of these things can overlooked when the final bill is presented.
The place is compact and cosy.  There is only a sushi bar and a table inside for four persons and there is only one Chef and a waitress, so I suspect that things might get a little slow on a busy night (although Chef assured me that its not a problem).  The kitchen is also very small so there are some things that chef doesn't serve,  like tempura.  That is not a problem for a sushi bar, but it does limit what he can do for a omakase restaurant.  I also felt that Chef's working station is set rather low so it is difficult to watch him slice and plate the dishes.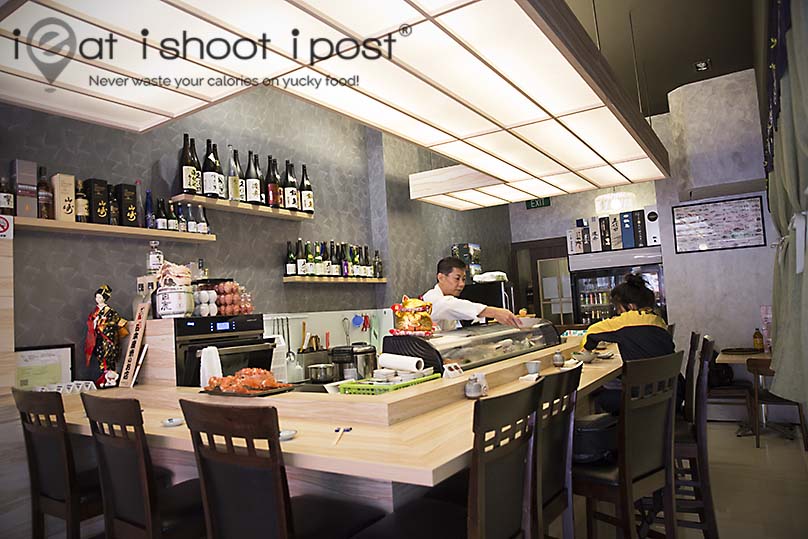 Conclusion
Good quality sushi in a cosy environment run by a very personable local chef.  The sushi omakase starts from $90+ and goes up to $150+ for the premium omakase.  Set meals like chirashi don and wagyu don are also available.
Ieatishootipost Special Lunch Set
2 starters, 4 types sashimi, kani, negitoro, ikura rice bowl and soup $58+.  Please make prior reservation.  Valid for lunch only till 30 June 2017
Note:
The set featured here is the $120+ omakase set.  I forgot to take a photo of the sashimi platter, but it is shown in the video.
This was an invited review:
The meal was provided without any obligations and no fee was paid for this review.