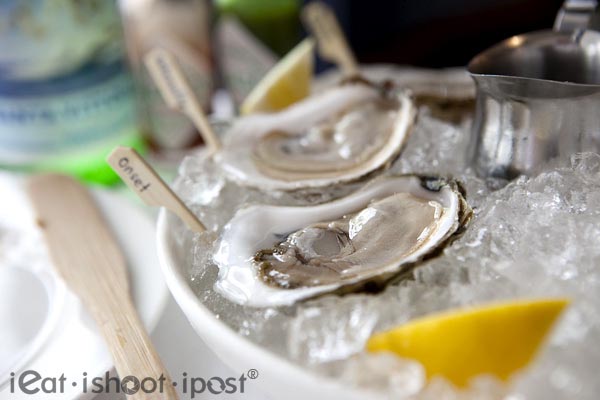 One of my most memorable meals when I visited Boston last year was sitting at Neptune Oyster Bar with my friend to enjoy two dozen of freshly shucked oysters from waters across Northern USA. I must say that it was my moment of ostreal epiphany which forever changed the way I looked at oysters. I can't say that I am a full fledged ostreaphile yet and I certainly don't experience withdrawal symptoms if I don't get to indulge in the sexy shellfish, but what it did was to put me off the frozen, insipid oysters which are often served at buffets. I want my oysters with lots of mojo! Know what I mean?

Being an ostreaphile in Singapore is an expensive affair. But even in the US, eating oysters isn't a cheap hobby. Each one costs around US$3-4 and a dozen oysters would easily cost $60 and that is just the appetizer! But here in Singapore, I must say that prices can get ludicrous. I walked past an oyster bar along Clifford Pier once and was shocked that each one was $13 before the ++! You'd need to work a lot harder to restore your mojo once you see the final bill!
Fortunately, Chef Travis at Luke's Oyster Bar is doing his part not to lambaste our libido. Having grown up in Boston, he appreciates the joy of eating freshly shucked oysters and is doing his part of promote Bostonian culture to Singaporeans. He sources his oysters direct from the waters around Massachusetts and the North Eastern coast of the continent and they are flown in regularly a few times a week. There's usually around half a dozen different oysters to choose from and each costs $7 which is understandably more expensive than eating in the US, but it is at least more reasonable. During Happy Hours, which is 4pm to 7pm (everyday) and after 10pm (Thurs-Sat), you can get half a dozen oysters and a beer for $34, which is an excellent way to get your Oyster fix.
Needless to say, the oysters here are indeed very fresh, properly shucked and are as good as my experience in Boston, except that you only get 6 instead of 12 varieties to choose from. Otherwise, its as close as you can get to that Bostonian experience in Singapore. 4.5/5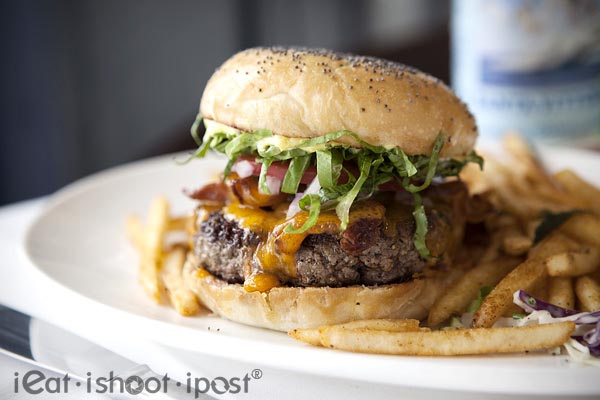 I have written about Travis's burger previously when he was still at Winegarage. Since then, he has made a few more tweaks to it. The burger now features a slice of Momotaro tomato which he is successfully growing in a farm in Cameron Highlands and there has been minor adjustments made to the size of the homemade buns such that they are better proportioned. The 100%, 160g US Angus chuck patty is still pretty much the same as I remembered. It was wonderfully charred on the outside with a robust beefy flavour within its crusty exterior, just the way I like it.
My opinion of the perfect burger has changed over the years. When I was younger, I approached every burger with a skyscraper mentality. Certainly, tall burgers with multiple patties, a schizophrenic amount of toppings, sandwiched between two undersized buns are a fantasy to behold but, like g-strings, they fail miserably on the practical level. So nowadays, my idea of a great burger is one where all the layers of the sandwich can be sampled in one bite.The beauty of eating a burger is how the bun and the salad all come together in each bite such that you smell that charred pattie when you first bite into it, then enjoy the rest of the beef as it slowly gets mixed with the tangy tomatoes, relish, melted cheese, and the sweetness of the homemade buns!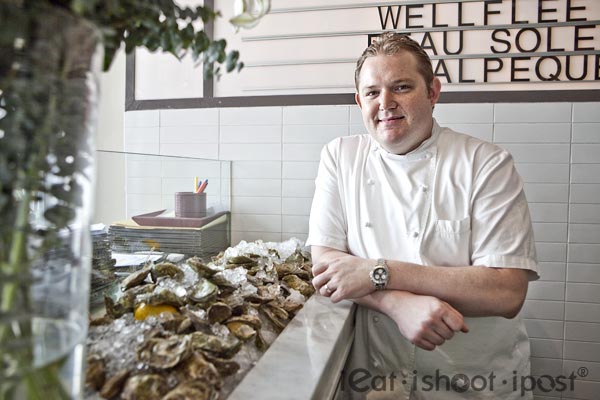 Having said that, the Travis Burger is just about all that I imagine a great burger to be. It was the perfect size, the aged Irish Cheddar was luxuriously melted, the beef patty was nicely charred and the relish and salad balanced the savoury flavours very well. If there was any complaint, I would say that the bottom of the bun was a little soaked that day, but that could be due to the fact that I took a bit of time taking photos. The patty was very very good by Singapore standards, but having had burgers in the US where Aged USDA prime beef was used, I know that it can be better. Otherwise, at $24++, the Travis Burger is one to look out for if you have that burger craving and for an extra $3, their homemade Kurobuta bacon will add some extra oomph to your burger experience! 4.5/5
Conclusion
If you have been to Boston and miss the food there, then a trip to Luke's might just be what you need. The oysters here are excellent and they serve one of the best burgers in town. I didn't get to try the steaks that day, but I was told that they serve a very special bone-in 300 day grainfed tenderloin here which is pretty unique and sounds like something any beef steak connoisseur would be interested to cut into!