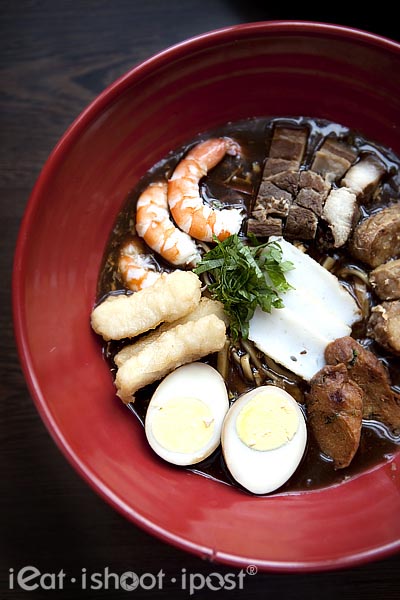 Can you imagine what the ultimate Lor Mee would look like?
Every now and again, I would let my imagination run wild and fantasize about what the ultimate plate of Char Kway Teow, Carrot Cake and Beef Kway Teow would look like if I gave the hawker a $15 budget. Certainly, when it comes to Beef Kway Teow, you can easily imagine thin slices of Wagyu beef and generous chunks of beef cheek and shin braised till its all ready to dissolve on your tongue with the slightest pressure. And of course, the soup would have to be specially prepared with extra beef bones to extract the maximum beef oommmph in each spoonful. Ok, maybe a $15 budget is not enough for such a bowl of Beef Kway Teow!

So, what if I asked you to imagine what your ultimate bowl of Lor Mee would look like?
That was the challenge proposed to Chef William Soh of Changi Village Hotel when Mediacorp was searching for their ultimate bowl of Lor Mee for their TV series on Noodles. It didn't take Chef William too long to oblige as hawker food literally runs in his blood, having grown up in a family of hawkers.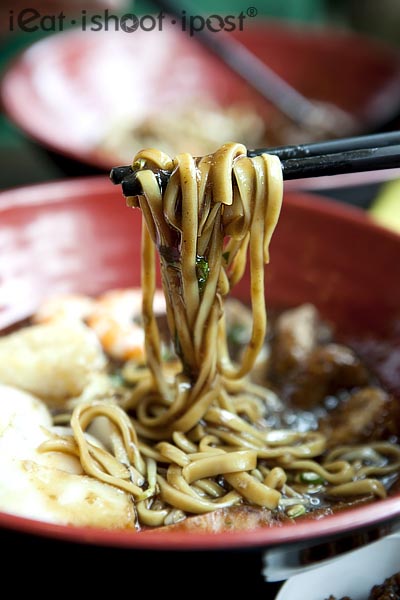 The bowl of Lor Mee that Chef came up with has special toppings of deep fried Cod Fish, live prawns, handmade Prawn Rolls, Ngor Hiang and of course braised pork and eggs. The prawn rolls were excellent and had a wonderful crustacean flavour in it which was only made more heavenly when you dip it in the Lor (Braising Sauce). But if you simply look at the toppings, you might miss the star of the whole dish, which is in fact, the Lor.
There are a few things that sets this Lor apart from the others. Firstly, the Lor is a by product of braising duck and pork. So unlike the Lor that you get outside which is made as a gravy for the noodles, the Lor here is used to braise their meats and thus it has a more natural umami. The use of spices here is also quite distinct from your usual bowl of Lor Mee. Chef explains that traditionally, a spice called cao guo (草果, black cardamom) is often used, alongside other spices like cinnamon and star anise. When my bowl of Lor Mee arrived, the smell of the spices just permeated the air. I thought at first that it was going to be a bit too strong, but the gravy turned out to be quite addictive. Because Chef only uses egg white to thicken the sauce, it is not as starchy as the gravy served at the hawker stalls. And as with classic Lor Mee, black vinegar and chopped garlic is served alongside which just elevates the flavour of the gravy. 4.25/5
Conclusion
It really isn't fair to compare this $15 bowl of Lor Mee to the $3 bowl which you buy from the hawker stall. I would honestly say that if I went to my favourite Lor Mee stall at Bukit Purmei and bought a $3 bowl with an additional $3 of extra ingredients, I would probably be just as happy. But if you compared this $15 bowl of Lor Mee alongside a $15 bowl of Ramen, then perhaps you would feel a little more justified. Personally, I think that it is the gravy that makes this Lor Mee different from the others. Cod Fish is great, but I can't say that I prefer it over Shark meat enough to fork out such a big difference. As far as I know, no one else has come up with a $15 bowl of Lor Mee yet. So it is a first. Perhaps, it would serve as a catalyst to usher in the specialty Lor Mee stall just like how Beach Road Prawn Mee did with Prawn Mee?