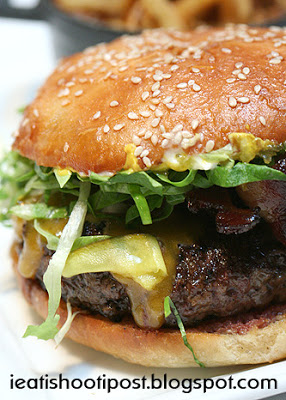 "Garage" Burger with Homecured Kurobuta Bacon $25++
What kind of burger would you expect an obsessive American Chef to come up with? Well, here is one possibility: Start with a beef patty that is freshly ground using USDA Chuck, top it with aged Cheddar and home cured Kurobuta Bacon, garnish it with homemade Zucchini Relish and finely shredded Cos Lettuce, and sandwich it in between freshly Homemade Burger Buns.
Chef Travis is so confident about his "Garage" burger that he claims that "one can do little to improve on perfection"! This guy could well be as
Hao Lian as a Teochew Ah Hia!
(Exhibiting Teochew Pride) But as I always say, when your food is this good, you can be as Hao Lian as you like. This guy even goes to the extent of growing his own vegetables in a farm in Malaysia. No kidding. The only reason there are no tomatoes in his burger is because he can't find the ones he wants in the markets here. A lesser chef would have just made do with the best alternative. But it takes someone with passion to actually source out a farmer in Malaysia and convince him to grow the particular tomatoes he wants! The first crops are expected this month, so they will be making their appearance on the "Garage Burger" very soon.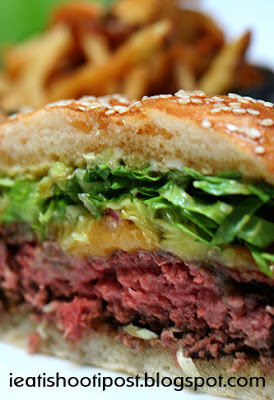 Be still my tingling tastebuds. This is one of the best burgers I have had in Singapore. The burger patty has that wonderful beefy flavour and is oh so juicy. The wonderfully soft buttered and toasted homemade bun is great for absorbing all the juices and the Zucchini Relish and mustard gave it that wonderful zing to balance out the savoury flavours. I must say though, that I could not appreciate the taste of the Kurobuta Bacon which was lost in the harmony of flavours. That was a bit of a shame. Overall, a very satisfying burger and a real treat for any serious burger fan.
4.5/5
Conclusion
With such attention to detail, how can it not be good? The only problem is that "Good" is not cheap. At $25++ a burger, you could almost get a descent set dinner elsewhere. But as the Chinese saying goes "Yi Fen Chian, Yi Fen Huo" (You pay for what you get). So if you want a Burger made to exacting details, here is one to really consider.
This burger was recommended by jm