With iwatch_ueat and liverpool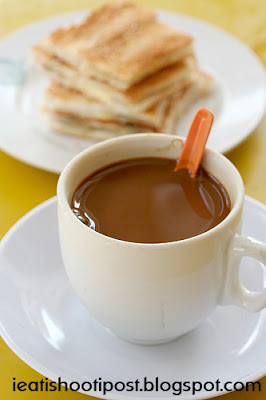 I never really got used to Lattes and Cappuccinos even though I spent seven years in Australia. We even have one of those expresso machines at home at one stage and went crazy over frothing the milk. But at the end of the day, when the dust settles, out comes the trusty old coffee-stained coffee sock. I like my Kopi thick, fragrant, creamy and sweet. Call me a coffee pariah but I guess its the coffee I grew up with.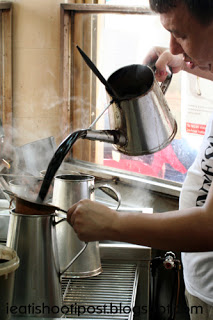 I reckon when you pay $5 for a cup of cappuccino, you are actually paying $4 to sit in a nice cafe environment, 50 cents to satisfy your caffeine craving and 50 cents to arouse your sense of smell and taste. In Australia, you can get a cappuccino for as little as $2, so I often wonder why it has be so much more expensive in Singapore?
Anyway, since we are still in the National Day spirit. May I just take the opportunity to extol our very own Kopi culture. While overseas the one thing I miss most aside from Roti Prata is a cup of Kopi or Teh C with Kaya Toast. And it is not just the taste of it. Ordering a cup of Kopi C Siew Dai (Coffee with evaporated milk and less sugar) just makes you feel very Singaporean. How many of us take pride in bringing our foreign guests for a cup of local Kopi and teaching them how to order Kopi? I find the most interesting one is trying to explain the meaning of Kopi 'O' Tid Loh (Extra strong black with sugar).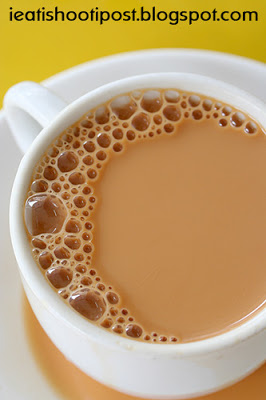 Let's not forget also the Teh 'C' which has been my favoured drink since I have been trying to cut down on Caffeine. A hot cup of Teh 'C' with Kaya Toast is the best $2 you'd ever spend on afternoon tea. The Teh 'C' was fragrant but the next time I would have to order Teh 'C' Kou (Extra strong) as it seemed to lack ooomph that day. 4/5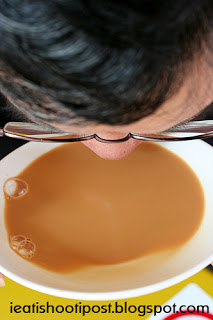 The Kopi is pretty good. They have a long history and used to roast their own beans. But nowadays they don't roast their own anymore but they still retain their secret blend of coffee beans which are sourced from different suppliers to protect the secret. This Kopi is fragrant with little acidity but with a good bitter bite to it. Its good for those who like their Kopi on the bitter side. 4/5
Drinking your Kopi or Teh from the saucer is not a sight we often see nowadays. I think it disappeared when we started using the glass cups with no saucers but was never revived when Kopitiams started reintroducing the traditional kopi cups. Then again it may be that as we get more developed, this practice may seem to be a little undignified?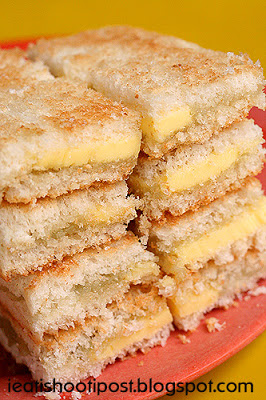 The crispy Kaya Toast here is one of the best around but you will have to know what to order. If you simply order the Kaya Toast, you will get the thick sliced toast only. They have several grades of Kaya Toast here and you have to make sure that you order the Grade A Kaya Toast. This is the one that has been toasted and re-toasted several times over to achieve a super crispy and brittle bread. It is excellent with the cold butter and homemade Kaya. The homemade Kaya here has got that nice Pandan fragrance and is the pale green and lumpy type. I prefer this version to the smooth, brown version. Ah! Kaya Toast is one of those simple things that really makes me feel so Singaporean. 4.5/5
Conclusion
This is one of the best thin sliced, crispy Kaya Toast in town! The Kopi is good but a little on the bitter side for my liking. For less than $2, you can just sit here at this landmark building, sipping Kopi and eating Kaya Toast and imagine what Singapore was like before independence!
Update 20 Nov 2013
They have relocated to a shop just opposite at 35 Keong Saik Road.