This Stall has moved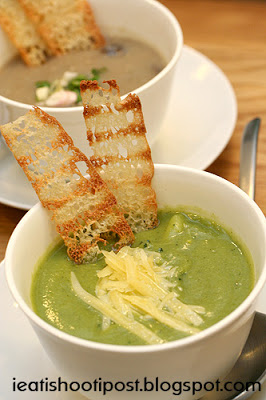 Once upon a time there were three very different little girls…..who grew up to be three very different women….but they have three things in common…they're bright…they're are passionate about God….. and they opened a Restaurant……The Restaurant's name is Food for Thought.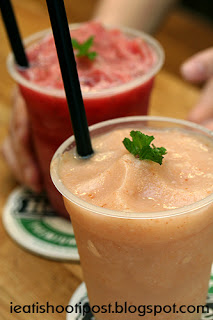 Charlie's Angels fans will recognize immediately the blasphemous adulteration of the opening lines to the TV series. Well, these aren't exactly Charlie's Angels but they are certainly Angels of a different type. And actually there is also a guy involved who can't be considered an Angel, so he's Bosley. And instead of Charlie, they report to a Boss who is also unseen but whose voice is sometimes heard.
Food for thought was founded by three young ladies and a guy with a passion for the underprivileged. Their first project was School of Thought which is a Tuition centre founded in 2002. The centre channeled some of the profits into a special fund to sponsor the tuition fees for underprivileged students. Food for Thought is their second project and one of the first causes they are supporting is to raise funds for the provision of clean water to third world countries.
The other thing that caught my attention was that their website stated that they don't like "paying a lot for very little" and "being asked to pay for tap water". Sounds like my kind of place! I looked at the Menu board and sure enough, soft drinks were $1.50 and Cappuccinos were $3 with no service charge or GST. These people are serious about what they say.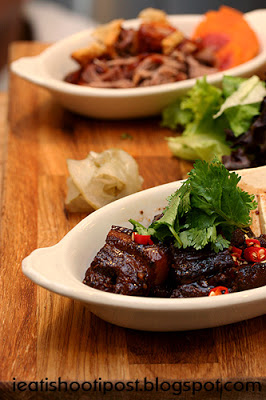 Sandwich Sampler $19.90 includes 2 soups, salad and different fillings for your Foccacia
The very first thing that struck me about the cafe was the atmosphere. It was very cosy and there was an air of joyful expectation. Chef David was busy behind the counter adding yeast to the flour to make the Foccacia and simultaneously entertaining diners. David was previously working at St Julien's but decided to become a hirling (hired by three and a half lady bosses no less – they tell me to consider Bosley a half) at the restaurant because he felt passionate about the cause.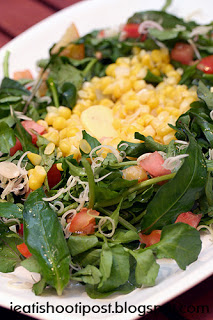 David and his accomplice, Vietnam born, US Sous Chef, Peter managed to churn up quite an interesting array of dishes that are a refreshing twist from what you usually get at your friendly neighbourhood cafe.
We could not decide what to order so we asked for the Sampler which comprised of 2 soups, your choice of salad and a "do-it-yourself" sandwich set which featured the BBQed pulled pork, Mama Heng's Kong Bak (Braised Pork), Basil Pesto Chicken and Grilled Vegetables.
The TLC (tomato, lettuce and corn) salad was a misnomer as it did not have any lettuce in it. Instead it was made up of watercress, laksa leaves, tomatoes, lemongrass and warm sweet corn with a dollop of herbed butter. The combination worked amazingly well and I found it quite a refreshing excursion from the normal salads I was used to. 4.25/5
The must try dish for me was the BBQ pulled pork which is a whole pork shoulder slow roasted till all the collagen has been gelatinized, then pulled apart by hand. The result is melt in your mouth morsels of shredded pork with caramelized BBQ sauce. Not good…..Very Good! 4.5/5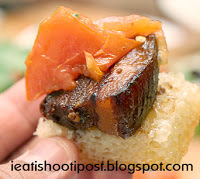 Mama Heng is none other than Chef David's Mum and she makes a pretty mean Kong Bak. It was good but it's something that you can easily find elsewhere. Still it was great with the Foccacia Bread and Garlic scented Olive Oil. 4/5
They have two flavours of soups here which will appeal to people who are watching their weight. Both the Shitake Mushroom Fennel and Broccoli soup are made without cream. The Broccoli was good but most of the bite came from the cheese they added on top. The Mushroom soup could do with a bit more ooomph. Maybe I am just used to creamed soups. The portions are big and could constitute a meal in itself so take note when ordering. 3.5/5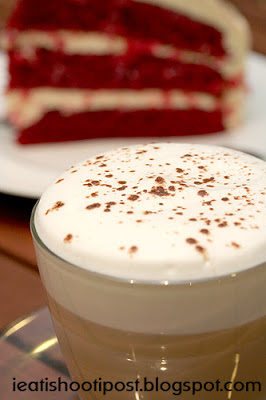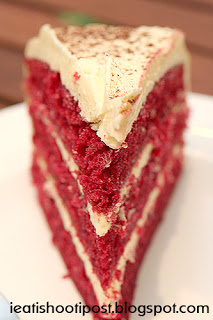 Food for Thought is strategically located just opposite the National Library and with Coffees starting at $2.50, it's a great place to drop by to have a cuppa and a browse through the books that you just borrowed from the library. The cakes are sourced from various hidden talents in the community ie their friends and their momma's friends who are budding bakers and have a really nice homemade quality about them.
I seldom rave about cakes but I was rather taken by the Old Fashioned Red Velvet. One of my favourite cakes is my wife's Carrot Cake and the thing I enjoy most about it is the cream cheese frosting. The red velvet has a generous amount of frosting and a mesmerizing red colour which was a bit jarring at first. But wow, the combination of the cream cheese frosting and the mysterious red coloured cake was, to quote our dessert specialist, iwatch_ueat, "Almost perfect". I went back again later in the week to buy some more! By the way, you might be wondering what gives it that red colour……I wonder too. Guess you will have to go find out! 4.5/5
Conclusion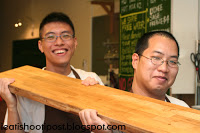 I just like this happy little cafe. It's a bit quirky, a bit old fashioned yet it's confident and exudes an atmosphere of youthful exuberance that is refreshing to the soul. The people here are happy and happiness is contagious. Come in for a pulled pork sandwich and finish it off with the Red Velvet and a cup of coffee and I can almost guarantee that you will go home happy too.
Oh yes, the picture on the right shows David and Peter carrying their Mega Sampler Board. If you have a group of friends coming in for the sampler, they will pile it all up on your very own bar top counter! ($10 per pax)
Update: 1 Jan 2012
Please note that they have moved. Please check their website for updates.