With Damien, iwatch_ueat, smart, liverpool and Tag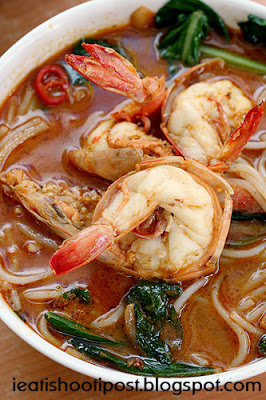 Big Prawn Bee Hoon Soup $11.50
What's the difference between a Cze Char and a Restaurant? Is it just because a Restaurant has air-con and a Cze Char does not? Or is it that the dishes are different? Perhaps it is the prices or service that is different? Take Zi Yean Restaurant for instance, which has 2 sections. One with air con and one without. Both sections share the same kitchen and the same dishes. We call one a Cze Char and the other a Restaurant. How about this scenario; let's say a Cze Char Hawker migrates to Australia and opens a restaurant that sells exactly what he sells in Singapore. Surely it would be called a Restaurant and not a Cze Char. So how would define a Cze Char? It's almost like trying to define the colour Red. You can't really describe it but one look and you know it is Red.
Anyway, the Cze Char is something as Singaporean as Bak Kut Teh and when we say Cze Char, immediately you think of Hor Fun, Ee Mee, Sweet and Sour Pork and Hot plate Tofu. More and more Cze Chars are trying to differentiate themselves by offering more unique signature dishes. But the problem in Singapore is that once a new Cze Char dish gets famous, others will start copying it and we are then back to square one.
Anyway, this Cze Char was recommended by Bashful Hunter and it is a place that he regularly brings overseas visitors. We started with the Prawn Noodles which was one of their unique dishes. Their version is quite a bit different from the usual Hawker Fare. The soup was strong on the Belachan and a bit grainy and instead of noodles, they use the Thick Bee Hoon that is usually used for XO Fish Head Bee Hoon. It was interesting for a try but did not quite resonate with our tastebuds. 3.75/5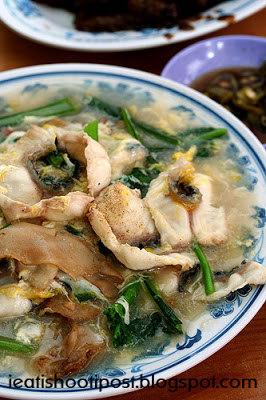 Sliced Fish Hor Fun $5.50
The Hor Fun saved the day for me and I wouldn't mind coming here just for this dish. However the reviews from around the table was a bit mixed. I felt the Hor Fun had that nice wok hei flavour and the gravy was quite tasty. However Damien, Smart and Liverpool all felt that there are better ones elsewhere. 4/5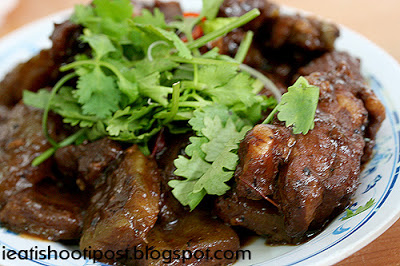 Bittergourd Pork Ribs $10
The Pork Ribs were excellent. They were tender but not the sort of tenderness that is derived from marinating the meat in bicarbonate so that it has a fishball type consistency. No the meat still has that natural fibrous texture but is easy on the bite. The sauce was quite good although I was not quite sure if I could taste the contribution from the bittergourd. 4.25/5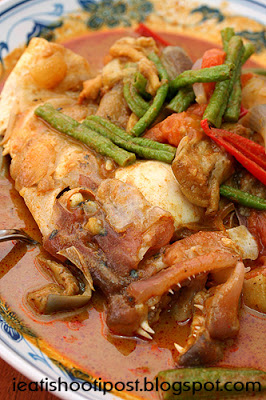 Curry Fish Head $12
I realise that many of our readers love Fish Head Curry. Now, I am not big on this dish, but my makankakis are. So I promise that I shall go on the Fish Head Curry trail soon. If you have a good stall to recommend please write in!
The Curry Fish Head here is the Chinese version. It is strong on the curry powder and does not have that sourish taste found in Indian Curry Fish Head. The makankakis all felt that there are better Curry Fish Head elsewhere although they did finish the whole plate. The fish was quite fresh, so no one was willing to let a good fish head go to waste! 3.5/5
Conclusion
Not too bad but not overwhelming either. Perhaps we did not order the right dishes. However, the restaurant is well established and is usually full during lunch time. The sliced fish hor fun and pork ribs were good enough for me to come back again to try some other dishes.