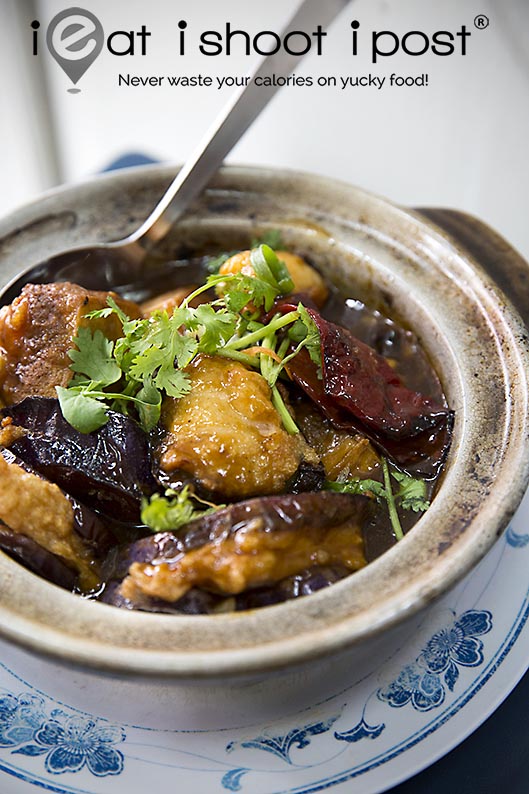 Time flies.  The last time I wrote about Kok Sen restaurant was back in 2007 which was 8 years ago! At that time, I would never have imagined that I would still be blogging about food in 2015!  Anyway, if you are one my readers who actually read the post on Kok Sen which was first posted on Aug 13 2007, then I would like to say a big "THANK YOU!" for your companionship all these years!  It is always nice to know that someone is reading your stuff!
Anyway, my experience at Kok Sen eight years ago was less than stellar and like Gen Douglas MacArthur, I vowed that I shall return.  The fact that Kok Sen has been around for so long and that they have such a loyal following just gave me that itchy feeling that something must have been amiss on the day I visited. Well, return I did, although I did take a little longer than MacArthur.  But this time, I ate there not once but twice in a week in order to make sure I get a fair assessment of the restaurant!
This time round the restaurant really did live up to its reputation.  Two dishes stood out for me.  The first is their Yong Tau Foo which I didn't order the last time.  It is the kind of dish which is best described in the words of Dorothy Boyd (Jerry Mcguire) as one which "had me at hello".   You know, it is the kind of dish that seems to have the perfect balance of flavour that evokes that moment of epiphany which all of us taste-chasers spend an inordinate amount of time and effort pursuing.
Chris, the 3rd generation owner of Kok Sen tells me that the paste used to stuff the tofu is a mix of squid and prawns which they mince and season themselves.  That explains why the flavour and texture is so different to what you usually get elsewhere.  This style of Yong Tau Foo is akin to the Ampang style Yong Tau Foo where the fried tofu is braised in a thick brown yummy sauce rather than served in a soup.  If you happen to come to Kok Sen alone, just order one portion of this and a bowl of rice and you can pamper yourself with  20mins of heaven before returning to the humdrum of the office. 4.5/5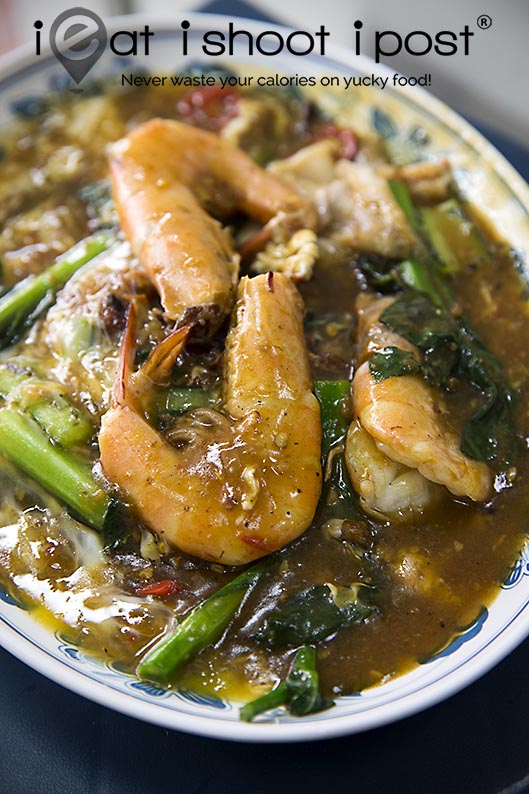 If you happen to be able to "jio" someone for lunch, then the 2nd dish which you will want to order is the big prawn hor fun.  It's good not just because you don't often get to see large prawns in a fried Hor Fun dish, but the the gravy is quite different from the usual anaemic brown sauce that is often used to top the lacklustre hor fun that you find at your neighbourhood Cze Char stall.  Instead, it is a brawny sauce with specks of deliciousness that you can see.  The flavour is accentuated by flecks of fiery red chillies which gives the sauce just enough heat to get your sweat glands working. And yes, I did detect a faint wok hei in the hor fun which would have been more potent in a perfect world.  4.25/5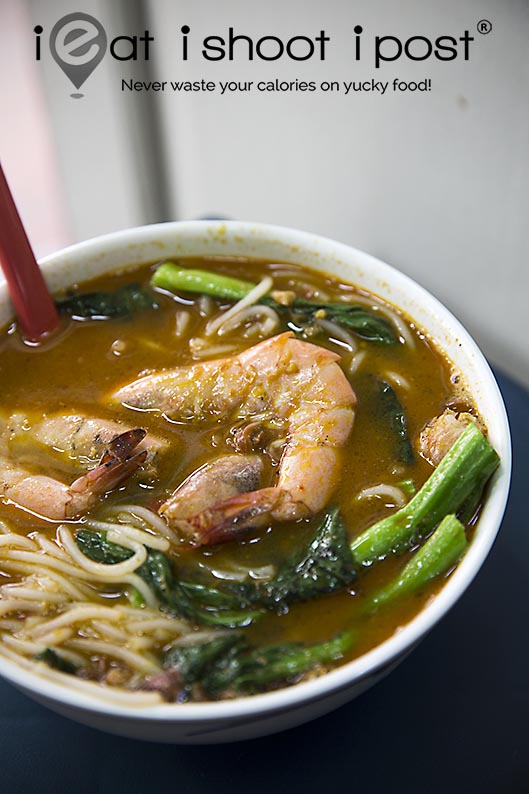 The other dish that is very popular at Kok Sen is their Prawn Mee Soup which I did write about in my previous blog post.  The soup here is slightly spicy and the stock is robust.  It is more like a Penang style prawn noodle in this respect.   The flavour of the soup is quite similar to the Hor Fun and I think it is quite safe to assume that they use the same prawn stock to cook both dishes.  Between the two I still prefer the Hor Fun version.  But if you are looking for a unique prawn mee with a spicy edge, this is one dish you can order.  4/5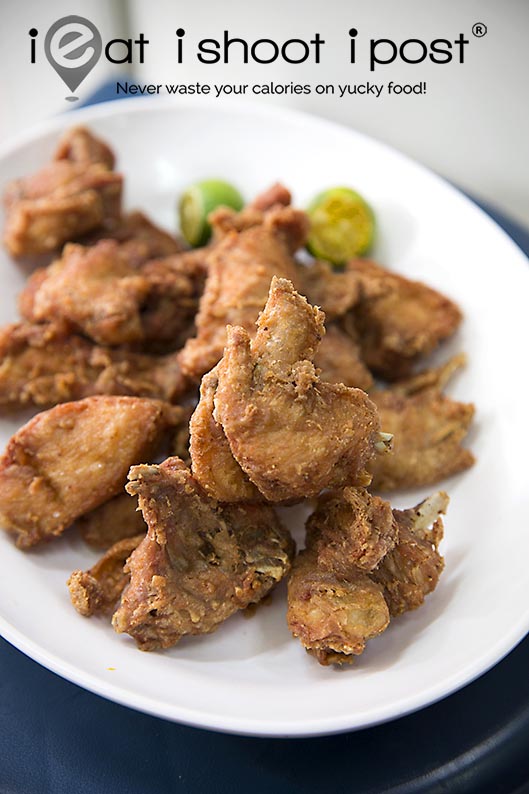 I like the flavour of their Har Cheong Gai. You can really taste the Hae Cheong (prawn paste) which has fully penetrated the meat.  What I don't like is that they use chopped up chicken parts instead of just the wings and so some pieces came out a little dry.  Would be great if they were all mid wings because the best part of eating Har Cheong Gai is when you bite into it and the juices will spurt out and run down your fingers.  You can get that effect only with a plump, freshly fried mid wing.  4/5
The special feature of the fish head curry here is that they use grouper instead of the usual snapper.  Chris tells me that they have always used grouper for as long as they can remember.  The flesh of the grouper is a little different from the snapper and the fish here is very fresh.  The curry that day was a little weak and not lemak enough.  It's not a dish that I would specially go to Kok Sen for unless you are specifically looking for grouper head curry.  3.5/5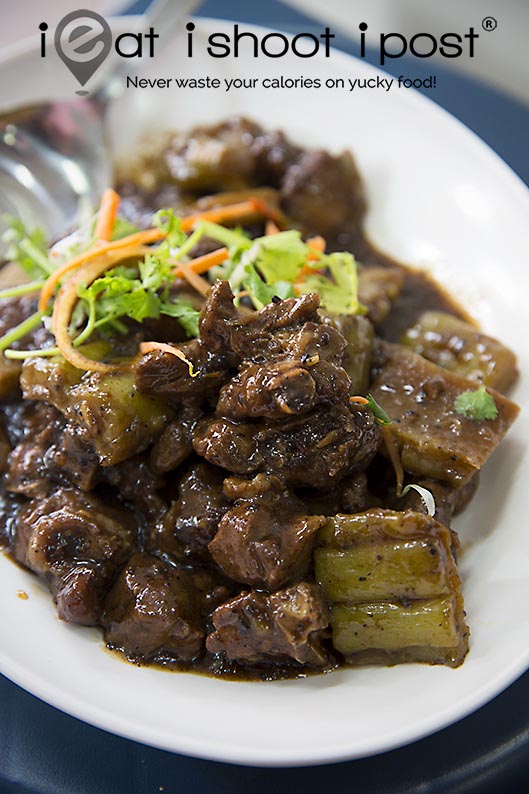 Although the bittergourd pork ribs is another of their signature dishes, it didn't really do it for me although a few of our other kakis liked it.  The bittergourd was cooked till they are soft and the flavours have penetrated into it but the blackbean sauce just wasn't edgy enough to make me want to slather it all over my rice.  4/5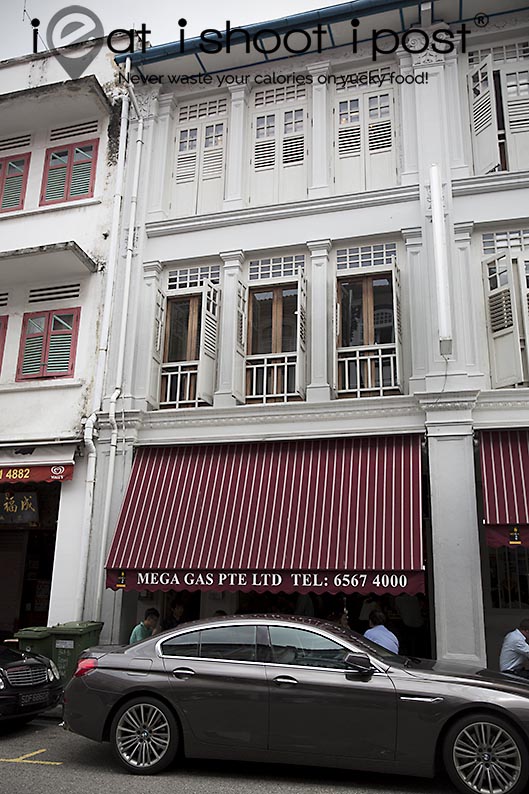 Conclusion
The food at Kok Sen is very good overall and a few dishes really stood out for me.  If I were to do a eight course food trail where I order one dish from eight of the best Cze Char in Singapore,  Kok Sen would be one of the stops and the Yong Tau Foo is what I will order.  This Cze Char has been around since the days when Keong Saik Road used to be a red light district.   They used to be located at the corner coffeeshop where Tong Ah used to be.  It is good to see that the business is now being run by 3rd generation Chris which means that I will get to eat my Yong Tau Foo and Prawn Hor Fun for a long time to come.
Congrats to Kok Sen for being awarded the Bib Gourmand 2016!