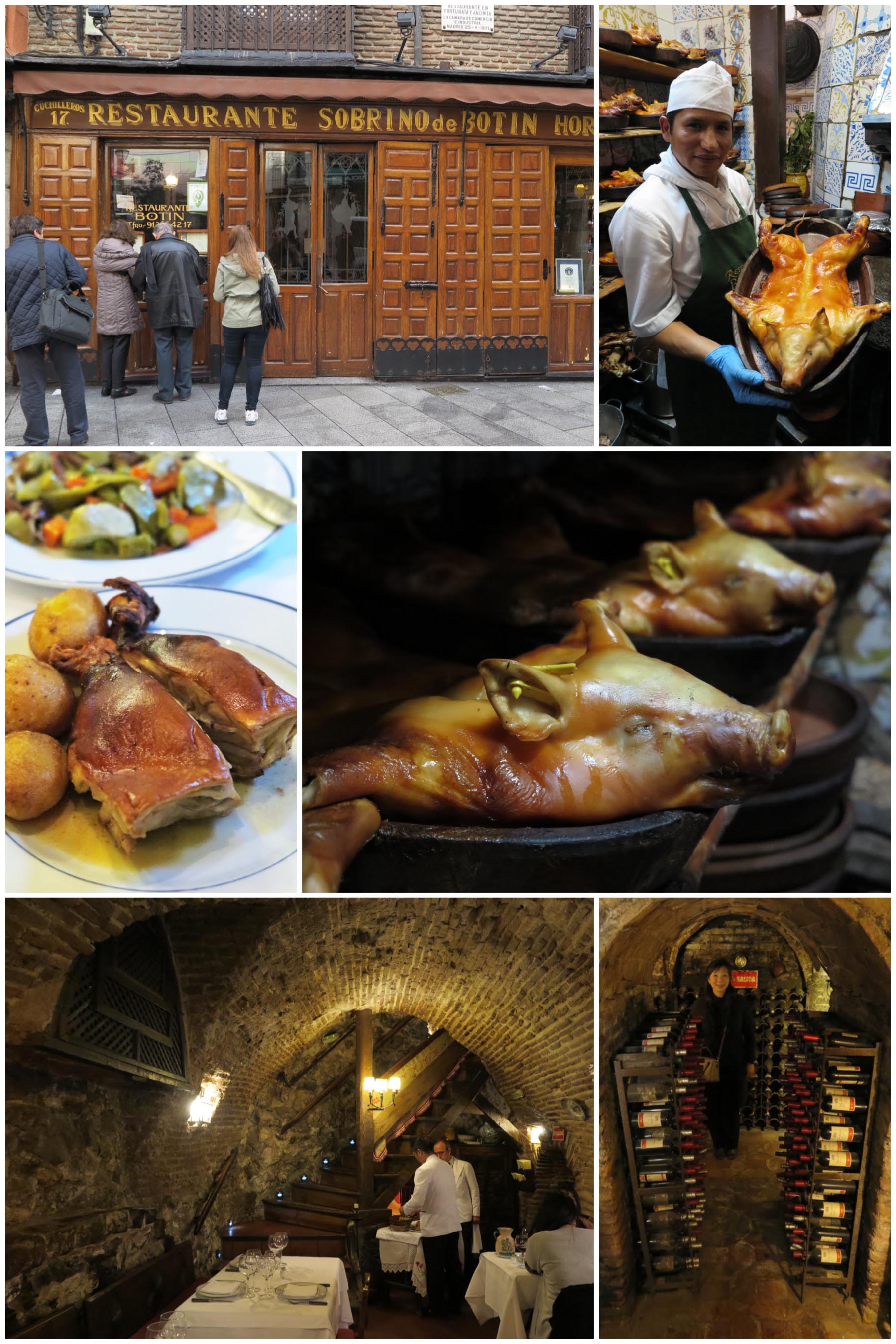 One of the best things about my trip to Madrid was its sense of history.  Spanish people like things the way they are, so there are many quaint old restaurants in Madrid which have changed little in centuries. It is not surprising then, that the world's oldest restaurant listed in the Guinness book of World Records is found right here in Madrid!
Sobrino de Botín was founded in 1725 and is regarded as the world's longest running restaurant.  They are famous for their cochinillo asado ie roasted suckling pig which is one of the most iconic Spanish dishes.  The pigs are roasted in an old wood fired oven which is as old as the restaurant itself and it is amazing to think that it has seen almost three centuries of suckling pigs!
If you eat there, opt to go down to the celler.  They still have some really old wines in the original wine rack which you can view.  The suckling pigs are excellent.  The skin is crisp and the meat is milky tender and doesn't have the strong porky flavour that can sometimes be a bit off putting.  The sangria here is excellent and you won't regret ordering it.  It was the best of all the sangrias we tried during the trip.
Sobrino de Botín
Calle de los Cuchilleros 17, 28005 Madrid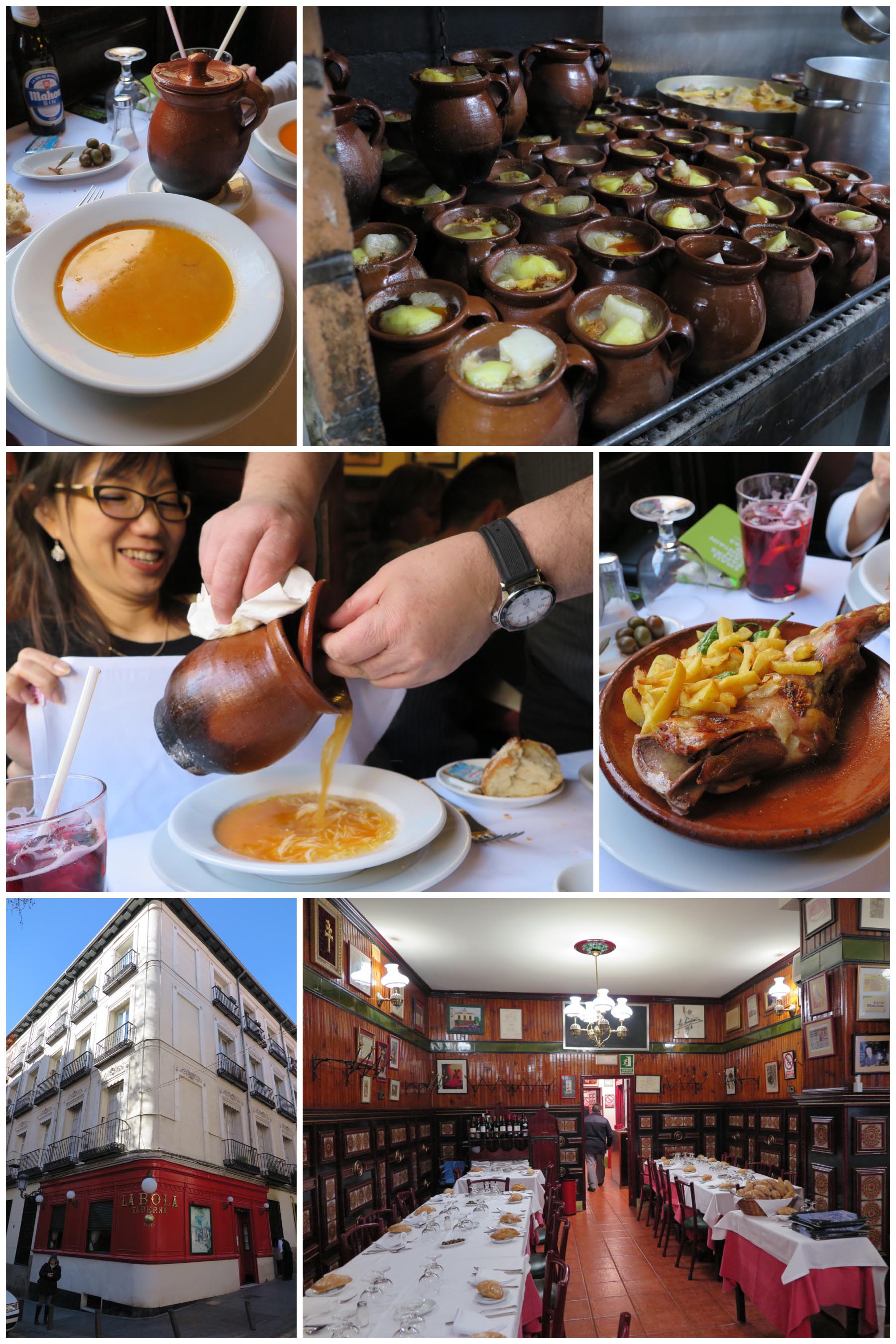 Founded in 1870, La Bola is another traditional restaurant famous for  castillan cuisine.  They are particularly famous for a stew called  cocido madrileño which is slowly cooked in clay pots over oak wood charcoal for over 4 hours.   When they serve it, they first pour out the soup onto a plate then the ingredients are decanted onto another plate.  One pot is more than enough for one person as they will come over and offer stewed cabbage as well.  I ordered their roast leg of lamb which was superbly done.  Their tuna salad is also very nice.    If there are only two of you, try to book a seat at the bay window which is really cosy!
La Bola
C/ Bola 5, 28013 Madrid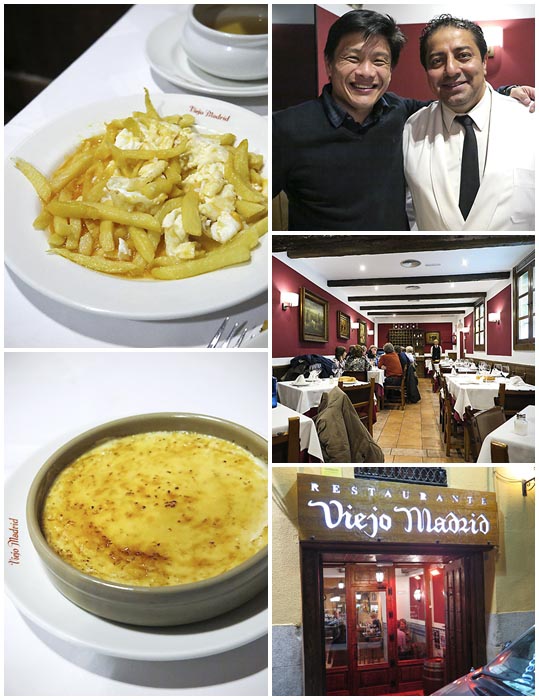 During our trip to Madrid, our tour guide highly recommended another traditional comfort food called huevos estrellados which was served at a super famous restaurant called Casa Lucio.  This place is famous for hosting famous people such as King Juan Carlos, Bill Clinton and Penélope Cruz.  We had no idea what huevos estrellados was but we were so intrigued by it that we managed to squeeze it in on our very last night in Madrid.
Viejo Madrid is the casual branch of Casa Lucio located just on the opposite side of the road which is serves exactly the same menu as Casa Lucio.  In fact, when we sat down, we were presented with the Casa Lucio menu!  We were told that dining at Casa Lucio itself is more formal and it is hard to get a reservation, so we settle for the more relaxed option. I was really looking forward to their special egg dish but when it finally came, it was a bit of an anticlimax.  All it is was a plate of potato chips with some eggs on top!  Our waiter was very nice and offered to take me to the kitchen to see how the dish was made.  That was when I found out that those potatoes were no ordinary potatoes.  They have been slow cooked in olive oil for a long time such that the olive oil has really soaked into the potatoes and rather than being crispy, they were soft!   The eggs where simply fried over easy and placed on top of the potatoes and the waiter is the one who will break the yolks just before serving.  At least now I know what huevos estrellados is all about!  I guess it is comfort food for the Spanish just like chee cheong fun is to us Singaporeans.
Viejo Madrid
Calle Cava Baja, 32, 28053 Madrid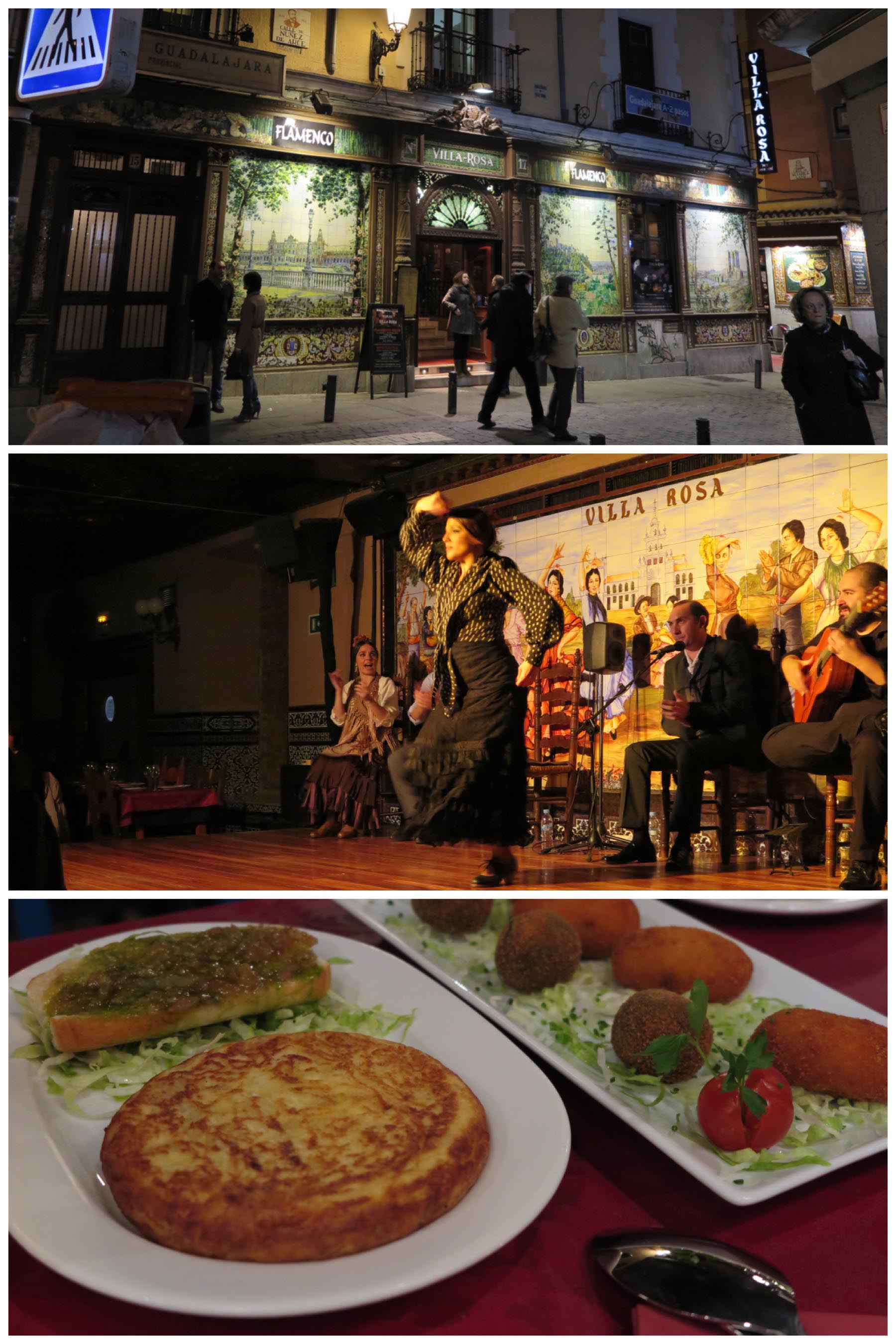 One of the most memorable evenings we had was dinner at Tablao Flemenco Villa Rosa.  The food was nothing to rave about but the evening entertainment was really good!   Flemenco must be one of the most high energy dances and the restaurant is set up so that everyone is quite close to the stage.  I wouldn't mind doing it again on my return trip.
Tablao Flemenco Villa Rosa
Plaza de Santa Ana 15, 28012 Madrid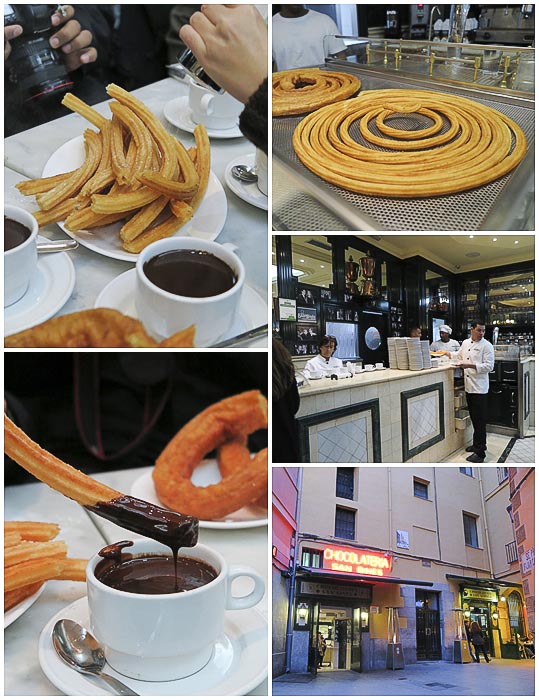 Churros must be the most famous breakfast food in Spain and the most famous place to have it in Madrid is Chocolateria San Gines.  They have been serving chocolate con churros since 1894 and the great thing is that this place is close to Plaza Mayor and opened 24 hours.  My advice for Singaporeans is that the portions are big and one portion is probably good enough for two.  The hot chocolate itself is really thick, so you might want to order a coffee or tea to go along with it.  I can't help but compare churros to our local you tiao.  In fact, they have a thicker version of the churros which looks remarkably similar to you tiao!
Chocolateria San Gines
Pasadizo de San Gines 5, 28013 Madrid
Read about our tapas tour here
Acknowledgements
Our trip was sponsored by the Spanish Tourism Board
Tapas tour by MadridFoodies
We enjoyed the excellent inflight service by Thai Airways and stayed at Hotel Room Mate which is smack in the middle of old Madrid, just a stone's throw away from the Royal Palace.