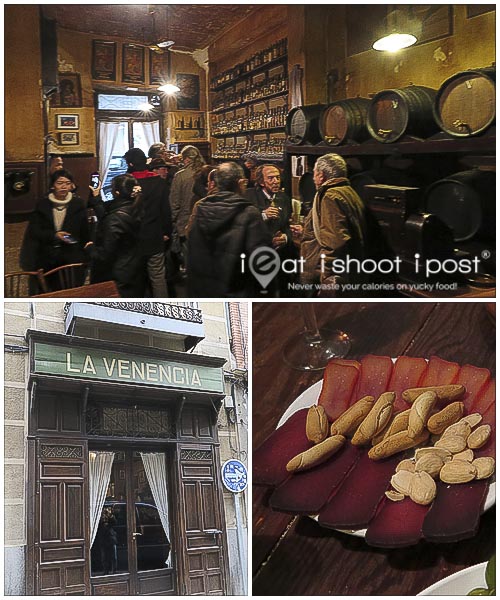 One of the best things you can do in Spain is to go on a tapas tour!   In Spain, lunch is served from 2pm to 4pm and dinner is 9pm to 11pm.  In between, when you are feeling a little peckish you can simply step into one of the numerous bars, order yourself a drink for as little as €1 and get a tapas for free!  (Except between 4pm to 6pm as they close for siesta!)
If it is your first time in Spain,  one quick way to get immersed into the Spanish culture is to go on guided tapas tour.  The first thing they will tell you is that you don't actually go to a tapas bar to have tapas.  Instead, you go to a bar to have a drink and the tapas comes along with it.  Of course, the first one is free and if you want more, you have to pay for it.    The second thing that they will share with you is about the origins of tapas.  During my time in Spain, I met at least 3 tour guides and they all tell me the same story.  Tapar in Spanish means "to cover" and the term tapas originated from the practice of covering the sherry glass with a piece of bread or ham to prevent the fruit flies from getting to the sweet wine.
But we were soon to find out that having tapas in Spain is much more than than just tapas.  Our guide brought us to some of the oldest tabernas which felt like a step back in time.  Some of these taverns have not had their walls painted for centuries and you can almost hear the clicking of hoofbeats on the cobblestone streets outside as well as the cheering of the fans at the bullfight!  Others propel the concept of the tapas to the stuff of sci-fi with Michelin star finesse, turning mussel shells into edible wafers and other small bites made with espumas, Pacojets  and who knows what phaser mixer thingymajigies that they have in the kitchen nowadays!
Here are some of the best tapas bars which I visited during my time in Madrid.  I did two tapas tours.  One during the day in old Madrid, visiting the some of oldest taverns and the other one at night where we saw what modern Spain had to offer.
The Old and Traditional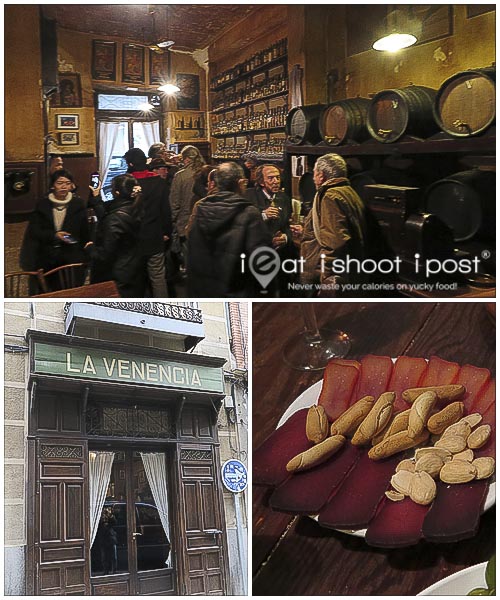 The first bar that our Madridfoodies  guide brought us to was one which he described as the most authentic in Madrid. Here is where you can experience Spanish life as it was 200 years ago.  From the peeling paint on the walls to the dark wood counter and dusty wooden barrels behind the bar,  this is the kind of place which one might expect to glimpse the ghost of Hemingway lurking in the corner.  We were warned to be very discreet when taking the photos as the owners don't want any publicity. (This was the only place in Spain where I felt a little intimidated!) They serve very traditional tapas here which means food that don't require refrigeration, just like it was centuries ago.  So expect a plate of olives that comes free with your sherry (this place specializes in sherry) and for something a little more special, go for the air dried tuna and cod roe which is something you can't easily find nowadays.  (It's worth trying but not something I look forward to eating again soon,  know what I mean?)
La Venencia
Calle de Echegaray, 7
28014, Madrid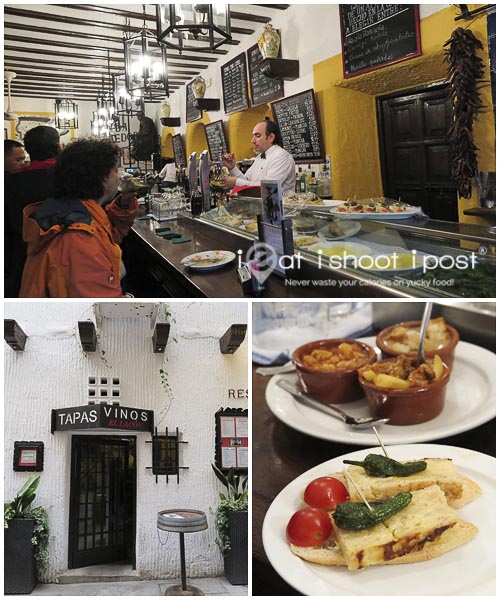 Although most tapas bars will serve you free tapas with your drink, not all of them will serve you the good stuff.  So the trick is to find bars that serve the best free food!  One of them would be the El Lacon which serves really excellent beef tripe stew as well as a  beef and potato stew which we can't stop eating!  If you are after good food for lunch, this is the place to find it.  We ordered a lunch portion of pan fried Secreto Iberico which is that "secret" muscle in-between the front legs which is well marbled and has a wonderful nutty flavour and springy texture.  The croquettas (a breaded fried nugget similar to potato croquettes except that they are made of a bechemel sauce mixed with various ingredients eg ham, porcini mushrooms etc) here are also very nice.
El Lacon,
Calle de Manuel Fernández y González,
8 28014 Madrid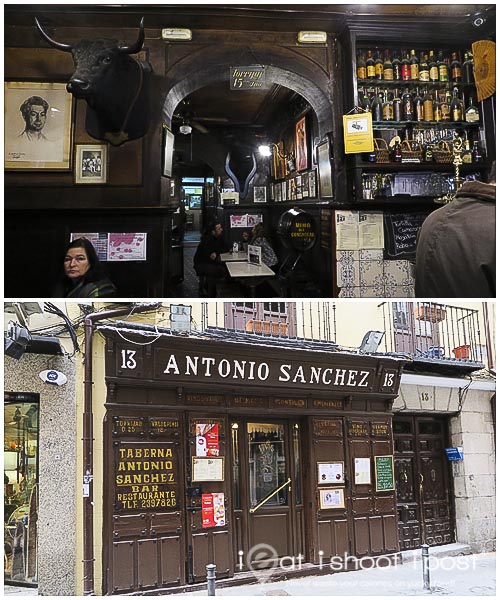 When you think of Spain, you invariably think of bullfights.  Bullfighting is facing an uncertain future as its popularity is waning.  But in it's heyday, it was the fiesta nacional.  You get a sense of its glory days when you step into Taberna Antonio Sanchez.  The place is as rustic as it gets with the heads of vanquished bulls adorning its walls and a smaller portrait of a bullfighter whom we presumed must have been the matador, Antonio Sanchez himself who owned the place.
Taberna Antonio Sanchez
Calle del Mesón de Paredes,
13, 28013 Madrid
Our tapas tour was organized through Madridfoodies which is operated by my friend Antonio who also organized my trip to visit the iberian pigs in Extramadura. We did a short, 2 hour tour with him.  A typical tapas tour will take 4 hours and cover 6-8 tapas bars.
The New and Hip
My night tour was part of the program for the international press who were in town covering Madrid Fusion 2015.  This prestigious gastronomic event is a conference where chefs from all over the world come together to explore the latest innovations in the culinary world.  Our tour covered some of the more modern and highly rated places for tapas in Madrid.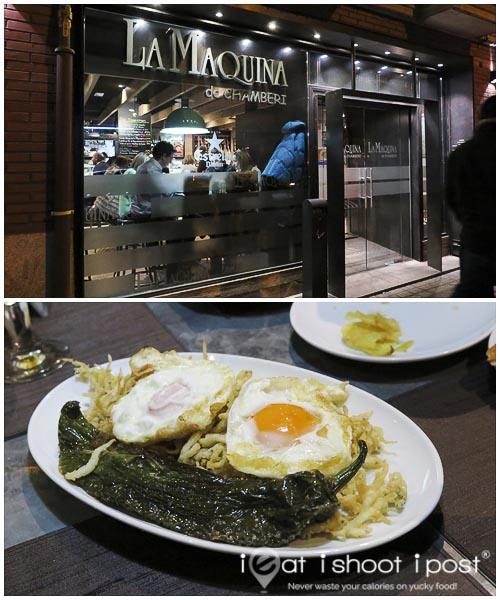 La Maquina is a modern bar with lots of buzz and television screens where you can eat your tapas while watching the football.  It serves the type of hearty Spanish food which is simple yet satisfying.  Don't expect anything fancy.  When you order a Spanish tortilla, it just comes in a simple white plate but you get a big generous wedge of sliced potatoes and eggs which are not over fried such that it is still very moist inside.  The only problem with this place is that the food is so good and the portions so generous that if you start your tapas tour here, you may not have the stomach to eat anything else on your tour!
La Maquina de Chamberi
C/ Ponzano, 39-41 28003 Madrid
Viavélez
is opened by Chef Paco Ron who used to own a 1 Michelin star restaurant in Asturia before moving to Madrid.  This place is both a tabernas and a restaurant and is good for a quick tapas stop to sample some Michelin quality food.  We sampled a few of Chef Paco's creations and they are all fabulously tasty.  Yes, Chef does use modern techniques like turning the shell of the mussel into an edible wafer but it isn't all about form without substance.  The food is tasty and the flavours well balanced and pay homage to the traditional tastes of Asturias.  After tasting the tapas, I decided it would be a place for dinner the next time I am in Madrid.
Viavélez

Avenida del General Perón, 10 Madrid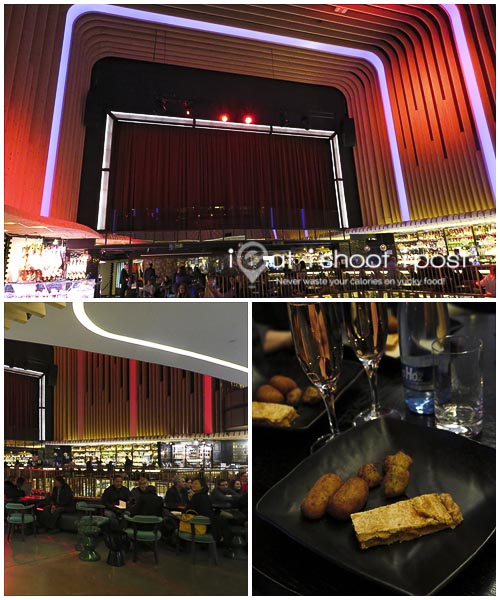 Platea is probably the hippest place in town for tapas.  It is a food hall that is located in a refurbished cinema which houses a few eateries and restaurants.  Our tapas that evening was nothing to shout about but the place sure has a lot of buzz and with so many eateries around, you can almost do your whole tapas tour in this one place.
Platea
Calle Goya, 5 7, Madrid,  28001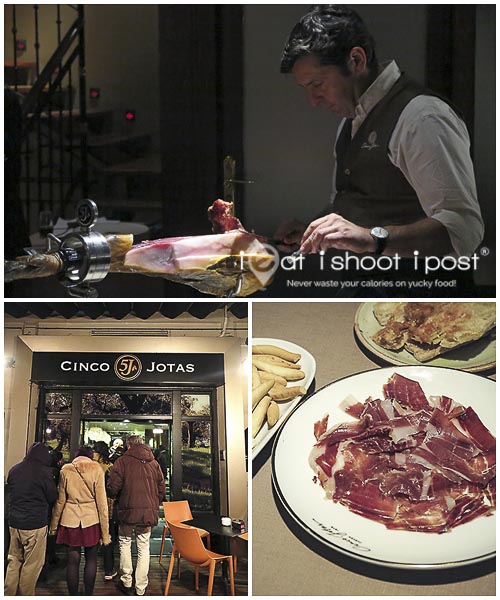 Without a doubt, the Jamon Iberico Bellota (Cured ham made from Iberian pigs fed on acorn) was the highlight of my culinary trip to Spain.  I managed to eat some of this sublime ham almost everyday while I was in Spain.  Sure, you can find it at almost every restaurant but there are different grades of the Jamon and unless specified, you are likely to be served a portion of which a lower grade of Jamon as the pigs are fed with cereal.  On other occasions, you could even be given Jamon Serrano which is made from the white pig.  Even when you are served Jamon Iberico Bellota, there are different grades of this ham that is made from acorn fed pigs.  Cinco Jotas (5J) is one of the premium brands which is widely regarded as making some of the highest grade jamon in the country.  They have even opened a restaurant dedicated to serving their prized cured meats.  So if your idea of a perfect tapas experience is a slice of beautifully marbled Jamon Iberico Bellota and a glass of red wine in a classy setting, then this is the place for you!
Cinco Jotas
Calle de Puigcerdá, 2, 28001 Madrid
Acknowledgements
Our trip was sponsored by the Spanish Tourism Board
Tapas tour by MadridFoodies
We enjoyed the excellent inflight service by Thai Airways and stayed at Hotel Room Mate which is smack in the middle of old Madrid, just a stone's throw away from the Royal Palace.