With Camemberu, liverpool, iwatch_ueat and Tag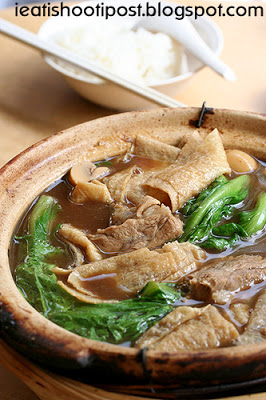 The Malaysians may insist that Bak Kut Teh is invented in the Klang Valley, but as you know in my last article, I wrote that Bak Kut Teh was actually invented in Singapore by the Teochews at Clarke Quay. Actually if you think about it, how these two stories can be reconciled may be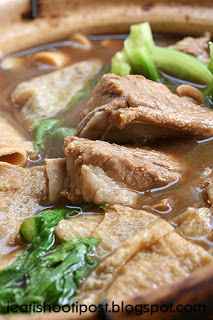 quite simple. I think that the concept of boiling pork bone soup is quite generic and they probably do it commonly in South China. I mean it doesn't take a genius to dream up boiling pork bones does it? Then when our forefathers came to Singapore and Malaysia, they brought the concept with them but changed the recipe to suit the local needs. The Cantonese like to use herbs in their soup, so the Klang version features much more herbs then the Teochew version which uses pepper and garlic. Sounds plausible does it not? (This is my own theory and not from some history book)
Anyway, we wanted to feature a Klang style BKT, so we tried this quite well known one along Beach Road.
We found the soup to be a little bitter rather then sweet and aromatic that day. It lacked the oooomph expected of a good BKT. The pork ribs though were very nice and tender. 3.75/5
Not only I say only yah? My makankakis, Camemberu, liverpool, Tag and iwatch_ueat also say.
BUT this place does have a really good Ter Kah that is to die for (literally). Soft, sticky, sweet and savoury, the fats and tendons melts in your mouth and I can feel it go directly into my coronary arteries. Phwa, very shiok but not something you want to admit to your cardiologist on your follow up visit after coronary bypass surgery.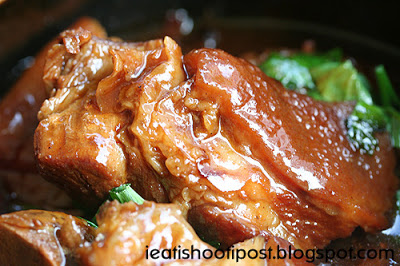 Definitely one of the better Ter Kahs I have had in Singapore! Great with a bowl of rice and make sure you drink lots of strong tea to wash it all down. 4.25/5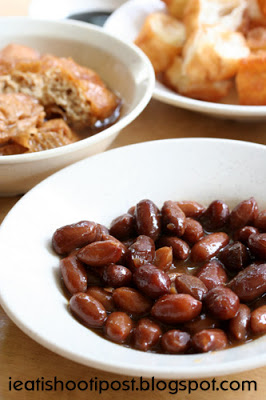 The stewed peanuts here are worthy of special mention. They were stewed till really soft and sweet and has enough umami make you keep eating it. Nice, very nice. 4.25/5
Conclusion
It has been reported that the soup here can be inconsistent. Maybe we just went on a bad day for the BKT. The Ter Kah and peanuts still managed to get me to expend my calories for the day.