The appearance of Pasta in hawker centres is a welcomed sight for those who just happen to have a pasta craving but do not want to sit down in a restaurant and have to pay more than $10 for a meal. The problem with pasta is that the raw ingredients are mostly imported, so the price is necessarily higher than local hawker fare. So in order to produce a plate for $5, something's gotta give.
There is no point comparing a plate of plate of Pasta produced at a hawker centre for $5 with a plate of Pasta at a restaurant for $15. That is just not fair. What I do conceptually is to give the pasta a Satisfaction score and divide it by its price to derive a "Satisfaction per Dollar" (SpD) value. So if the $5 pasta gives you a satisfaction score of 4 and the $15 pasta gives you a 5, the SpD of the cheaper pasta is 4/5 or 0.8 while the expensive one is 5/15 or 0.333. Now this does not mean that one will always go for the cheaper one just because the SpD is higher, it just means that you might eat 0.8/0.33 or 2.4 plates of the cheaper pasta for every plate of more expensive pasta. The assumption is, of course that one has limited pocket money. If one had an unlimited amount of money than this really does not apply!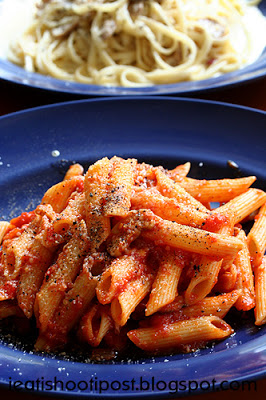 Amatriciana $5.50
This plate of Amatriciana is pretty good for $5.50. The sauce is tangy and has enough bite to it. The penne was Al Dente and satisfying. Good to satisfy a quick tomato craving. 4/5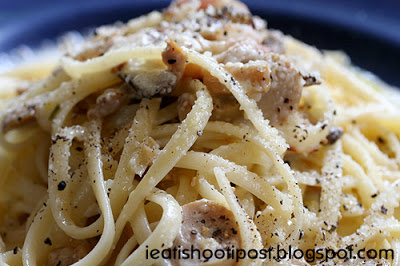 The thing that separates this stall from the other Hawker Pastas that I have previously blogged about is that the young Shatec Trained Chef actually insists on cooking each plate of pasta on the spot, the way he had done it when he was working in the kitchens of proper Italian restaurants. So to make this plate of carbonara, the bacon and onions were sauteed before fresh cream and seasonings are added.
The carbonara was ok, but lacks the ooomph which had to be made up with the addition of extra parmesan cheese. They actually use proper grated Parmesan here rather than the "Kraft" ultra long life, no refrigeration required, reconstituted from who-knows-what type Parmesan, which is a good thing. An extra handful of grated parmesan will save any cream sauce! 3.5/5
Conclusion
Another place to get a cheap and quick fix. I think if you want more ooomph from the pasta, you can always ask the Chef to specially prepare it for you since the sauce has not been precooked.