With Tag, Carnineviand, iwatch_ueat and Bashful Hunter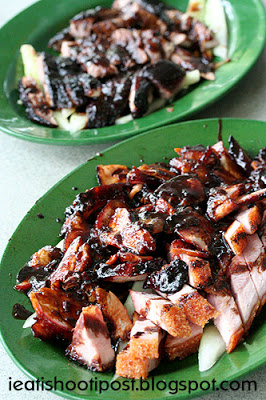 If there is one thing the Teochews are not well known for is Roasted Duck. We are more famous for our Braised Duck. So when this Teochew Ah Hia told me that his Char Siew and Roast Duck is Teochew Style it threw me absolutely off balance.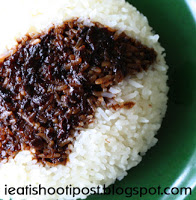 So what is so special about Teochew style Roast Meat? I am seriously wondering if you can find this type of Char Siew if you went to Swatow today! Did this man invent his own style of Roast Meat or does this style of Char Siew really exist in Swatow? Will some Teochew Ah Zhek (uncle) please let us know?
The stallowner explained that Teochews love sweet things. (Think Orh Nee and Teochew Bak Chang which has sweet bean paste inside) So the Char Siew is much sweeter then usual. He shared that his marinade has got bean paste and malt in it. Certainly the sauce that he liberally pours over the rice is unique. It was pretty lumpy and was quite sweet which suited my palate very well.
Undoubtedly the Char Siew here is the star of the show. Don't be alarmed, he does serve leaner cuts, but when asked which bits are the best bits, he joyfully cut up the sample shown in the picture. Oooooh, I feel my tongue tingling and my coronary vessels stiffening up at the same time! There is nothing more sinful and shiok than burnt fat with caramelised sugar! 4.5/5
Both Sio Bak and Roast Duck here are competent but not as outstanding as the Char Siew. So I will give it a 4/5 and say no more.
Conclusion
Have to add Teochew Style Char Siew into your Char Siew resume, don't you think? Worth travelling all the way from Tampines for.