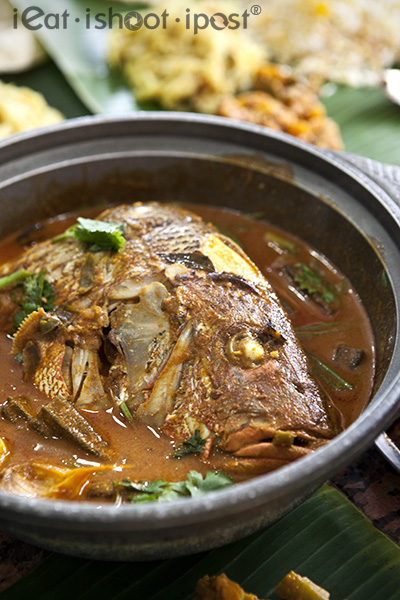 Fish Head Curry $28
There are two versions of Curry Fish Head in Singapore. One is the Chinese version where the fish head is steamed first before cooking in a curry which has less powdery spices and the other is the Indian version where the fish head is cooked a in pot of fiery spices that is designed to make you sweat so that, ironically, you will feel cooler in the hot weather. So far I have been writing a lot about the Chinese version, so its time to give the Indian version some air time. Curry Fish Head was invented by an Indian man after all.
Now, where would you find a really excellent Indian Curry Fish Head? Well, if you were to hazard a guess, you might think, Little India, and you won't be too far off the mark as there are certainly a few famous Fish Head Curry restaurants there. But those who know will tell you of a little restaurant situated in what can be considered the fringe of civilization beyond which the map of Singapore is mysteriously unmarked. This restaurant have been thriving for the last 17 years and is testimony of how crazy Singaporeans will travel across the island just to find something good to eat!
So it is that I found myself one lunchtime with three of these aforesaid crazy Singaporeans who have traversed the entire length of the PIE to find our pot of curry. Now if you live in the East, as I do, please remember to add another $10 to your total bill to cover the cost of petrol.
The good news is that the Fish Head Curry here is worth that extra few litres of petrol. The curry gravy turned out to be deliciously balanced and not quite as fiery as I had expected and the fish was tender and moist even though it was cooked directly in the curry. It is this pot of Fish Head Curry that brought me to the moment of Epiphany. Ah, now at last, I finally know what the fuss over Fish Head Curry is all about. 4.6/5
The thing that really surprises me about Karu's is the fact that I didn't find their curries as fiery hot as I expected. Now, I personally have a bit of phobia over spicy food. I remember that when I was in Sec 1, my best friend Joshua, who was my new friend then, invited me over to his house for a gathering. His mother (They are Indians btw) who is an excellent cook, served up Chicken Masala as one of the dishes. I was a growing boy at that stage without much exposure to Indian food, so being adventurous, I took quite a generous portion of the delicious curry. Before I knew it, my oesophagus and stomach started to glow red hot and I broke out in cold sweat and had to get downstairs to the void deck for fresh air. I must have been slumped over the stone bench for a good hour before I finally managed to walk straight. Aunty still laughs at me till this day whenever I go over to his house for dinner, but she would tone down the curry a bit when she knows I am coming.
Anyway, coming back to the Chicken Masala, I didn't break a sweat eating it. It was delicious, well spiced and nicely balanced. 4.25/5
Another good side dish to order is the fish and potato cutlet. It's not amazing, amazing, but a very savoury and satisfying accompaniment to your curry rice. 4/5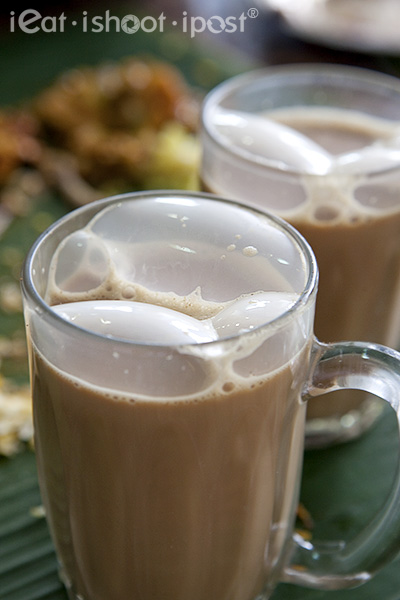 After lunch, do remember to wash all the spices down with some Masala Tea. The Tea here is very good, well balanced with the spices and a nice and creamy mouth feel. A fitting end to an excellent meal. 4.25/5
Conclusion
Karu's is one restaurant that is worth traveling across the island for. The Fish Head Curry is superb and it's pretty reasonably priced too!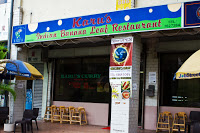 Update: 7 Nov 2016
The restaurant has since relocated. New address has been updated.