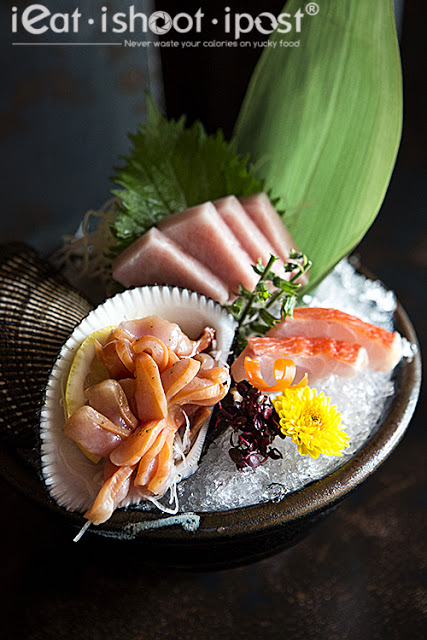 There are two things that intimidate me about Japanese restaurants. One is the price and the other is the chef. That is not a problem with mid ranged Japanese restaurants where I bring my kids to, but, when I really want to eat Japanese, I like to sit at the bar to interact with the Chef. I like my sushi to be freshly pressed and presented one at a time so that the rice has no time to cool and harden and the temperature of the fish remains at an optimum temperature. That being the case, I need to find a good sushi chef who can speak English but at the same time isn't going to slap me with an exorbitant bill at the end of the meal. Granted, everyone has their own equilibrium when it comes to balancing quality with cost. Although I love the quality of a $300 sushi meal, I can't get myself to spend that kind of money too often. Personally, I feel that one should be able to get a excellent sushi experience for around $80-$150 in our current environment.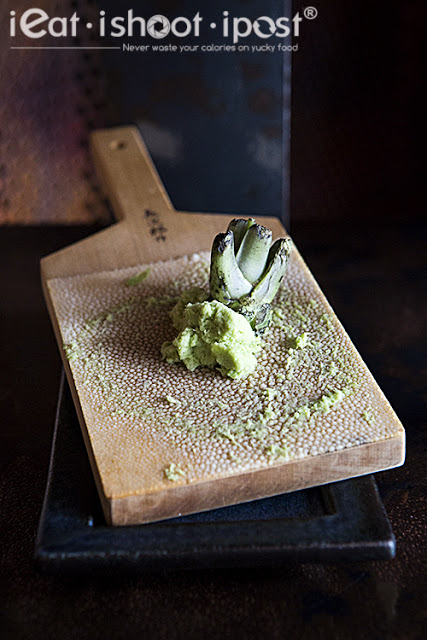 You might divide Sushi restaurants to those who serve freshly grated Wasabi and those that do not. At least that is what I look for when I decide if I would try the sushi. If the restaurant doesn't have the shark skin grater (oroshigane) and fresh wasabi, it just signals to me that the chef isn't serious enough about sushi. So it might be better to just go for the cooked dishes. Having said that, IKYU does have fresh wasabi BUT they would only serve it if you are eating Ala Carte sashimi and not if it comes with the lunch or dinner sets.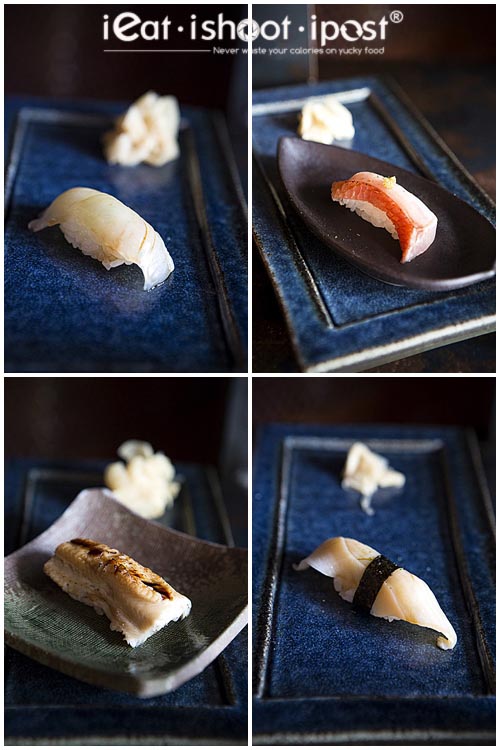 The sushi selection here is still quite limited but the fish is fresh and flown in direct from a private supplier from Tsukiji. So you do get your usual Shiromi dane and Akami dane but what was noticeably absent were the Hikarimono (silver skin fish). According to Chef Seki, Singaporeans haven't really developed a taste for Hikarimono which tends to be quite fishy especially if they are not superfresh, so it is always risky to bring it in.
They use Koshihikari rice from Niigata prefecture which is one of the best rice produced in Japan. Chef Seki also happens to come from Niigata prefecture, so it is not surprising that he is very proud to be serving this rice here. The shari (sushi rice) is very good and suits our local palate quite well. In Japan the rice tends to be a little more vinegary, while in Singapore it is less sour and more savoury. I like the texture and balance of the flavour of the rice. Konbujime Hirame is flounder which has been marinated by wrapping seaweed over it so that it imparts a umami flavour to the fish. It's very good. Kinmedai is now in season and the oily white flesh works very well as a sushi. The anago was however, not as creamy and unctuous as I would have liked. Overall, I felt it was a very good place for sushi. 4.25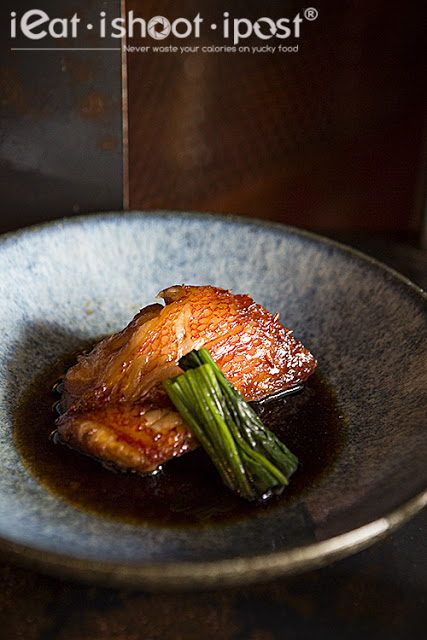 The Omakase starts at $128 and for that you can expect a 7 course meal with sushi, sashimi and a few cooked dishes. Chef presented a Kinmedai no nitsuke which is <i>Splendid Alfonsino which has been braised in sweet soy sauce. The fish is excellent and the sweet braising sauce was a good complement especially to the layer of fat just beneath this deep ocean fish. 4.25/5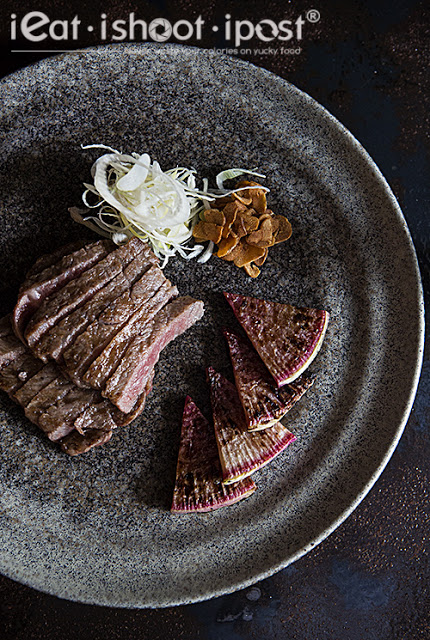 The grilled dish was the Kagoshima Wagyu which I felt could have been better if it had developed a bit more char. The A4 Wagyu also wasn't as juicy and flavourful enough to usher me into deep contemplation, something that a good Wagyu dish does for me at times. According to Chef Seki, this will change very soon when they bring in Miyazaki Wagyu. Don't get me wrong. This is still a marvelous piece of beef. It is just that our expectation of Wagyu is now much higher than it was five or six years ago. 4/5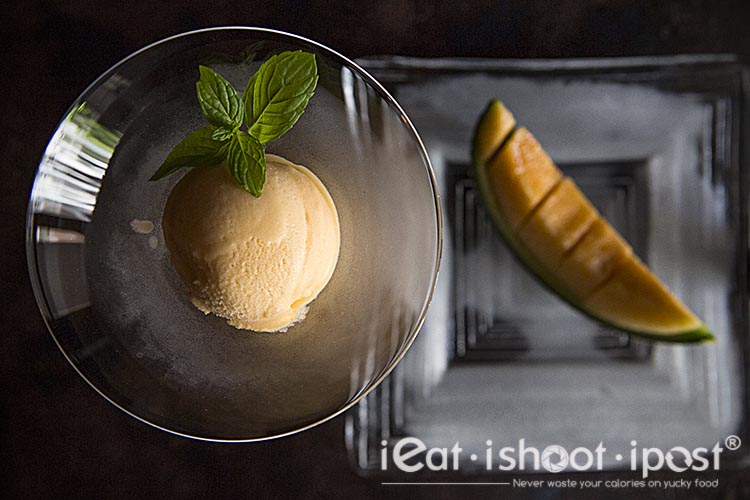 Dessert is a simple rockmelon ice cream imported from Hokkaido and a slice of Japanese rockmelon which they import themselves. Both were very good although I have tasted rockmelons which were better. 4.25/5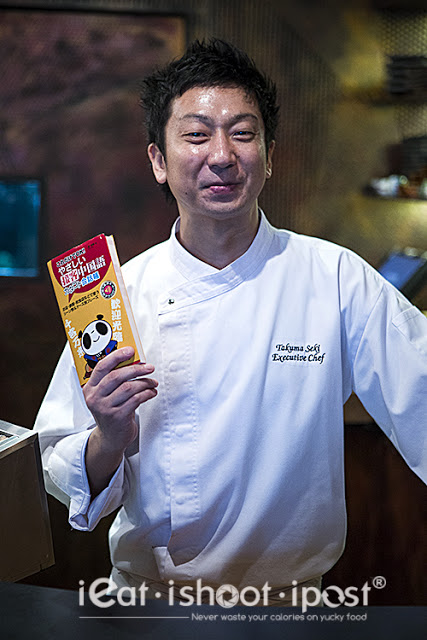 Chef Seki is rather jovial and I am sure anyone will warm up to him quickly. He is fluent in English and responds to my questions quite enthusiastically by opening up his book of ingredients. He is also now learning to speak mandarin and posed for the above photo with his Mandarin language book.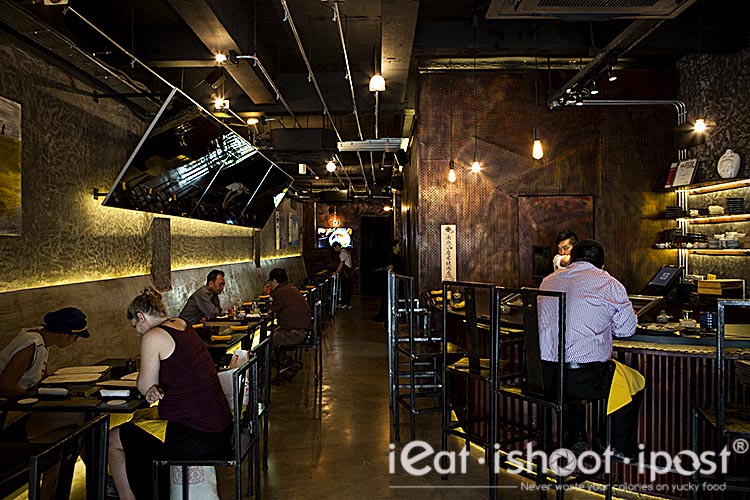 The decor at IKYU is very unique. The grunge metal look is very welcoming and very different from the usual Japanese themed restaurants. If you do sit at the bar, try to sit away from the main door as the blast of hot air coming in can be a little irritating.
Conclusion
IKYU is a nice and casual place for a good Japanese meal. It should please those who are looking for quality Japanese food without the exorbitant price tag. An omakase meal will set you back $128++ which will include 5 kinds of sashimi and 5 kinds of sushi plus a few hot dishes.
This was an invited review.