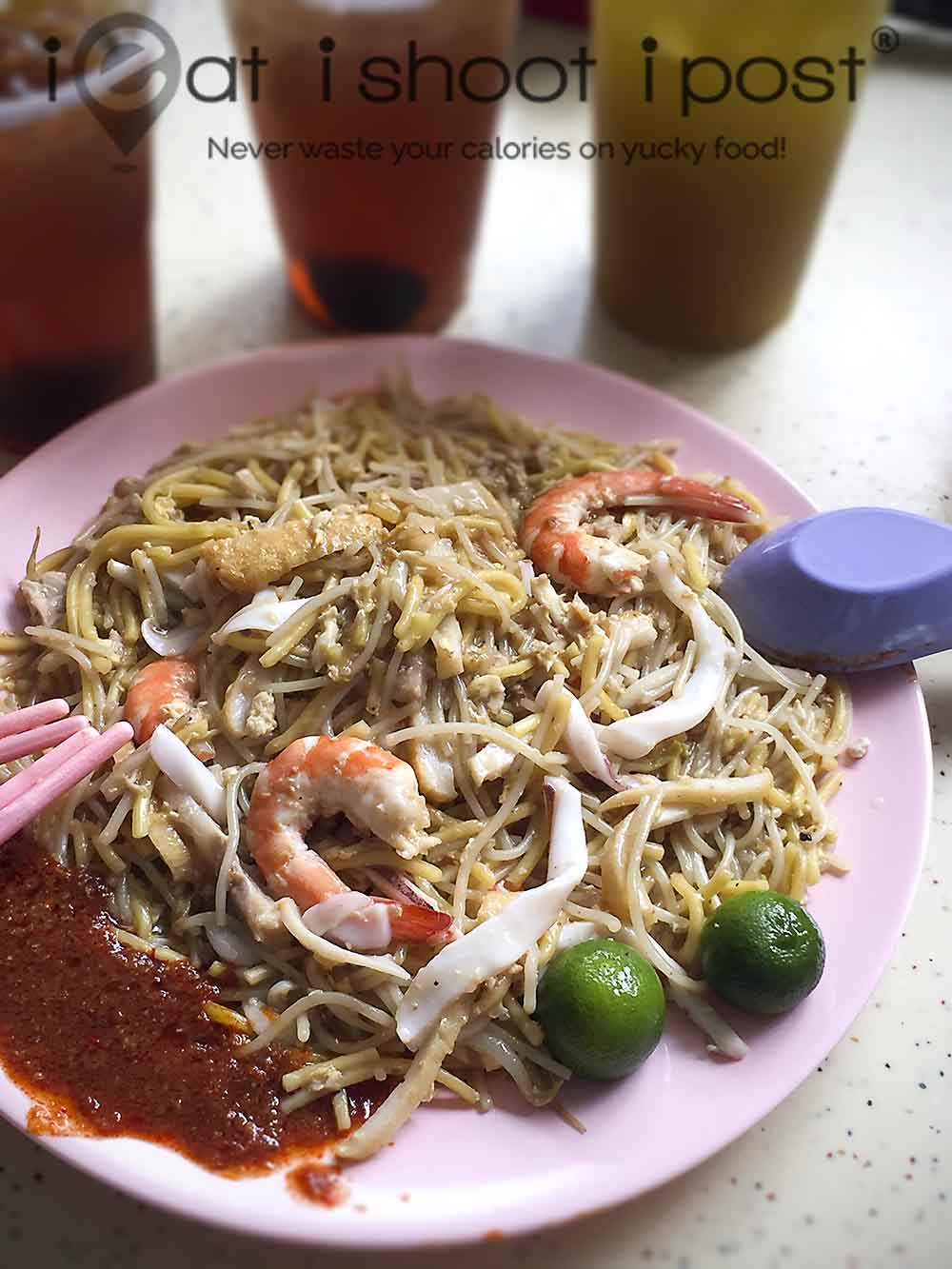 The Michelin Guide has put Singapore's hawker food on the world gastronomy map with the announcement of 2 One Michelin Star Hawkers this week, viz Hillstreet Tai Hwa Bak Chor Mee and Hong Kong Soy Sauce Chicken.  Now we can boast that Singapore is the cheapest place in the world where you can eat at a Michelin Star establishment!  Two dollars!  Yes $2 is all you need to eat a Michelin Star meal!
When I published "The End of Char Kway Teow" in 2010, my intention was to "glamorise" hawker food so we Singaporeans might realise the uniqueness of our own cuisine and not take it for granted. Having spoken to so many hawkers, I realised back then, that most of our hawkers are due to retire with not enough young hawkers wanting to take over the wok.  Most young aspiring chefs want to cook French cuisine and eschew local food which is often seen as "low class".  Thus, "The End of Char Kway Teow" was meant to sound the alarm that unless we do something soon, there might not be a Char Kway Teow worth eating in the future!
Now that our hawker food has officially been anointed by the Michelin inspectors are food worthy to be placed alongside the best cuisines in the world, I am hoping that it will motivate more young Singaporeans who are planning to go into the food trade to cook Singapore food rather than some foreign cuisine.
Young aspiring chefs now have a role model in Malcolm Lee of Candlenut who, at 32, has managed to earn himself a Michelin Star and put Peranakan cuisine on the world stage.  Like most young chefs, he had dreams of becoming a Western chef, but his passion for his own heritage,  inspired by his mother and grandmother, pushed him to discover his roots. To me, the message is very clear — if you are a Singaporean cooking Singapore food, you will stand a better chance of winning a Michelin Star then if you try to compete with all the other French Chefs of the world!
Interview with our two Michelin Star Hawkers right after the announcement of the awards.  Congrats to Mr Tang Chay Seng, 70 of Hillstreet Tai Hwa Bak Chor Mee, and Mr Chan of Hong Kong Soy Sauce Chicken.
Earlier, the announcement of the "Bib Gourmand" awardees caught many by surprise, not least Manfred Lim, the man behind the wok at Hong Heng Fried Sotong Prawn Mee.  The Bib Gourmand is usually regarded as those stalls which are just shy of winning a Michelin Star but are still providing really good food for less than $45.
The social media was abuzz with Singaporeans expressing their disagreement with some of the awardees.  This is not unexpected as we Singaporeans are really passionate about our food,  and when we know that there are stalls that are far better than what the inspectors picked, we just need to "let go" some steam!  After all, what do these foreign inspectors know about hawker food anyway?
I have quite a different take on this.  I don't see the list of 2 Michelin Star and 17 Bib Gourmand hawkers as a comprehensive list of all the best hawker food in Singapore.  After all, I have been doing reviews for a decade already and I have yet to cover all the best hawkers myself!  Bear in mind that there are 6500 hawkers in the NEA run hawker centres and another 10,000 stalls in coffeeshops, cafeterias and food courts.  So 19 is just a mere 0.1% of all the hawkers and I am quite sure the inspectors don't have the resources to try them all.
Of course, I don't expect that the inspectors will know as much about local food as we do but what they have is the vast experience of eating from some of the best restaurants from all over the world.  So, when they assess our hawker dishes, they are grading it according to the best foods that they have eaten in Japan, Europe and the US.  That,  to me, is HUGE!  Because it says to me that our hawkers are able to cook up a dish that is comparable with the best in the world and if some of the ones they picked are what we regard as just average, then wait till they get round to the other gems!  We should be looking forward to more Michelin star hawkers in next year's edition!
The inclusion of Hong Heng Fried Sotong Mee in the Bib Gourmand list came as quite a surprise to a lot of people.  Not least to myself who have written extensively about the dish.  I thought that I had every famous Hokkien Mee covered already, but instead of picking the really famous ones like Geylang Lor 29 Hokkien Mee Nam Sing Hokkien Mee, or any of the five most famous hokkien mee stalls, they picked one that has escaped my foodie radar for the last ten years!
It turns out that Hong Heng has been around for as long as Tiong Bahru market and food centre has existed and has its fair share of fans.  Manfred is a third generation hawker who took over from his mum who in turned took over from another relative.  He is an unassuming man in his early forties who was himself surprised to have been won the award!
I felt that the fried Hokkien Mee was well fried and it has all the elements of a good Hokkien Mee, viz, the noodles have been given adequate frying time such that they are nicely charred before the stock is added and they still include some slices of pork belly to the dish.  However, I have to admit that like most Singaporeans, I felt that there are other Hokkien Mee stalls which are more worthy of the award.  That is not to say that they don't deserve it.  I am very happy that Manfred's dedication to his craft is finally gaining recognition.  All I am saying is that, if Hong Heng can get a Bib Gourmand Award, then we should be seeing more Hokkien Mee stalls in next year's edition of the Michelin Guide! 4/5
Conclusion
Many people have been expressing their concerns about long queues, lowering of standards and increased prices of the award winners.  I too have these concerns.  However, do spare a thought for the hawkers who have laboured so long to provide cheap and good food for us.  Let's take a step back and look at the bigger picture and ask not how the Michelin Guide will affect you,  but ask how it will benefit the hawkers, the chefs and Singapore as a whole. We have the ambition to become the culinary centre of Asia and this is a significant milestone along the path to that goal. Let's consider how the Michelin Stars might play a part in preserving our hawker heritage in the long term rather than how it will affect our own pockets and conveniences in the short term.  This is our hawkers' finest hour, let's not rob them of their well deserved honour!