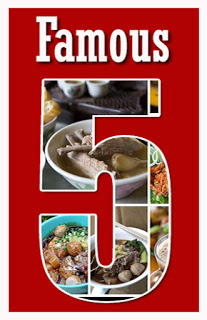 I am often asked which my favourite hawker dish is. This is a hard question to answer because like most people, I go through phases and crazes. But over the years I have been asked so many times that I have decided to give the standard answer as "Hokkien Mee".
Yes, I do love Hokkien Mee. I think it is probably because I used to buy Hokkien Mee from this lady at Blk 233 Toa Payoh Lor 8 in the seventies and spent many hours watching her fry it. I loved the moment when she lifts the wooden lid fills the air with the wonderful aroma of garlic and eggs. It also didn't help that we usually bought only a packet for supper to feed three hungry boys, so food is often more tasty when there is not enough to go round!
Here then are five of Singapore's most popular Hokkien Mee: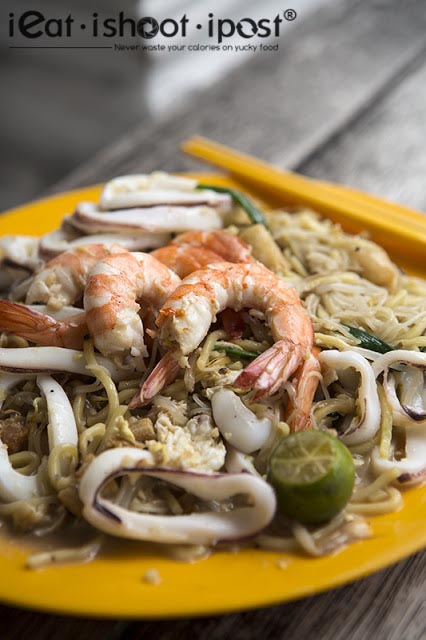 This is my gold standard for Hokkien Mee. Over the years I have often had to bring overseas guests to sample our local dishes and so far Geylang Lor 29 Hokkien Mee has never failed to deliver. The Hokkien mee here is one of the few that is still cooked over charcoal. I usually order a $20 plate for three persons and it comes fully loaded with fresh prawns and sotong. Very impressive, no?
Geylang Lor 29 Fried Hokkien Mee
396 East Coast Road
11.30am to 9.30pm
Closed on Mondays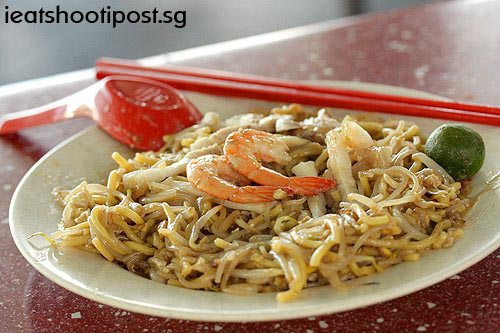 Tian Tian Lai is very popular amongst our facebook fans and no one would dispute its place here in the famous five. The main characteristic of this Hokkien Mee is its gooeyness and the intensity of the crustacean taste of the the stock. The noodles were well fried and the chef is no friend of pigs, so you get your lard and belly pork strips here. The prawns and sotong are tiny and only serve as a garnishing. What you are going for is just a satisfying, full flavoured, fried noodle dish.
Tian Tian Lai (Come Daily)
Fried Hokkien Prawn Mee
Blk 127, Toa Payoh Lor 1
#02-27
Singapore 310127
9.30am to 6pm
Closed on Mondays

Read the full review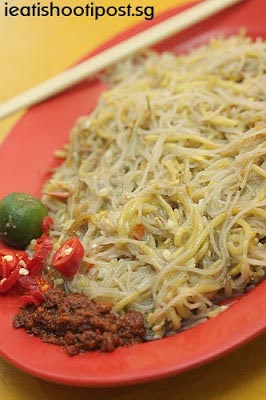 Ah Hock Hokkien Mee


The champ of Chomp Chomp. After a brief retirement, Ah Hock decided that he missed the smoking wok too much and made a comeback, much to the joy of all his fans. His Hokkien Mee uses thin bee hoon and it is still served with cut chillies. This is the go to Hokkien Mee in the Hougang/Serangoon area.
Ah Hock Fried Hokkien Noodles
Chomp Chomp Food Centre Stall 27
Serangoon Gardens
5.30pm to 12 plus
Closed once a fortnight


Read the full review







Nam Sing Hokkien Mee

Nam Sing is no. 1 with quite a few foodies. Their style of Hokkien mee is the dry type which uses thin beehoon. I have eaten there a few times and honestly there have been occasions when it wasn't that stellar. But when it is good, its very very good! The stall is run by a band of brothers who look uncannily alike such that you almost feel that you are being served by a group of minions!
Nam Sing Hokkien Fried Mee
Old Airport Road Food Centre #01-32
7am to about 8pm when everything sold out
Closed as and when Uncle feels tired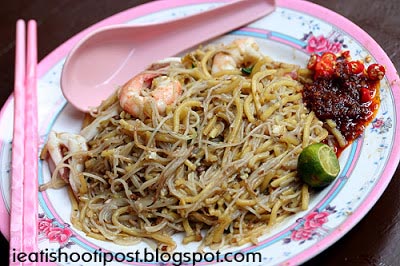 Unlike a lot of Hokkien Mee nowadays which are prepared more like a pasta where the stock simply added at the end and served really wet. This one was fried until all that wonderful stock has been completely absorbed into the noodles and beehoon. I have had mixed reactions from guests with this one. Those that like their Hokkien Mee wet and gooey may not like this as it is quite dry.
Hainan Hokkien Mee
No 34 Golden Mile Food Centre
62946798
11am to 2pm 3pm to 9pm
Closed on Wed