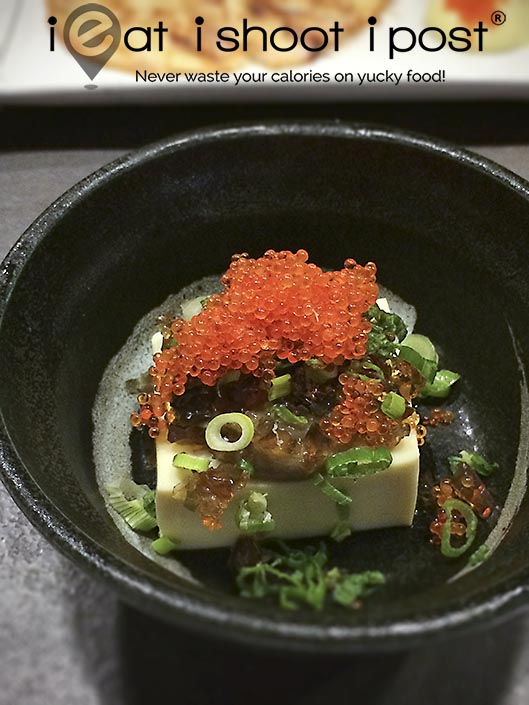 Let's face it, eating Sushi in Singapore is expensive.  Ok, maybe I should qualify that.  Eating GOOD sushi in Singapore is expensive.  But both "Value" and "Quality" are subjective terms.  What I find "good" might not be good enough for some and what I consider "cheap" might still not be cheap enough for others.  So, when I say that I found a good Sushi Omakase place which is value for money, I have to spend the next few hundred words to properly define what I consider good and cheap so that you know what to expect.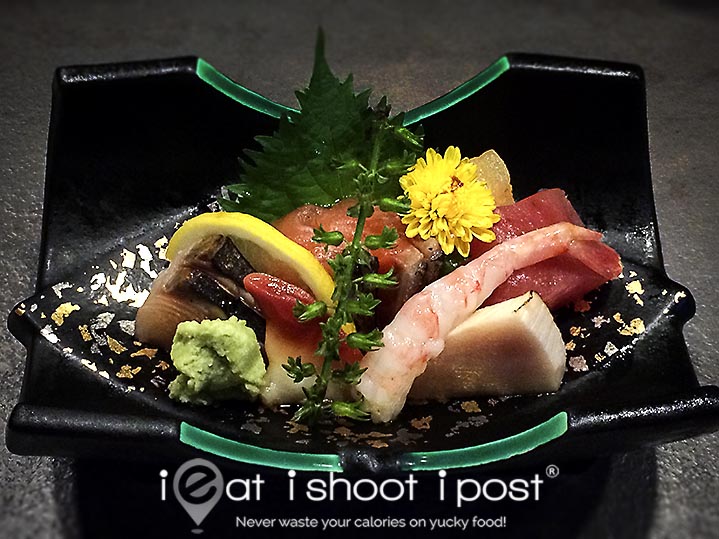 Let us first consider some of the top Sushi places to get a benchmark of sushi prices in Singapore.  These are the places where you can expect everything to be first class.  From the solid hinoki sushi counter to the freshly grated wasabi from Shizuoka to the combination of three different types of Japanese rice to give the shari (sushi rice) the perfect balance of flavour, texture and stickiness.  These are places where you can expect every grain of salt to be weighed and every nugget of rice to have precisely 153 grains,  give or take 5 grains or so.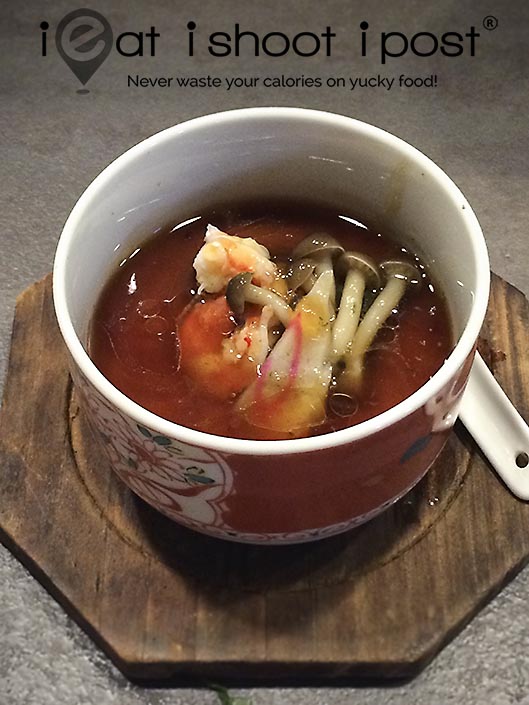 Now, a lunch set at such a Sushi establishment would set you back at least $120++ and that is only the entry level set where you sit at the counter nibbling on maguro (tuna), kanpachi (amberjack) and ika (squid)while the more well heeled tai tai beside you is rolling her eyes and exclaiming "Oishii! Oishii!" as she downs piece after piece of engawa (flounder fin) , otoro (tuna belly) and uni (sea urchin).
Now, if you have ever experienced what I have just described, then you will find the $68++ Sushi Omakase set here value for money.  On the other hand, if you have only been exposed to conveyor belt sushi, then this Sushi place is quite expensive!  (I have been there).
Of course, you are not going to get that same level of perfection at this price.  There needs to be some compromise.  Instead of a solid hinoki wood counter, you will have to settle for laminated plywood and your hostess may not have the grace of a geisha and speaks only Singlish and Hokkien.  But so long as the food is 80% of the quality at 50% of the price compared to the top end places, then I would say that it is a compromise I am willing to make in order so that I can have sushi more often.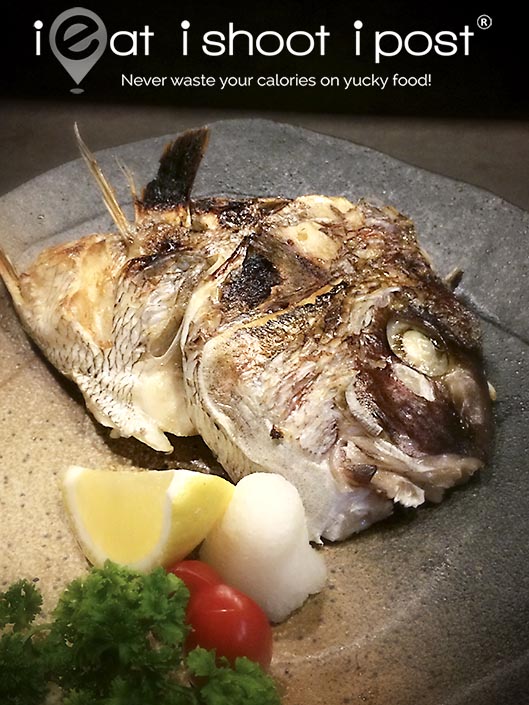 There are some things that I will not compromise on though.   Things like only using Japanese rice for the shari, air flown fish from Japan and freshly grated wasabi (frozen – thawed is acceptable but not the powdered horseradish with green colouring). These are the things that are worth paying for because they directly affect the taste of the sushi.   Again, what one is willing to compromise on is highly subjective.  I am just glad that Chef Gary and I agree on what's important and what's not.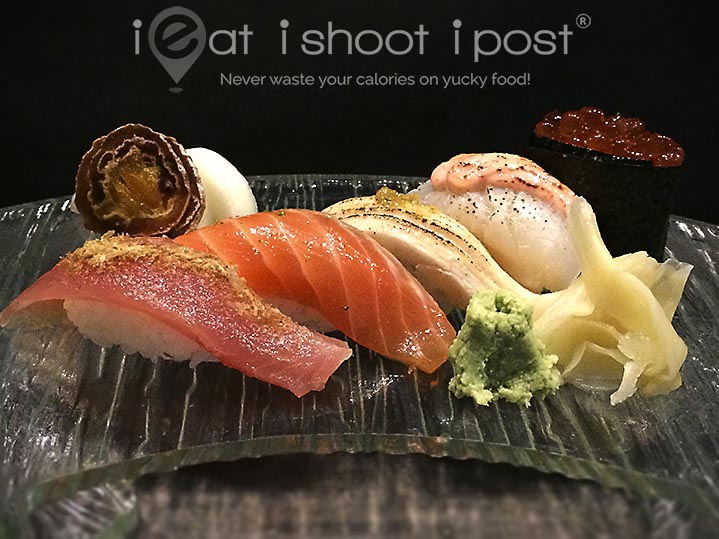 Our meal started with a piece of tofu topped with pidan (Century Egg) and tobiko.  This dish was reputedly invented here in Singapore and no self respecting Japanese sushi place would ever serve it.  Still it is nice, although it has become so popular that it has lost it's novelty.   It was accompanied by a piece of dried leatherjacket with mayonnaise dip.   This was followed by a sashimi platter with 8 different items.  I was particularly pleased with the fresh seasonal sawara (Spanish mackerel) which was lightly grilled to give it a wonderful aroma.  The torigai (surf clam) was the bright red pre-cooked version which was expected as this particular clam spoils easily and is only served fresh at high end sushi-yas.  The salmon was served with the skin on which was also lightly grilled to tenderize it and give it a nice aroma.  It's not top end sashimi, but suitably fresh and unexpectedly good for the price.  This was followed by a grilled head of snapper which was superbly done.  The flesh was still moist while the fish had taken on the smokey charcoal grill flavour.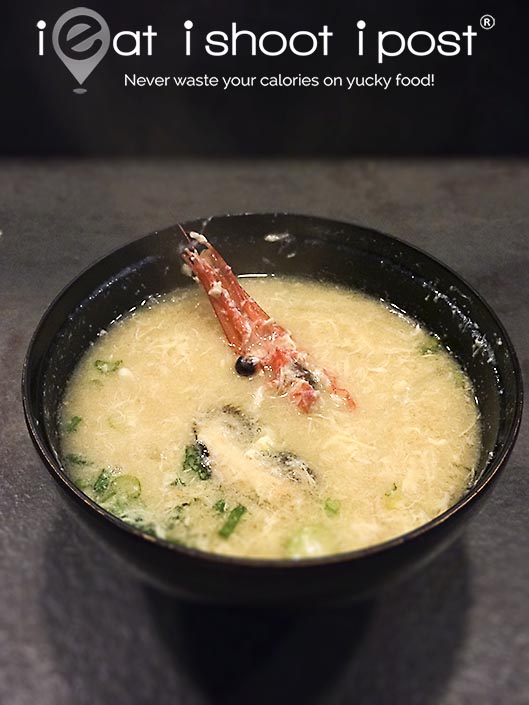 When the truffle scented chawanmushi arrived we were already wondering if we had indeed ordered the$68++ omakase or whether the Chef had mistakenly given us a more expensive set!  The chawanmushi could have been a little more velvety but the truffle scented dashi reduction was a real umami bomb.
By the time the sushi platter arrived, I was already quite full.  But the five pieces of maguro (tuna), salmon, mekajiki (swordfish), hotate (scallops) and ikura gunkan maki (salmon roe) were all excellent.  Sushi purists would probably baulk at the thought of Aburi sushi, but for a Teochew Ah Hia (Chinaman) who enjoys a warm bowl of Teochew porridge and who has publicly proclaimed Tatsuya's Aburi Sushi set as "The Best Thing I Ever Ate!" I am unabashed about my appreciation for the aroma of lightly grilled fish.  We finished the meal with a bowl of botan ebi soup which really was like pressing on the gas pump again after it had clicked the first time.   I was very full which is something quite unusual for a sushi meal!
Conclusion
This is the best value Sushi Omakase meal that I have come across so far!  It has the right balance of quality and price and has become the go to place whenever I feel like sushi that doesn't require prior approval from my domestic financial controller. 4.5/5
Note:   If you order the Sushi Omakase set, it will come with 8 pieces of Sushi. To order the set that you see in this post, please ask for the Aburi Sushi Omakase set that you saw in this post.