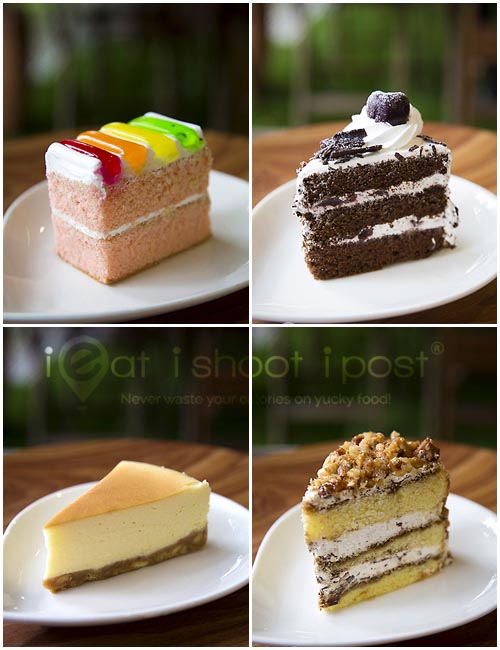 I still remember what a big hit Blackforest Gateau was in the 80's when it first gained popularity in Singapore.  My mum was caught up in the craze and started baking cake after cake in order to perfect her Blackforest Gateau.  Those of you who are familiar with my own kitchen (mis-) adventures would probably realize straightaway that I inherited this trait from her!
The Blackforest cake was a big thing then because it was made with fresh cream.  In those days, the cakes that were sold at your friendly neighbourhood bakery were all buttercream cakes that wouldn't melt in the tropical heat.  So, you can imagine the novelty of having a cake that needs to be refrigerated so that the cream will not melt!
The cake scene in Singapore has come a long way since then.  In fact, it has come such a long way that buttercream cakes have gone full circle and are back in fashion again.  I actually find buttercream cakes the perfect accompaniment for a cup of local kopi or teh si.  Personally, I feel that evaporated milk pairs better with buttercream just as fresh cream pairs better with the fresh milk in a latte.  Yes, I do enjoy the uber luxe super sophisticated cakes made with chocolates whose names you have to curl your tongues around, but for your everyday tea time,  a cup of kopi with a  slice of buttercream cake will hit all the right spots without blowing a hole in your wallet.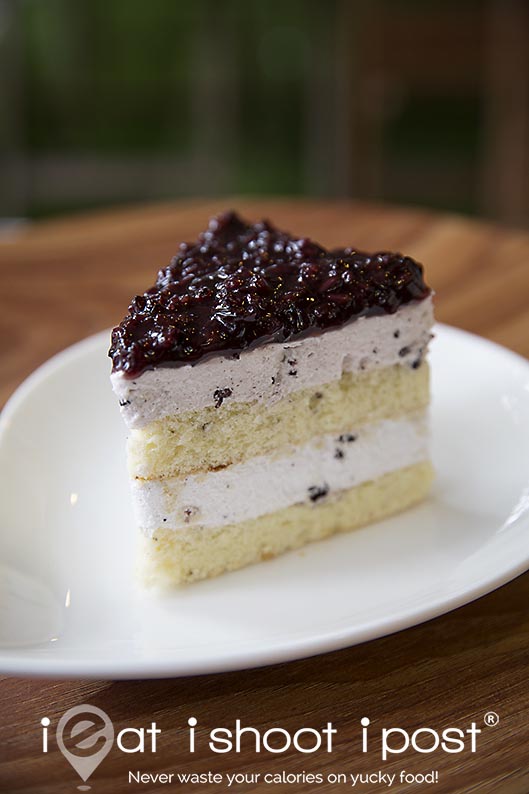 Buttercream cakes and other simple indulgences like cream puffs and chicken pies used to be the mainstay of the HDB bakery.  But nowadays, it is not uncommon to see new age bakeries springing up offering modern confectioneries.  Old school bakeries like Pine Garden's Cake have also found that they have to keep up with the times by offering more modern cakes while still keeping that local HDB flavour and prices.  It is a difficult balancing act, but it seems to be one which Pine Garden's Cakes has managed to do quite effectively.
Don't go to Pine Garden's expecting the type of cakes that cost $6-$10 which you find at upmarket French sounding bakeries.  What you will find there are the simple down to earth cakes which come in many flavours that are built on the familiar old school HDB sponge cake template.  Instead of buttercream, the layers of sponge are covered with fresh cream and comes in all sorts of creative flavours.  Their first claim to fame was their Blackforest Gateau which was listed in the Straits Times in 2005 as one of best on the island.  It was the cake which changed the fortunes of Pine Garden's Cake which was  on the verge of closure then.  Subsequently other flavours followed with the Lychee Martini being the most famous.  Both cakes are very nice.  Not as sophisticated as the ones which cost $7.50 a slice, but at $2.80 a piece, you can order a cup of kopi and for less than $5, still have your cake and eat it! (I hear you groaning!)
The one flavour which stood out for me was the Pulut Hitam (Black Rice pudding) cake.  This is one of those things that would probably make you go: "That idea is so wierd that it just might work!"… And it actually does! The Pulut Hitam is made by one of the aunties there based on her own estimation (everything agak agak), which is probably why I found it so artisanal.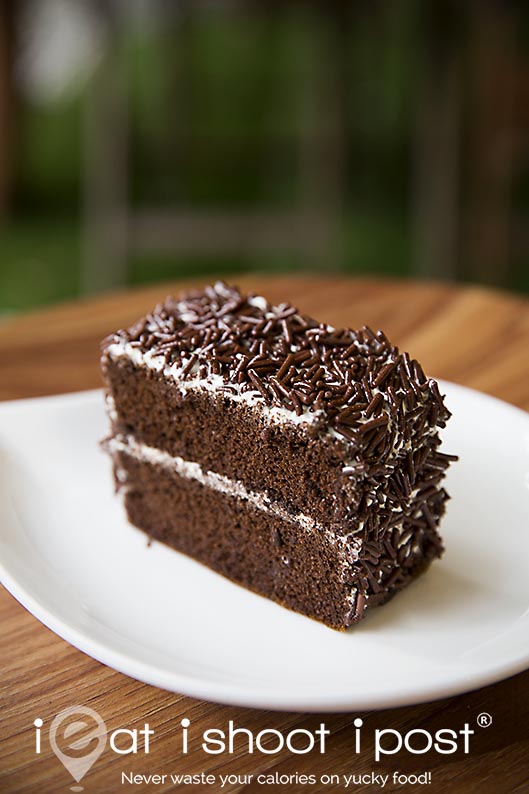 They still sell buttercream cakes of course, but the range is not as extensive as their fresh cream cakes.  The chocolate rice cake is still priced at 80 cents a slice which, I am told is done on purpose as a reminder of what prices were like 30 years ago when the bakery first opened.  The Rainbow cake ($1.60) may be just artificial colouring and sugar, but I guarantee you that anyone who grew up in the 70's and 80's will find it hard to resist taking a bite out of it!
Conclusion
Revamped old school cakes at HDB prices is what Pine Garden's Cakes is all about.  Their confectioneries may not be as sophisticated as the ones you find along Orchard road, but they are no less satisfying especially for those of us who grew up eating the cakes from the  neighborhood cake shop. In fact,  I think tourists looking for something a little more uniquely Singaporean should head out to the HDB estates to visit cake shops like Pine Garden's Cakes in order to really experience some authentic Singaporean flavours! 4/5