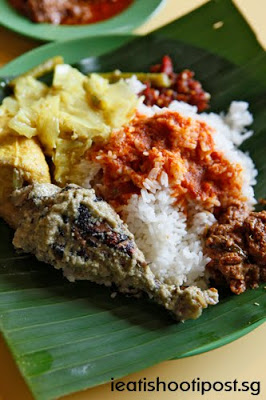 Nasi Padang
Nothing hits the spot quite like a good plate of rice drenched in a coconut laden gravy. And it doesn't get better than Nasi Padang except, maybe, very good Nasi Padang.
Finding Hajjah Mona was qutie easy. Our kakis were just sitting at the newly refurbished Geylang Serai Food Centre and for the good hour that we were there, we noticed a perpetual queue outside of this stall.

So out of curiosity, I ordered a few dishes just to see why there is such a long queue all the time.
Then I understood.
The first mouthful of the Ayam Opor was like a "Boomz" moment. Yeah, there's no better word to describe it. The gravy was so full of lemon grass that the fragrance wafts out of your nostrils like the flames of a fire breathing dragon.
But seriously, from the Ayam Opor to the Beef Rendang to the Sayur Lodeh, you can taste the passion and quality in each mouthful. 4.5/5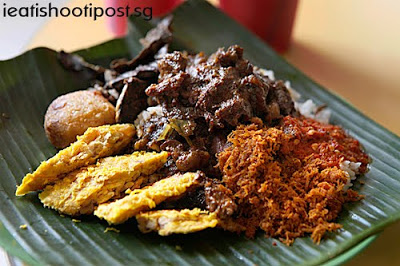 Nasi Rawon
When I went back to the stall to tell them just how much I enjoyed the Nasi Padang, I realized that they also sell something that I have been wanting to try for a very long time.
I have heard about the Nasi Rawon before but never had the chance to try it. If you like the Peranakan Dish Ayam Buah Keluak, then you might also like Nasi Rawon because it is a soup made from Fatty Beef and Buah Keluak. Sounds like a killer dish right? Nasi Rawon is typically served with Tempeh and a fried coconut garnish.
I think the dish would have tasted better if I had not eaten the very savoury Nasi Padang first. Compared to Nasi Padang, the flavours in Nasi Rawon is not as floral and sweet. The Rawon has a more earthy, woody flavour which you expect from Buah Keluak. This is the first time I am tasting Rawon so I can't really tell you how it is compared to others. But in terms of shiok factor, I would give it only a 4/5. I feel that something which has beef fat and buah keluak in it should be able to taste much better.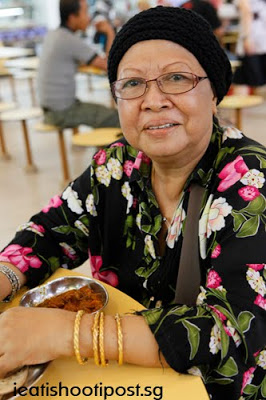 Hajjah Mona herself
Conclusion
There are two Nasi Padang stalls within Geylang Serai Food Centre which attracts long queues during lunch. Sinar Pagi which I blogged before is one of them and the other one is Haji Mona. That really says a lot about both stalls since they are situated in the only food centre in the heart of the Malay community in Singapore.