All is not gloom and doom in the hawker front.
We all complain that it is going downhill and that everything is getting outsourced such that hawkers are now more like traders rather than cooks but there is a glimmer of hope over the horizon. I guess with all things, it is a cycle we are talking about. We go from handmade to factory made and then when it looks like everyone is selling the factory made stuff, the handmade stuff suddenly becomes a unique proposition for consumers which some clever hawkers will capitalize to their advantage.
So this is the story with Carrot Cake. Just when you thought that all Carrot Cake is being outsourced, some stalls see the opportunity to differentiate themselves by steaming their own Carrot Cake. Somehow, it gives the stall a feeling of authenticity.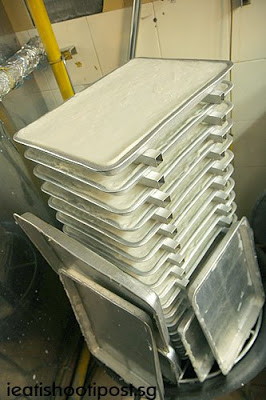 And the strategy works. Everytime I chance upon a stall that bothers to steam their own Carrot Cake, I will stop and order a plate. That's half the battle won. The other half boils down to the taste.
I guess when it comes to the taste of the Carrot Cake itself, one should be able to taste the difference with the white version since it is not masked by the black sauce. I must honestly tell you that the white version is not that great, which is a bit of a dissappointment. However, the black version of the Carrot Cake is well worth wasting a few Calories for. The Uncle fries it till it has all that wonderfull caramelized charred bits which is oh so heavenly! 4.25/5
<br />Conclusion
Now, I wonder if there is really any point in steaming your own Carrot Cake if you can't really taste the difference in the white version. It's the black version here that is really good, but that has more to do with the frying technique and the recipe behind the sweet sauce.
So tell us, does your favourite Carrot Cake stall steam their own Carrot Cake? And do you think it makes a big difference?