Pumpkin Tempura Prawns (4 prawns $12)
It is funny, but everytime a fancy restaurant incorporates some local flavours to Western Cuisine, we call it "Fusion". However, when a Cze Char incorporates some Western Flavours into their cooking, we don't really think of it as "Fusion", do we?
Take Cereal Prawns for example. I am quite sure Cereal is not used in traditional Chinese cooking. But some very clever chef came up with this dish years ago and now everyone loves it. You hardly hear anyone complain that this dish is "non-traditional" or "Fusion".

This particular Cze Char Stall has been around for 30 years but it is only in the last two years that it has become increasingly popular. The increased in popularity came about when Ah Yoke, the feisty 60 year old Lao Ban Niang cum chef, decided to start experimenting with new flavours drawn from our current culinary climate.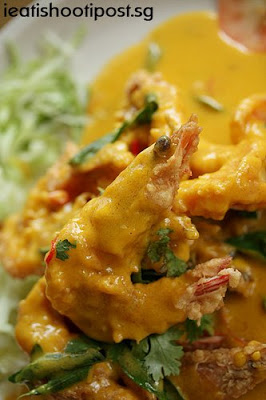 Take the pumpkin tempura prawn for instance which is a cross between Japanese style tempura prawns covered with a gloriously rich Pumpkin Butter Cream which reminded me of a thick and savoury Pumpkin soup. The Pumpkin Butter Cream was quite an eye opener for me especially since I really like a good Pumpkin Soup. The sauce is so addictive that I could simply eat it with my rice and be as satisfied as little Jack Horner (you know the one who pulled out a plum and said "what a good boy am I"). Aside from Pumpkin and Butter, Ah Yoke also added some fresh chilli and curry leaves into the secret sauce. Simple but satisfyingly Shiok! 4.5/5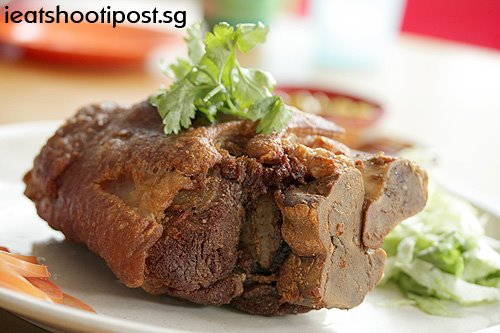 Crispy Ter Kah (Pork Knuckle) $15
The other dish that got the "Wows" from our kakis was this Crispy Ter Kah which really is Ah Yoke's version of the famous German dish. She manages to get the skin to be as crispy as Keropok with a nice layer of chewy subdermal fat to compliment it. Ah Yoke was explaining that she goes to a lot of trouble trying to extract the "porky" stench and excess fats from the Pork Knuckle. First, the pork knuckle is pressure cooked for 20 minutes to extract the fats, then it is slowly simmered in herbs to remove get rid of the stench.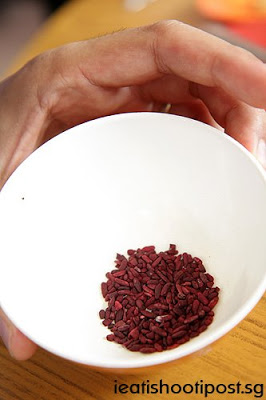 One of the ingredients that is used in the Pork Knuckle is Red Yeast Rice which Ah Yoke said was added because it negates some of the ill effects of eating Pork fat. Now, you might think that this is another old wife's tale, but she is actually quite right. Red Yeast Rice contains lovastatin which is actually a cholesterol lowering drug. The "Statins" are a major class of drugs that are used to lower cholesterol levels, so our hawker aunty knows what she is doing! However, whether or not the addition of Red Yeast Rice to the Ter Kah is going to help with your cholesterol levels is debatable. So don't be too happy if you have high cholesterol, because this is NOT your license to indulge in Ter Kah!
The chilli sauce is quite unique as one of the key ingredients is apricot jam and it actually goes really well with the Ter Kah. My only grouse is that the meat itself was a little dry, otherwise the crispy skin and the chewy layer just beneath it is really quite a treat. 4.25/5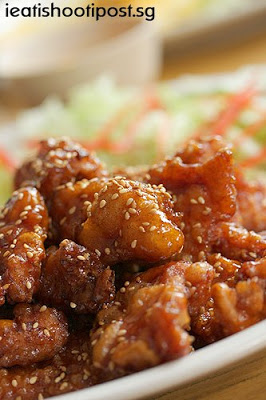 Marmite Pork $8
If you, (like me) enjoy Jing Dou Pai Gu (Pork Ribs) then you will enjoy the variations of the dish that you can order here. The Pork is nicely seasoned and has just the right amount of tenderness. You know how some Cze Char places go overboard on the use of bicarb in tenderizing the pork so that it has the consistency of fishcake? Here, it is tender but you still get enough bite in the pork. Basically, you can order the same deep fried pork with Pumpkin Butter Cream, Marmite or Mongolian sauce. We tried the Marmite Pork that day. It was good but I felt the Marmite flavour could have a bit more kick. Judging from the quality of the fried pork, I can think it is quite a sure bet that the Jing Dou Pai Gu would be really good. 4/5
Conclusion
If you are looking for your next Cze Char to visit, then Siang Hee is a good bet. Our kakis have either already gone back there or are planning a return visit with the family.


From 15 March 2012, the stall will move to Serangoon Gardens Food Centre, Stall 20. 49A Serangoon Garden Way. Singapore 555945. They now close once every fortnight on Mondays.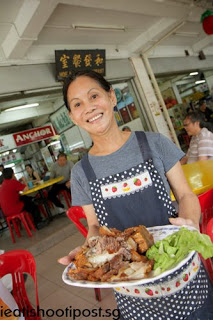 What to do next?
Check out the review from the advance party led by PChong
Check out the food across the street at Beo Crescent!
There's several good eats at the Zion Road Food Centre too!