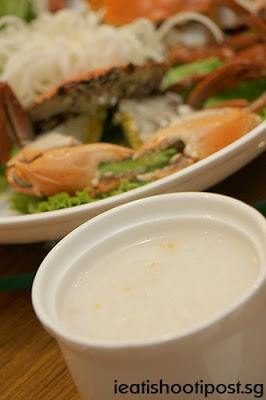 This restaurant is closed
With Fashionfoodie,Cactuskit, Jencooks, Wahcow, Toothfairy and BossConan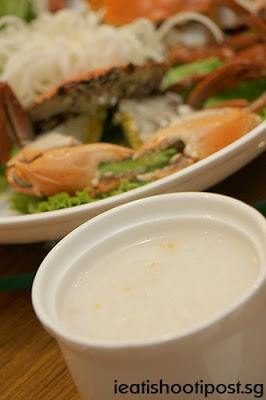 Now, this Teochew Kitchen was recommended by Fashionfoodie who, if you all remember, is one of our Teochew Ah Hias who really loves his Peh Dou Her. So when he started going on about the Braised Duck and Tua Terng (Large intestines) here, I could feel a strong Swatow wind blowing me towards Changi Village.

Changi Village is one of those last few places in Singapore that still has that "outback" charm. When I was a kid, Changi used to be the end of the earth. A day out at Changi beach was a big thing and almost like going on a road trip to Malaysia. But then along came Changi Airport and suddenly a lot of the mystery of Changi was lost. But Changi Village itself has still got a bit of that "ulu" flavour and a great place to go for supper. And if you are hankering for some hot Teochew Porridge on a cold rainy evening, you'd be happy to know that a new Teochew Kitchen has just opened there to transport you to Swatow.
This place was opened by a couple of Teochew Ah Hias who wanted to bring the concept of Swatow dining to Singapore. So when you walk into the restaurant itself, you will see the food being displayed like what they are in Swatow (or China in general). They even went to the extent of hiring two chefs from Swatow to be in charge of the food there. The restaurant has two sections, an aircon area with private rooms and an Al Fresco area. The best thing is that you can actually come here and have a choice of whether you want to eat simple Teochew Porridge for a few bucks a head or go for a banquet of Teochew favourites like steamed shark's head and Orh Nee.

Salted Egg Roll $12 for 8
Our first dish was something new for me. The salted egg rolls are made from dried persimmons wrapped in a crispy dough made from salted egg yolks. Somehow they struck me as something very typically Teochew as we do like to mix sweet with salty flavours. Just take the Teochew Bak Chang for example, which characteristically has a ball of sweet bean paste in it. I don't think it is something for everyone which is why it is not a popular Bak Chang. But for this Teochew Ah Hia, I found it quite pleasing. 4/5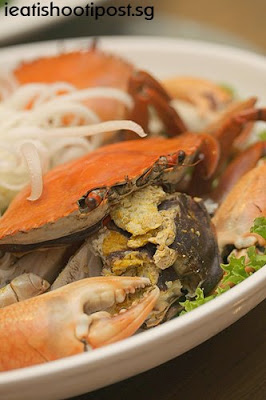 Cold Crabs $20 per Crab (small)
The cold crabs are served with a bit of vinegar here instead of sweet plum sauce. I find it as difficult to rave about cold crabs as I do about sashimi, since you don't really "cook" the dish so the comments are limited to how fresh the produce is. So okay, will it make a big difference if I said the crabs were fresh, very fresh or very very fresh? I mean, how much fresher can a crab get since they are all live crabs? For me cold crabs are simply crabs which are steamed and put in a fridge. Of course they have to be full of roe or sperm, but other than getting a good supplier, is there any other secret in the preparation of cold crabs? 4/5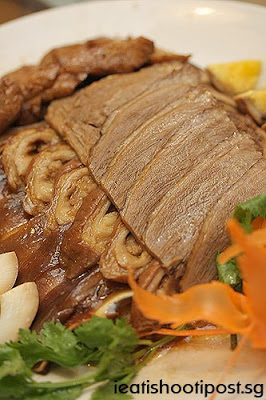 Braised Platter $18
Everyone was quite pleased with the braised platter, especially Fashionfoodie who highly recomended this dish. The braising sauce is very nice and balanced and the duck was tender and flavourful. Those who like "Tua Terng" (large intestine) would be very pleased with the Tua Terng here as it doesn't have any smell and the texture was very good. 4.25/5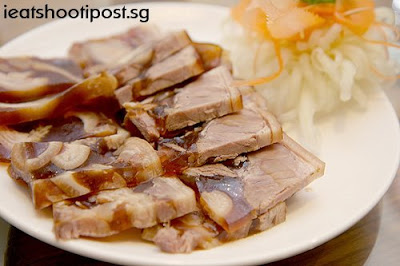 Pork Aspic $15
Fans of Pork Aspic will be happy to see the photo of this fast dissappearing dish! Though Mom never purposely made this dish at home, I remember digging the jelly out of a Tupperware of overnight Braised Pork as a kid. I guess that was where the idea for the dish originated from. I haven't tasted enough Pork Aspic to tell you if this one is a good one, but I would just say that I am not a fan yet. Much prefer to eat Mom's cold Lor Bak! 3.5/5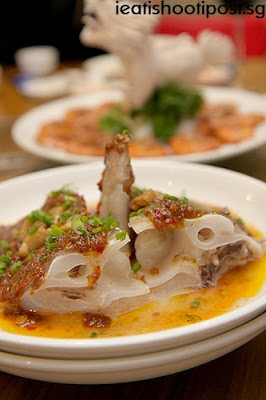 Shark Head $5 per kg
Steamed shark head is very much like Sea Cucumber in that it is essentially a tasteless gooey substance that has the ability to absorb the flavours of the sauce it is cooked in. Actually the texture of soft collagen is very similar to pork fat so it really is quite shiok when it slides down your throat. The sauce is made from Chai Poh and little cubes of Pork Lard, so you can just imagine how shiok it is! 4/5
Conclusion
I think a lot of people are looking for a place to go for a nice bowl of Teochew porridge and being in Changi Village, the "ulu" atmosphere does add to the whole experience. This is a good place to go with the family to enjoy a few typically Teochew dishes and decide if you would like to burn a hole in your pocket or keep your pants intact.