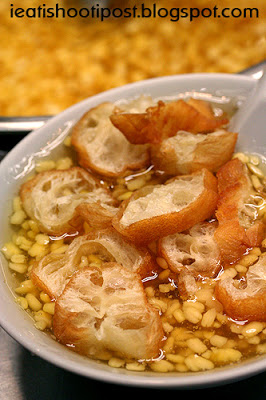 As dusk sets in, the disco music starts up and Finding Nemo starts playing on the LCD screen in front of the stall. The audience start lining up as this Ice Kachang Man starts his nightly breakdancing routine. Oh yes, some stalls have got good food, some stalls have good service, but this stall has all the above plus entertainment at no extra charge.
Looking at the queue of people lining up behind him, I can see why this guy is dancing. It sort of reminds me of the dancing traffic policemen that direct traffic in Thailand. It is heartening to see that some people simply do enjoy their work!
So is this dessert stall really worth all the lights and music?
Being reall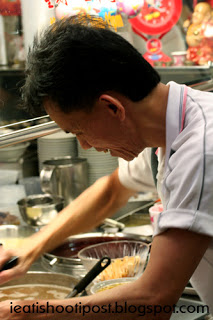 y full already, I only managed to try the Tau Suan which the man himself said was the best selling item in the stall.
And the Tau Suan was good! I especially liked the strong pandan fragrance of the soup and it was not overly thick and sweet. The mung beans were of the right texture and firm to the bite. Only one small complain that perhaps they could be just a little more generous with the mung beans. 4.25/5
Conclusion
It is just one of those stalls that you have to visit to catch the action for yourself. The Tau Suan was very good and judging from the queue, the other stuff should be quite good as well.