This stall has shifted to Toa Payoh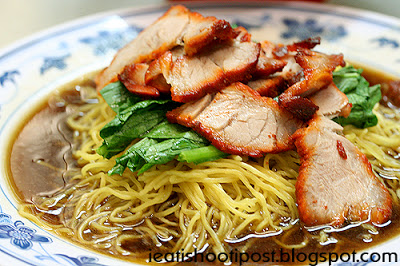 Wanton Mee $2
I was at ABC Brickworks eating at Fatty Cheong's when I happen to bump into one of our blog readers, Tarzan (cos he's married to Jane) who also happened to be eating at Fatty's. However, I noticed that he had a plate of Wanton Mee which was from another stall, so I asked him if he thought it was good enough to be featured on the Blog. Not willing to put his Tarzan underpants on the line, he merely said it was the 2nd time he was eating there in a fortnight. OK Tarzan, let's see if this Wanton Mee has got that "Orh Yi Orh Yi Orh" or not.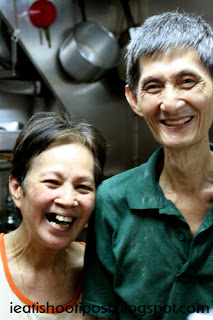 The stall was operated by this friendly elderly couple (which I have a soft spot for) who have been operating the stall for over 20 years. They proudly showed off their trophy which they won for "Best Food Stall – Henderson Junior College". Since when was there a "Henderson" Junior College? After chatting with them for a while, I found out that they were at Anderson Junior College from 1985 to 1999, selling their wanton mee and also rice dishes. I think that AJC alumni should be quite glad to find your long lost Aunty and Uncle eh? Time to go back and pay them a visit, and tell them about how you all have progressed and how many kids you have!
Now, I remember that RJC used to have a killer Nasi Padang stall way back in the 80's. Anyone know where they went? The one Hawker that I would desperately like to find is that Char Kway Teow man from St Andrew's School in the 70s and 80s. That would really bring back fond memories!
So, if you all know about any of your favourite hawkers who have subsequently left your school canteen to set up their own stall, do write in to let us know!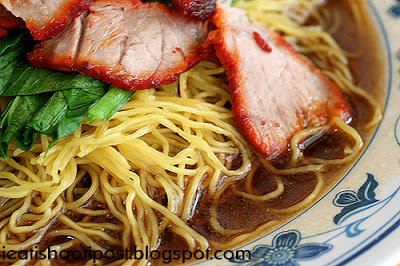 This old couple still take pride in serving up quality noodles at School Canteen prices. No kidding, at $2 per plate, this has got to be one of the cheapest Wanton Mee in town. And they don't skimp on the quality or quantity either. They use a full egg noodle which are thinner than usual. It is the type that "Hong Kong" wanton mee is supposed to be. The Home-made charsiew is tender and quite generous and you get three good sized Wantons. Being "Hong Kong" style, they don't add tomato sauce, but instead have a specially brewed anchovy based sauce. The texture of the noodles were excellent, and although the Char Siew still cannot compare with Fatty Cheong's, they were still quite competent. 4/5
Conclusion
Great value for money Wanton Mee and a "Must Visit" for AJC alumni, I should think!
Recommended by Tarzan