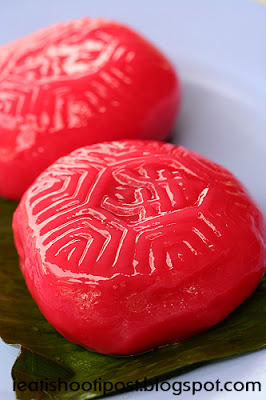 Ah Mah Tng (Ah Mah Long)
Ah Mah Teh (Ah Mah Short)
Ah Mah Tau Chia Ang Gu Kueh
(Ah Mah ate Ang Gu Kueh without permission)
Ang Gu Kueh Sio Sio (Ang Gu Kueh Hot Hot)
Jia Liao Tio Beh Pio (After eating sure win the lottery)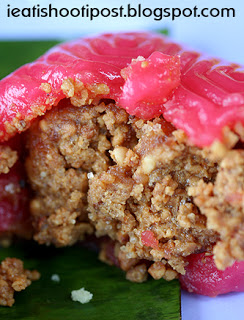 I could never understand why people make such a big fuss about Ang Gu Kueh. Just what is so nice about this Kueh that Ah Mah needs permission to eat it? And the other thing I don't understand is, why does the rhyme say that Ang Gu Kueh must be eaten hot? I have never eaten a hot Ang Gu Kueh, have you?
And then I found out what a Sua Gu (Mountain Tortoise) I was. I only just realised that Ang Gu Kueh literally meant "Red Tortoise" Kueh. Yes, the Red Tortoise finally revealed its true meaning to this Mountain Tortoise. Indeed it does look like a tortoise shell! Why Red? Well, the Kuehs are traditionally given out during baby's first month celebrations, so Red denotes prosperity and Tortoise is a symbol of long life. Like I said, I am a big Sua Gu. Am I the only one or is this a revelation to you too?
Anyway, I am the latest Ang Gu Kueh convert after having tasted this one. OOoooh, they are really generous with the peanut filling and it was really very shiok. The skin is thin, soft and chewy and was a nice contrast to the gritty peanuts. Although the traditional Ang Gu Kueh is made from mung bean paste, I prefer the peanut version. Maybe its just because I am nuts about peanuts. 4.5/5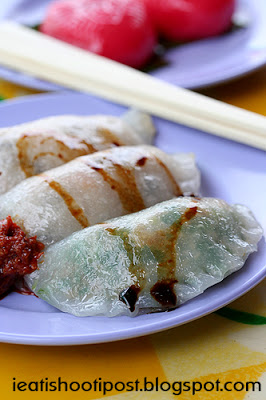 The Soon Kuehs here are pretty famous too. The skin is soft and slippery and the filling has enough of the Hae Bee (dried prawns) flavour. Liverpool, our chilli masochist, specially mentioned that the chilli sauce was especially hot and shiok. 4.25/5
Conclusion
Looks like I have just started my Ang Gu Kueh trail! Any particular stalls to recommend?