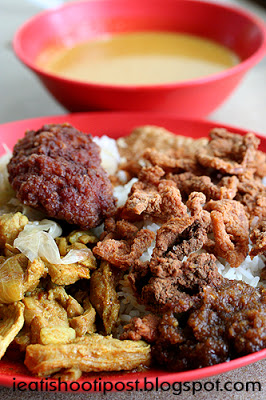 I am so glad that SCS Butter recommended this Curry Rice stall to me. When I eat at an economic rice stall, I usually order the same old dishes, namely Egg Tofu, Sweet and Sour Pork, Vegetables and maybe the curry chicken. Humans are such creatures of habit, or is it that we simply prefer to stick with what we know rather then venture into untested territory?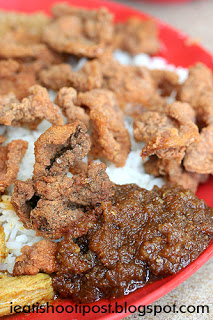 Anyway, I am so enamored with this particular Curry Rice stall because their selection of dishes are a little different from the rest and almost every dish here is really shiok! Seriously, if you arrange just a bit of each dish on a single plate and decorated it nicely, you could have a 10 course degustation menu!
The first thing that got my eyes wide open was the sambal which you scoop for yourself. My first taste of it was that "What the heck did they put in this" holy grail experience. After that, I was sold on the rest of the dishes. The sambal was sweet and tasted like its got chye poh inside, but the stall owner assured me that there isn't any in it. I could simply have the rice and the sambal and be really happy. 4.75/5 (Because it is not spicy, may people may not even consider this sambal and may disagree with this rating. But for me, it was sweet, savoury and super shiok)
Then there was the crispy pork which are almost like eating chewy Keropok (Fish Crackers). The contrast between the crispy pork and the soft rice drenched in savoury curry must be one of those "ahhh, I needed that" experience when you are really hungry. 4.25/5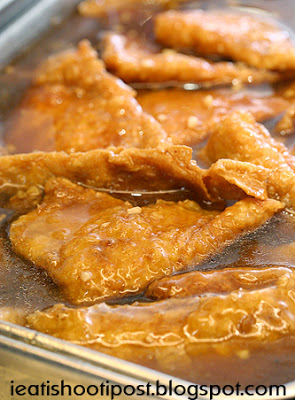 This might look like Tau Pok (Fried Bean Curd) but it is not. It is their homemade fish paste wrapped in Tau Kee (Dried Bean Sheets) braised in a soy based sauce. The homemade fish paste is made from Batang fish and has excellent flavour and texture. I just loved the way the Deep Fried Tau Kee soaks up that tasty gravy! 4.5/5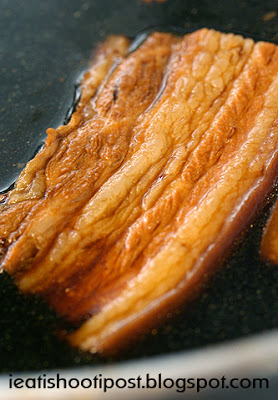 Although this Curry Rice stall reminded me somewhat of the Hainanese Style Curry Rice, the owners are Teochew, not Hainanese and the food is not typically Teochew either. Except for maybe this Braised Pork which was one of the best I ever tasted. The texture was "melt in your mouth" perfect and the "Kiam Pang" flavour of the Pork really lingers at the back of your tongue after you swallow the tasty morsel. If only three layer pork was not bad for you! I could just savour a few slices of these with Steamed Buns! 4.5/5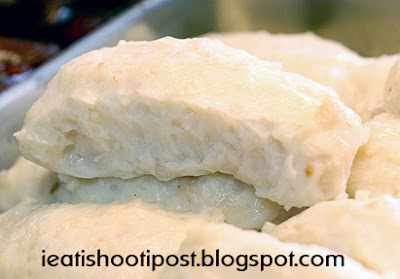 Finally, the Fish Rolls. As I said earlier, their fish paste is made from Batang Fish which has a different taste from many places that use Yellowtail. The texture is soft but bouncy at the same time. They also added a bit of minced meat into the paste. Very very good. Must try this! 4.5/5
Conclusion
Everything is good! No Kidding! I'll be back again and again and again!
Recommended by SCS Butter