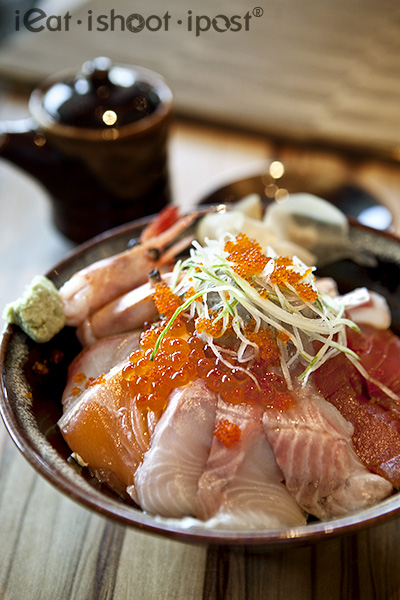 Fisherman's Nagekomi Don $20 with salad, soup and dessert
How you react to this blog post will show how much of a Singaporean you are.
Singaporeans, as you are well aware, are attracted to good deals like a sotong (squid) to a fluorescent lamp. So when my friend Yukari Sakamoto, author of Food, Sake, Tokyo (an excellent guide to Tokyo food) emailed me about this new place in Robertson Quay selling Chirashi Sushi topped with the freshest of seafood (her husband is a Japanese seafood supplier some more) for only $20*, she inflicted a pernicious itch in my subconscious that would not be satisfied unless it gets a good scratch!

So this is going to be quite a short post, basically to let all Sushi lovers out there know about this really great value bowl of Chirashi Sushi. So what do you get for $20? OK, let's take away the miso soup, homemade dessert (chocolate mousse) and salad (rather fragrant sesame oil) which would easily have set you back $5. You are left with $15. For $15 you get an excellent shari (sushi rice) made from imported Japanese Akita Komachi rice topped generous slabs (at least 0.5cm) of Kihada (Yellowfin tuna), Madai (Sea Bream), Salmon, 2 Amaebi (spot prawns), 2 Hotate (small but very fresh), Negi Maguro (chopped marinated tuna), Ikura (Salmon Roe), Tobiko (flying fish roe) and Nama Shirasu (fresh whitebait). All that with freshly grated wasabi and a homemade seaweed paste. 4.5/5
Conclusion
If you know your sushi, nothing more needs to be said. If you don't, this is a great opportunity to taste some real sushi at Sushi chain prices.
*Please Note that the $20 Chirashi Bowl is part of the set lunch menu. This is not available for dinner.