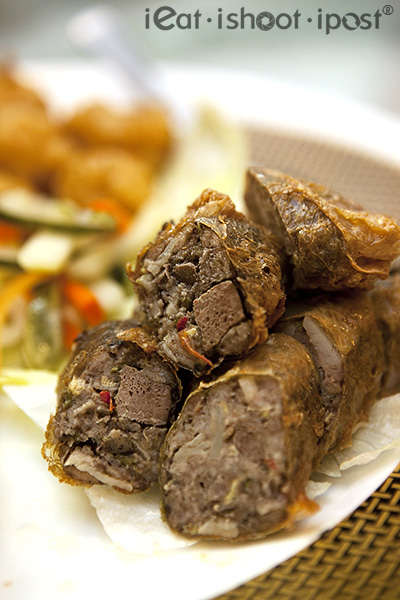 Liver Rolls and Pork Aspic $28
The best type of Teochew food are the ones that are cooked by a Hao Lian Teochew Ah Bah (Teochew man proud of his craft). Even better if the Teochew Ah Bah has been cooking Teochew food for the last 30 years! Even more better if the said Ah Bah loves Teochew food so much that he makes frequent trips to Swatow to enjoy the food there!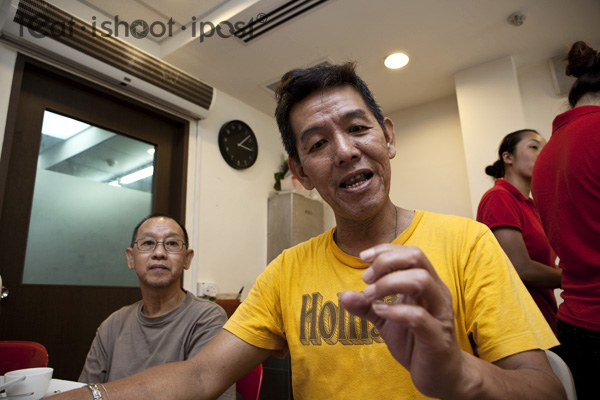 Our Teochew Ah Hia telling his stories
So let me introduce you to one such Ah Bah. His name is Ah Liang and had grown up cooking at the Guan Hin restaurant for most of his life before deciding to venture out on his own. Now in his fifties, he has left the family business to start his own little boutique eatery.
It might be an understatement to say that this Teochew Ah Hia is a little "Hao Lian". If I were to tell you all the things that he told us about his food, this blog post would take forever to load up. But this is precisely what makes Chao Shan cuisine so special. It seats only about 50 people and Ah Liang still spends a lot of time behind the wok in order to make sure that the food comes out the way it should. But once the lunch crowd has reduced to a simmer, he can spend the rest of the day telling you about Teochew cuisine. Now so can I, so let's start with the appetizer.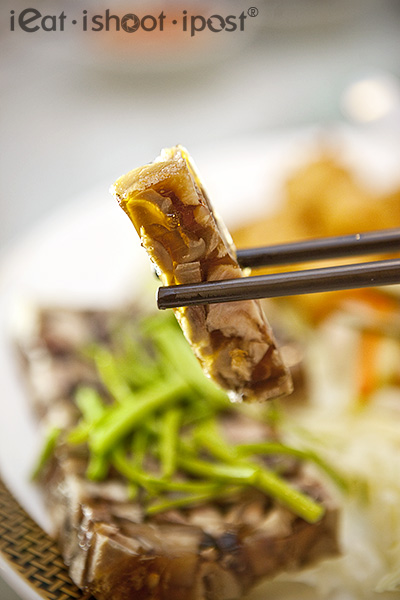 Pork Aspic
If you don't like liver, you must try the liver rolls (Gua Hweh). I personally don't really like liver unless it is in the form of Foie Gras or in this case in a liver roll. They are still made the traditional way by wrapping the rolls in caul fat, then with bean curd skin before frying. They don't taste at all like liver (same like foie gras) which is why I like them. I guess if you like your liver livery then you might complain that it doesn't taste at all like liver. 4.5/5.
The other appetizer is the pork aspic which is not easy to find nowadays. In the good old days, this dish was done simply by cooking pig trotters over a long period so that the collagen breaks down in to gelatin which then sets into a jelly. Nowadays, it is hard to get pigs that are so well endowed, so Ah Liang tells me that he has to add a bit of gelatin in order to get the right texture. He shared with me that in Swatow they have two different types of pigs. One bred for the meat and one for the fat. When they use the fat pig to make dishes like pig trotters and pork aspic, the texture is markedly different. It's ironic that we are able to get fat cows (Wagyu) but not fat pigs in Singapore!
Having said such, I felt that he might be able to hold the gelatine a little as the aspic was a bit too firm, like agar agar rather than jelly. So even though the flavour was great, it didn't have that smooth, slippery and limp jelly texture I like. 4/5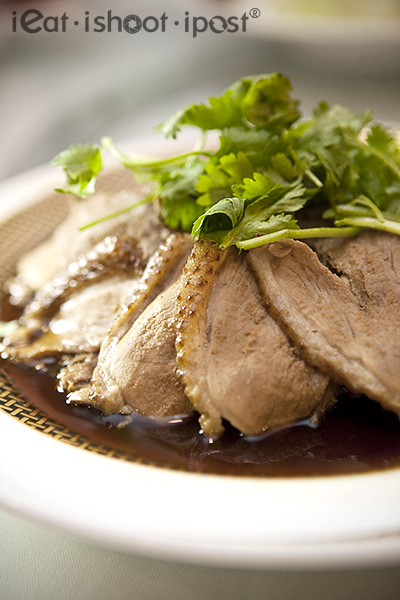 Braised Goose $20
I know that as a Teochew Ah Hia, I am supposed to go Gaga over Goose, but I have yet to develop even a Gaggle. So far, I have managed to try Goose in braised form as well as roasted form (from Hong Kong) and have yet to understand it. From what Ah Liang tells me, maybe I just didn't get to eat the right parts of the Goose. The best part, according to him is NOT the breast or the drumstick. The best bits is the Goose is actually the knob just above its eyes and the webs of the feet. When braised, this knob turns into a jelly like substance that is supposed to be heavenly. That is why the Chinese Goose has been selectively bred over centuries to have this very pronounced knob!
The problem is that in Singapore, you can only get hold of frozen geese and they don't come with the head or the feet, so unless you make a trip to Swatow, you will never get to experience real Goose power!
As it is, the braised Goose here is ok but the experience is not likely to give you any Goose bumps. It is, at best a very nice braised duck, albeit the slices are larger and the meat is more meaty. 3.5/5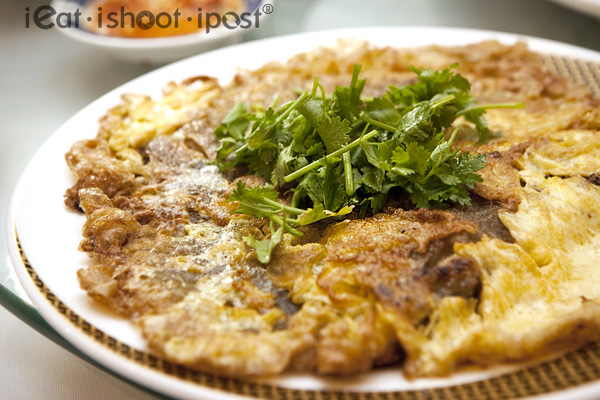 Oyster Omelette
If you need to spend your calories, spend it on the oyster omelet which is just about the best I have tasted in Singapore. The eggs and flour are fried to a crisp and the oysters are excellent! Take it with a dash of fish sauce and you are in oyster heaven! Unlike a lot of oyster omelets in Singapore which fries their omelettes almost like scrambled eggs, this one comes out in one whole disc. I think all oyster omelets should be fried this way. 4.5/5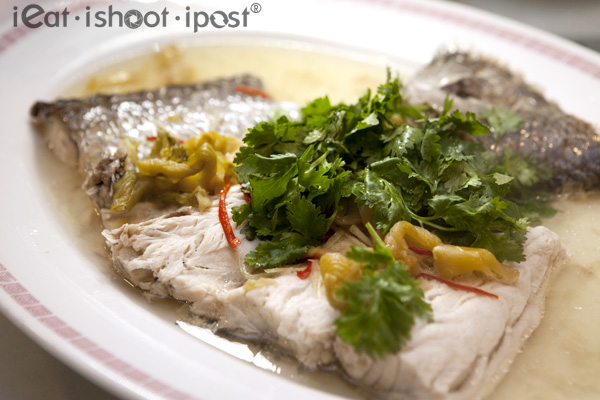 Steamed Threadfin Tail $45
Just like the Goose, when Teochews eat fish, the prized bits are the head and the tail. The bit of the tail that is most delectable is the part where the tail fins start. That is where all the collagen ie stickly slimy bits are. Needless to say, the steaming technique here is excellent and I like that they top it with Gong Cai (preserved mustard leaves) which has a nice and sweet flavour which goes well with porridge. 4.5/5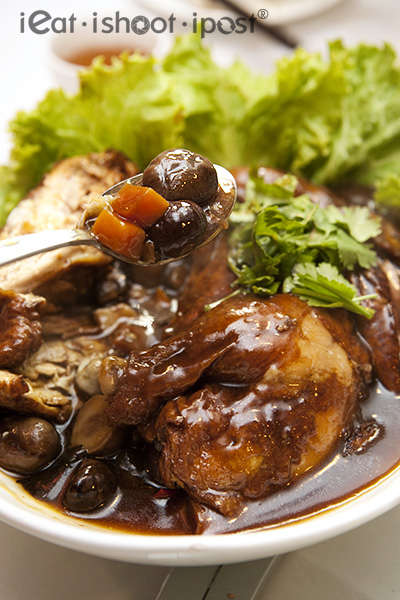 Chestnut Chicken $28
I was told that the crispy chicken here is to die for. But they ran out that day, so we ordered the Chestnut Chicken instead. Now, this dish is usually done with duck rather then chicken because you are supposed to stuff the duck and steam it for a long time. Because duck has tougher meat, you have to steam it longer which means more of the flavour gets into the meat. With chicken it is a bit more tricky as the chicken gets tender very quickly. The chestnut filling is very good, but as I have alluded to earlier, I think the dish still works better with duck. 4/5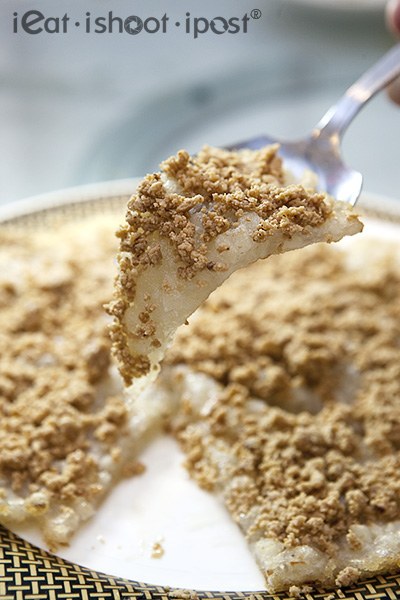 For dessert, Ah Liang insisted that Orh Nee was too common and suggested we try this chestnut pancake with ground peanuts instead. He got the idea when he visited Swatow and started making it at the restaurant. It isn't on the menu but you can request for it. I won't say it is mind blowing but it kinda grows on you and is certainly something well worth a try. 4/5
Conclusion
I love how these small eateries where the chef is basically there to show off his skills. So if you are hankering for some real and authentic Teochew Cuisine, here is one place I can highly recommend. It isn't the cheapest of places, but for the price you pay, you will get quality stuff.
Note:  The restaurant has since relocated.  The address has been updated.