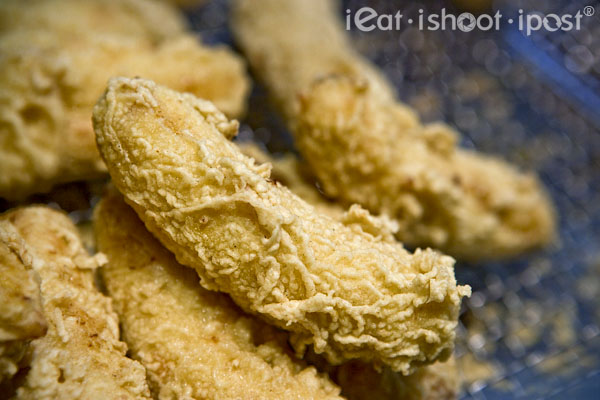 Ok, I haven't written much about Goreng Pisang because, well, its deep fried food you know, and so it has always been something I eat once in a long while.
But this "while" has been a little too long. I have neglected to write about Goreng Pisang which is also part a of the fabric of our hawker culture. Goreng Pisang (its really Pisang Goreng in Malay) means "Deep Fried Bananas" and is Malay or Indonesian in origin. When you eat Pisang Goreng from a Malay stall, it is often made with a gigantic banana, properly called a plantain. Plantains are less sweet than the banana that we are familiar with and so it makes sense that the Indonesians/Malay choose to fry it in batter in order to make it palatable. Then along come the Chinese who took on the Malay idea but instead of using plantain, they use the Pisang Raja instead and changed the name from Pisang Goreng to Goreng Pisang. Why they did not call it a Chinese name I do not know.
Now, Pisang Raja is a variety of dessert bananas which is already very sweet when eaten uncooked, but when you subject it to heat, the sugars inside melt, turning the banana into a stick of sweet indulgence. When you have a thin and crunchy batter coating the creamy sweet banana on the inside, its almost like a hot version of Magnum ice cream, don't you think?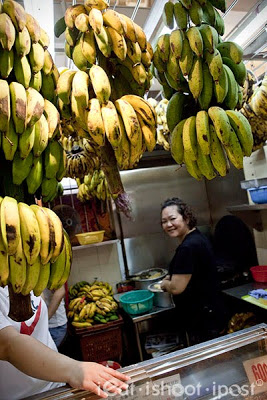 When I was a kid, we used to have all sorts of bananas at home. Nowadays, we do most of our shopping at the supermarkets and when we talk about bananas, the kids only know the Del Monte version. If you are a Goreng Pisang connoiseur, you would know that the best Goreng Pisang and made with Pisang Raja, the king of the bananas (Raja=King). We used to buy Pisang Raja all the time at home but nowadays you can only get it if you bother to look for it at the markets. I think the basic reason for this is that the Pisang Raja is not as pretty as the Del Monte version. It often has blackish skin so I think the supermarkets don't like to sell them.
I chanced upon this stall in Old Airport Road while filming for the Channel News Asia's episode of Singapore Heartbeat and what caught my eye was the number of bananas hanging in the stall. To me this was an indication that the stall is serious about their Goreng Pisang. As it turns out, the owner tells me that the stall does not have a fixed day of rest, but instead it depends on the supply of Pisang Rajah. When there are no bananas, the stall closes. There is also no fixed closing times. When the bananas sell out, they close.
With such passion to their craft, the stall produces a really great Goreng Pisang. Their batter is thin and crispy and does not soak up too much oil unlike some other places. The crust serves to add a stark contrasting texture to the rich and creamy Pisang Raja inside. I think the reason I have avoided eating Goreng Pisang is that a lot of shops like to use the kind of wispy type crust or really thick crust which soaks up too much oil. With this one, I was eating a really sweet banana rather than just crunching on batter. 4.5/5
Conclusion
If you really want to make this into a five star dessert, just put the Goreng Pisang on a plate, serve it with maple syrup and vanilla ice cream. If you do visit the stall, remember to try their fried Champedak (Jackfruit), which is also awestrikingly good.
OK, so now I am looking for some of the best Goreng Pisang in Singapore. Your recommendations?