Where in the world can you find a great cup of Coffee at 5am in the morning for 70 cents? Well, in Singapore all you have to do is to walk into a market and food centre and you will probably be able to find one. I guess that is one of those romantic things about living in Singapore and even romanticer if you happen to live in an HDB block that is just next to a market and food centre.
Like most Singaporeans, I grew up living in a HDB flat and it is only quite recently that I have moved into a private property. The thing I miss most about my flat in Simei was the convenience of being able to run down to the shops to pick up something you need. There was a time when Eastpoint shopping centre had a cinema right at the top and we could just leave our flat 5 mins before the show started to buy tickets and watch a movie. But what Simei lacked was a wet market and food centre. These places are the lifeblood of Singaporeans and start operating in the wee hours of the morning to feed the people who need to start work before the sun rises.
I have known of the long queues outside this particular Kopi stall for a while now but have always found the long waiting time a bit daunting. But I found myself at the market very early one morning, thanks to Soundman who wanted to have breakfast there. Since the queue was relatively short, I decided that I must find out just what this kopi is all about.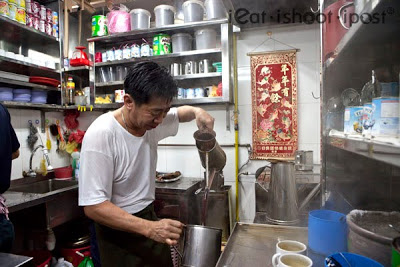 The Kopi Tau Chiew turned out to be quite a jolly uncle who was happily churning up countless cups of kopi continuously for the good hour I was sitting at the food centre. Mind you when I left, the queue was longer than when I arrived.
Just what makes his kopi so good? He tells me that it is his own special blend which he orders from the supplier. But I am sure that I won't be able to brew a cup as good as he does with the same powder. The kopi was just the way I liked it, strong, full bodied, aromatic with little acidity and lots of creamy caramel flavour from an adequate shot of evaporated milk. Here is where you can find that cup of satisfaction at 3am in the morning and all for 70 cents. Have two cups and you would have paid the same price as one cup at a modern air con kopi place and another big difference is that this cup is made by a kopi Tau Chiew who is just passionate about what he does. 4.5/5
Conclusion
Actually, come to think of it, there should be many kopi stalls like these in our food centres right? I was at the Hougang St 21 food centre the other day early in the morning and spotted another uncle doing much the same thing although his queue was not quite as long.
So tell us, where else can you find a satisfying cuppa kopi for 70 cents?