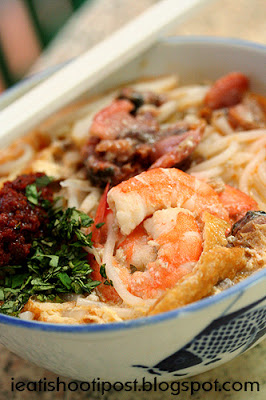 Damien has put his head on the chopping board yet again when he recommended the mee siam from this particular stall. He told me that the Mee Siam here is "Damn Shiok leh" and it's a definite "must try".
I was a little confused when I saw the stall because their signboard said "Sungei Road Trishaw Laksa". So it should be the Laksa that is the signature dish right? So I asked the owner just which of his dishes is the really outstanding one to which he gave the usual reply, "They are all outstanding". Hmmm, that was a great help. Ok, I can't decide, so I had to try both.
The Laksa comes with a very light gravy that was more to the soupy end of the spectrum. So you could drink a lot of it without getting jialak (indigestion). However, that does not mean that the flavour is compromised. The soup is still quite fragrant and has the savoury sweetness of dried prawns which I enjoy. 4.25/5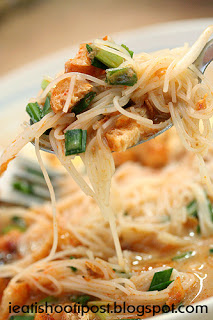 The mee siam here is very different from the usual mee siam that you get. It is made with fruit juice instead of tamarind and is quite tangy. Great for those people like Damien who like soury stuff. It's a very different mee siam and definitely a place where mee siam lovers should plan a pilgrimage to. 4/5
Conclusion
The laska and mee siam here have very distinct characteristics which sets them apart from a lot of other stalls. Worth a visit to try them out.
Congrats to Sungei Road for being awarded the Bib Gourmand 2016!