Congrats to Cheok Kee Duck Rice for being awarded the Bib Gourmand in 2023!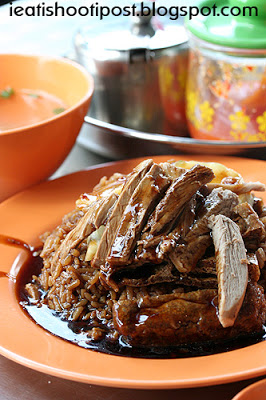 Did you know that a duck is called a duck because of the way it ducks underwater to feed? I just thought that that was an interesting piece of trivia.
Talking about ducks, it seems to be the poor (or should I say fortunate) cousin of the chicken. I mean, you eat chicken at least a few times per week and its cooked in so many different ways. When it comes to duck, you basically have the roast version or the braised version and a sprinkling of dishes here and there. I remember as a kid, mom only ever cooked braised duck and it is eaten only during festive occasions.
Since braised duck is a supposed to be a Teochew dish, I should really love it since I am 100% unadulterated Teochew. Then again, I have already confessed to my lack of Teochewness as is apparent in my lack of appreciation of the Peh Toh Her. So braised duck does not evoke as much saliva as say Char Siew for me. In fact, I think that braised duck can only attain a certain level of shiokness which will never surpass the shiokability of something like say, a bowl of laksa. I don't remember eating one that I can really go "Shiokadoooledoooo!".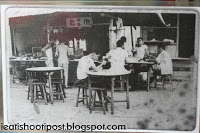 So when it comes to this 40 year old Duck Rice in Macpherson, I was not too disappointed since I was not expecting too much. The thing about this stretch of stalls along Macpherson Road is that it really is a model of Darwin's theory of survival of the fittest. There are only a few shops there that have been around for more then a couple of years. The rest of the stalls just keep changing hands because the location is just not conducive. So if this stall has been around for so long, it means that the food must be good enough such that it has got a critical mass of regular customers to keep it going.
As I said, I did not expect too much. So it wasn't too bad. The duck was a little dry and the braising sauce was nothing to brag about. But hey, I am sure that there are fans out there who would disagree with me. The other thing I found out is that this is a Cantonese version of braised duck. Interesting since you would not expect people in the past to do cross cultural dishes as much as they do today. I was told that Cantonese Braised Duck has a thick gooey sauce and uses more herbs then Teochew Braised Duck. Perhaps our Braised Duck experts can confirm this to be true? 3.5/5
Conclusion
Has anyone ever eaten a braised duck that can be rated near a five or can braised duck only ever get so good?