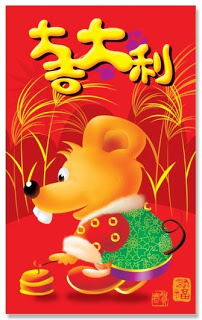 Happy New Year Everyone!
Pineapple tarts have been my favourite CNY tidbit since I was a kid. I remember how mom used to make her very own Pineapple Tarts every New Year. But soon commercially made ones became available and she stopped making her own. In fact, it would seem that lots of other mothers also stopped making their own since it was so much easier just to buy them ready made.
After a while people realized that the commercial ones are not that great, so the cottage industry emerged with Aunties making their own pineapple tarts for sale. Soon everyone had "homemade" pineapple tarts that were made by their Aunty to serve during CNY. As their orders got bigger, the Aunties started getting their maids to make the tarts while they inspect their manicures.
When they first started, the Aunties made their pineapple tarts from scratch. Each pineapple was carefully selected, the flesh was chopped up and caramalized into the pineapple paste. Soon, some enterprising Thai businessman saw the opportunity to provide ready made pineapple paste for the Aunties which would save them a lot of trouble having to do it themselves. This freed the Aunties from having to soak their hands into the acidic pineapple puree and so ruin their manicures.
Another CNY went by and another enterprising businessman whose Aunty is making the pineapple tarts thought that his Aunty's pastry was so good that every other Aunty should actually use his Aunty's dough. So, he set up a factory to produce his Aunty's pineapple tart dough and made it available to all the other Aunties.
So now, our Aunties don't have to make their pineapple paste or the dough. All they have to do is to sit down, inspect their manicures and direct their Indonesian maids, to put the Thai pineapple paste onto the commercial dough base and bake the tarts.
Guess what? The next thing that will happen is that someone will make commercially available pre-baked pineapple tarts so that all the Aunty needs to do is to direct the maid to put it in the oven to bake. Soon, this Aunty might start a small factory to do this and start to market her "Aunty's very own, commercially homemade pineapple tarts".
Well, happy New Year to all our Aunties out there, but please keep our pineapple tarts homemade and do continue to use SCS butter as it really does make it taste better!
Gong Xi Fa Cai everyone!
PS: So what is everyone's favourite CNY tidbit? Mine is Pineapple Tarts and Bak Kwa!