One of the good things about retirement is that you get to go around looking for good things to eat without the pressure of exams, loans, bills, kids and other stuff that add stress to your life. Not that I am speaking from personal experience of course, (still a long way from retirement) but more from the point of view of my two esteemed makankakis that afternoon who also happen to be old boys from my alma mater.
Anyway, both smart and PK have been friends since school days and it would seem to me that the baby boomers tend to keep their schoolday friendships better then us Gen Xers. Smart, PK and a whole bunch of their school friends still get together at least every month to makan together. Perhaps it was the days of playing catching, marbles and pretending to be Tarzan with the Banyan Tree rather then playing gameboys and computer games that made the big difference? Or maybe it is just me.
Anyway, this Yong Tau Foo place was recommended to me by smart who, being semi retired, makes it his hobby to walk around food centres scouring for good (and interesting) things to eat. He chanced upon this stall on one of his recce trips and it is just the kind of stall that makes one go "Phwa, must at least go and try leh!"
Yes, this is our very own SIMPANG Yong Tau Foo. You heard it right, not AMPANG but SIMPANG. The difference might not be as stark as the difference between Phua Chu Kang and Chua Chu Kang, but there is a difference.
The homemade Yong Tau Foo is fried first and then doused with the soy based sauce. But the similarity ends there. The sauce here is quite unique. It is sweet, a little tangy and mildly punchillie hot. Perhaps the right adjective is "piquant". Quite shiok actually and definitely unique. 4.25/5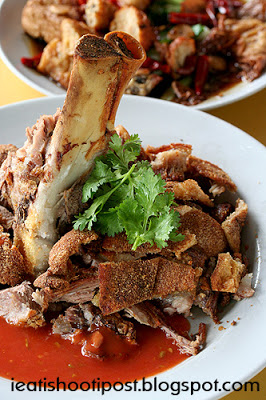 Crispy Pork Knuckle $16
And if you feel that eating deep fried Yong Tau Foo doesn't do enough to clog up your arteries, you might opt for the Deep Fried Crispy Skin Pork Leg. Oh yes, Pork Knuckle or Ter Kah definitely ranks up there as one of those sinfully bad food that you would only eat if you wanted to reward yourself for scoring well on your latest cholesterol report.
The Ter Kah here is stewed first then deep fried just before serving. The skin is super duper crispy and went well with the Thai style chilli sauce. The flesh was however, a little on the dry side. Actually if you ask me, this seems to be more like the German version of the Pork Knuckle rather than the Chinese version. Not bad, but this really is a Gu Gu Jip Pai (once in a long while) type of dish for me. 3.75/5
Conclusion
Our very own Simpang Yong Tau Foo! It is the sauce that makes this particular Yong Tau Foo stand out from the rest. Casual and cheaper alternative to your German Restaurant if you wish to get your Crispy Fried Ter Kah fix.
Update 21 July 2012
Their new address is 301 Changi Road S419779