This stall is now closed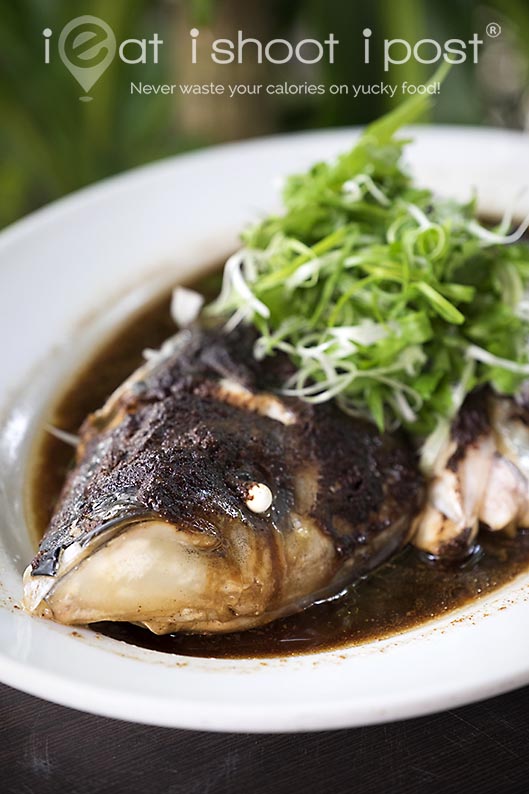 Cafe de Hong Kong was discovered by one of our makan kakis (ijeff) back in 2009 at the height of the Hong Kong Cafe scene.  Since then, it has been one of the regular places to eat for some of our kakis.   They started off as a restaurant that served authentic Hong Kong food at cafe prices.  The owner, Francis Mak, a Hong Konger had since taken up Singapore citizenship and over the years has been adding more local dishes to his menu.  The "Cafe" part of the menu has since been overshadowed by their Zi Char dishes so much so that we all felt Francis should rename his restaurant Czechar de Hong Kong!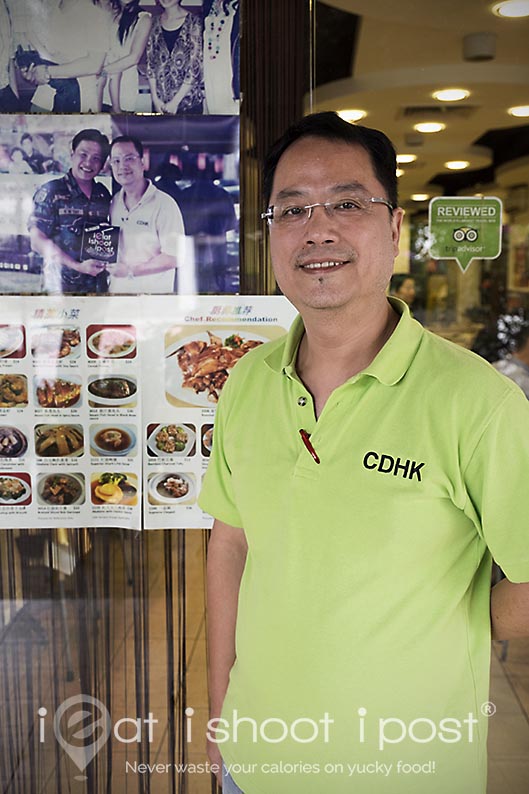 It has been 6 years since I wrote about Cafe de Hong Kong and so we thought we would round up the kakis to see what new dishes Francis has introduced to the menu.  I am pleased to report that we all thought that the food was excellent!
The first dish that we were pleasantly surprised with was the steamed song fish head with black garlic sauce .  The Chinese love song fish (Chinese carp) because its head is huge and contains lots of gelatin.  But the problem with this fresh water fish is that sometimes it can taste a little muddy, so there is always a risk when ordering song fish head.  However, I am pleased to report that the quality of the song fish at CDHK was excellent.  The fish tasted very clean and fresh and the black garlic sauce was very good!  The sauce was something that Francis and his chef came up with and is made from a mix of black garlic for its sweetness and white garlic for punch.  We all felt it worked very well with the song fish.  4.25/5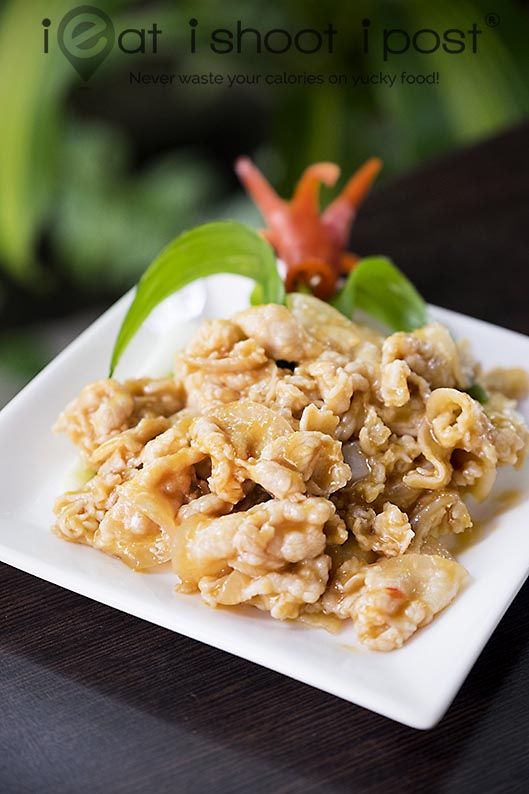 One of the new dishes at CDHK was the cold starter of garlic pork belly. This is my personal favourite and I found their vinegary garlicky sauce a perfect match for the bouncy, tender, poached pork belly!  4.5/5
Another rather shiok dish was the Hong Kong style steamed clams.  They use the surf clam, (paphia undulata), which were sweet and delicious which were nicely garnished with savoury fried garlic bits.  4.5/5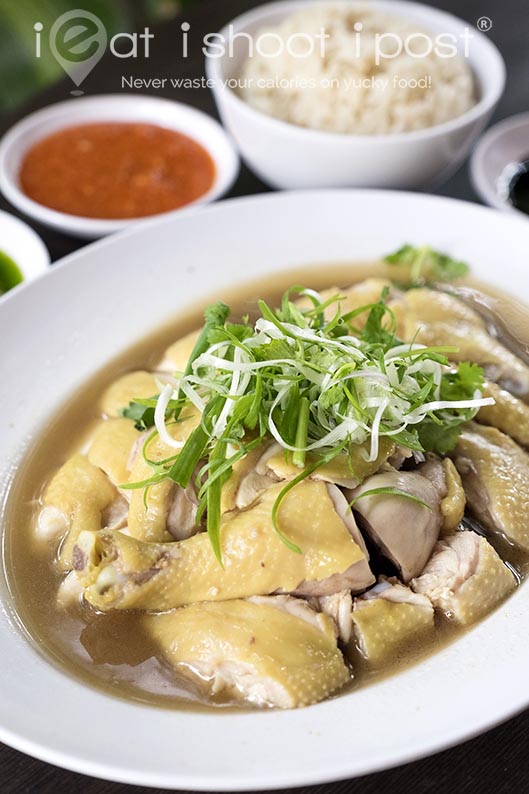 Francis' chicken rice is the perfect example of the fusion between Hong Kong and Singapore flavours.  Hong Kong style poached chicken is usually cooked in a flavourful stock rather than just water and is not served with flavoured rice and condiments that we are so used to here.  I think this is the only place in Singapore that you can get to try Shongkong (Singapore+Hong Kong) style chicken rice.  Francis uses Sakura chicken and after poaching, it is is marinated for a few hours in a flavourful stock and served warm.  The rice is fragrant yet not oily.  Our makan kaki, cactuskit loves it so much, he has been eating it on a weekly basis.  I liked the flavour of the chicken, but felt that the texture was not as silky smooth and tender as our local style chicken.  It is also available as a single serving for $4.  

4.25/5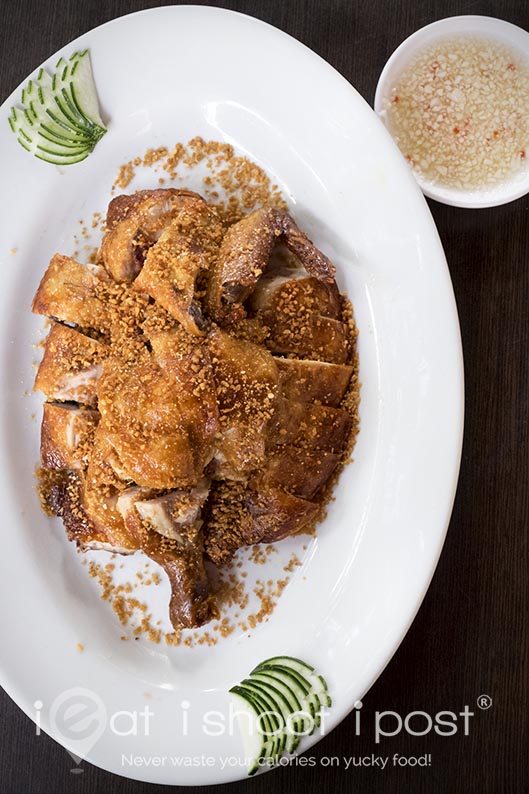 If I wanted chicken, my preference would be for the garlic infused roast chicken instead.  This is similar to the commonly available crispy skin chicken except that the chicken has been marinated with garlic and served with a generous mound of crispy garlic garnish! The flesh was wonderfully tender and juicy and the skin crispy, the way roast chicken should be!

4.5/5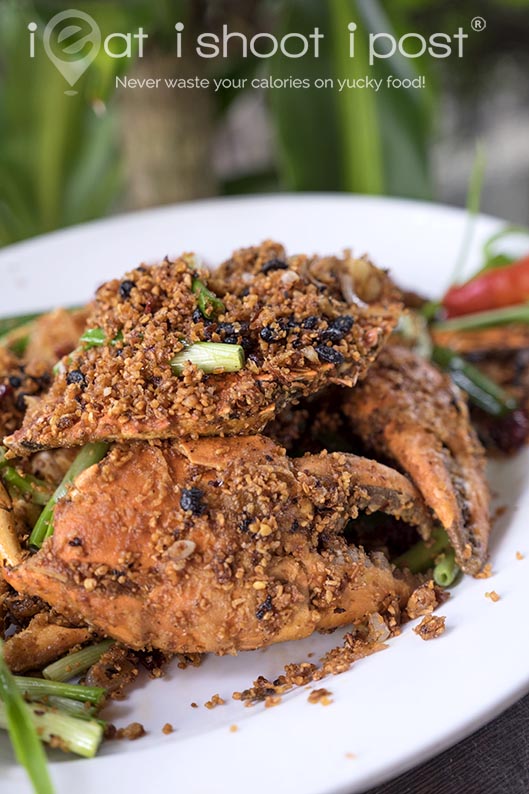 If you love crabs, you would no doubt be always on the lookout for new ways of eating your favourite crustacean.  If that is the case, you might want to check out the Typhoon Shelter crab which, I am told, is a very famous crab dish in Hong Kong.  This  dish was so named because the eatery that first popularized it was situated in a typhoon shelter in Hong Kong harbour.  The sauce is essentially made of fried black beans, garlic and shallots.  It is good but it hasn't supplanted black pepper crab, chilli crab, crab bee hoon  and golden sauce crab in my books.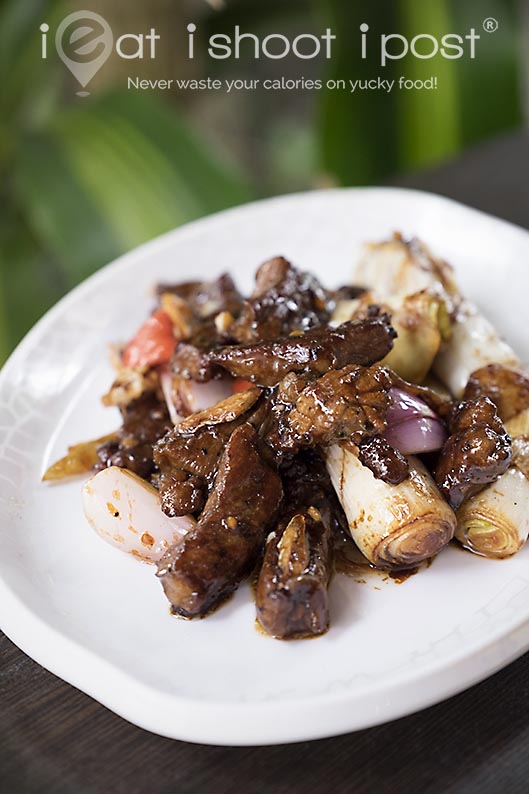 The beef cubes with scallions is simple and straightforward and really showcases the wok skills of the chef.  Francis uses US shortribs here which was tender enough that didn't need the addition of bicarbonate in the marinade to break down the tough fibres, yet it had a nice bouncy chew and a deep beefy flavour.  Very nicely done!  4.5/5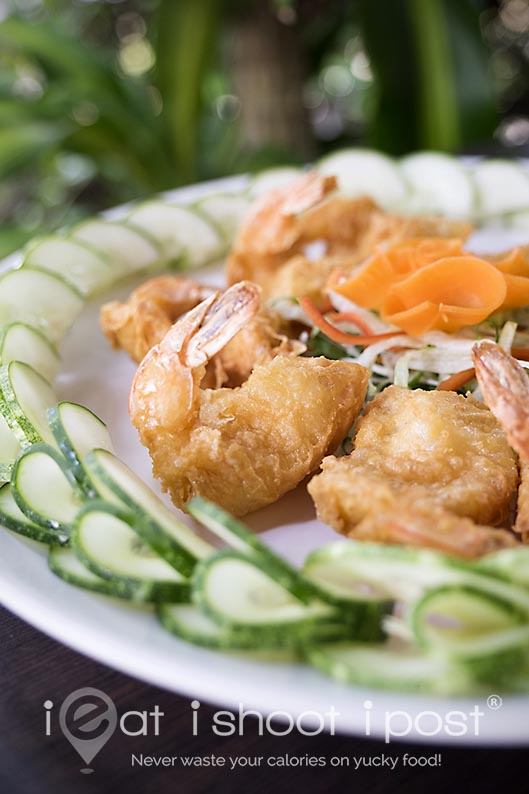 The beancurd skin prawns is another simple dish in which prawns are wrapped in beancurd skin and deepfried.  You really can't go wrong with a dish like this. It's the kind of food that you would order during a dim sum meal and as a starter. 4.25/5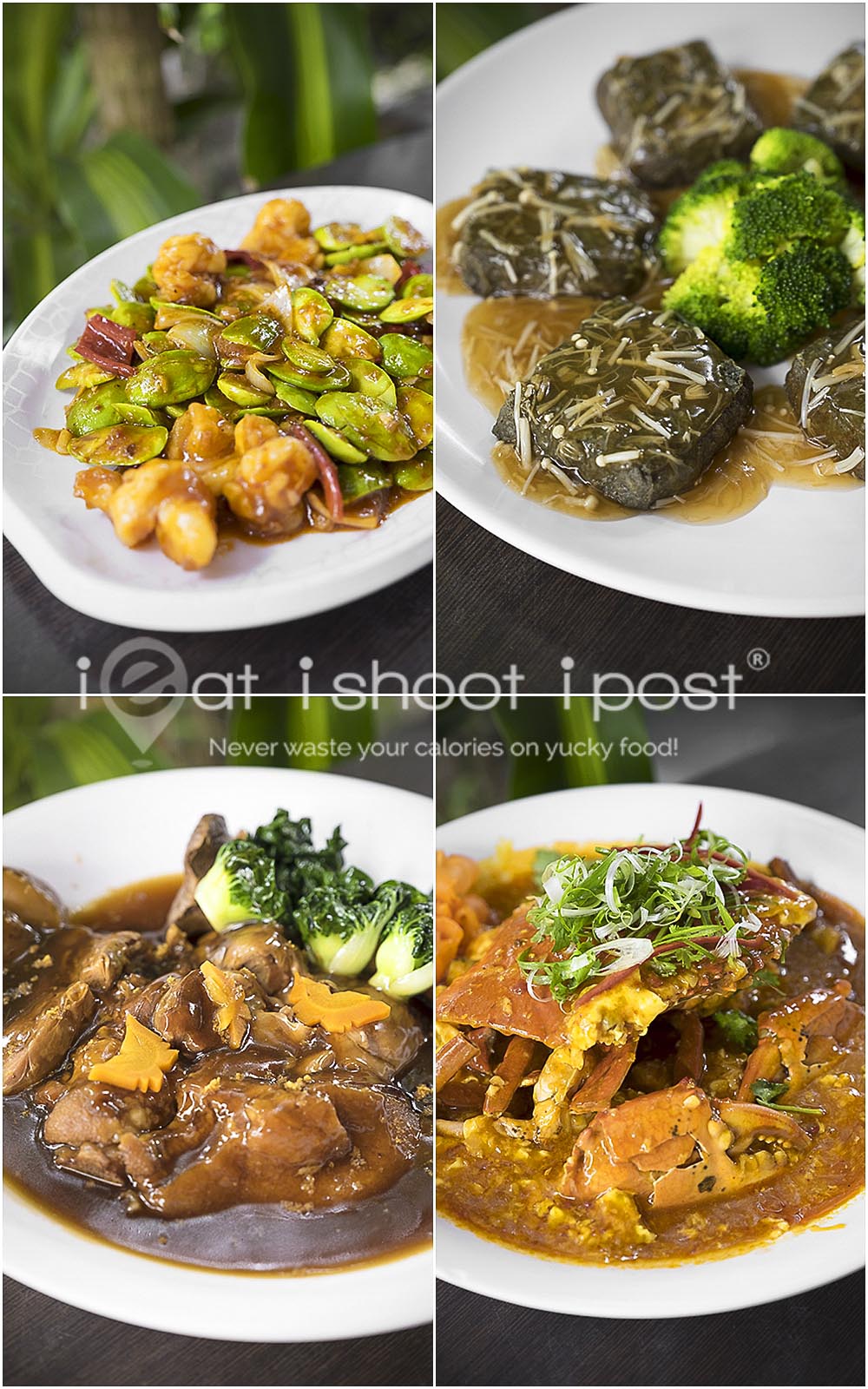 It is good to see that Francis is trying to incorporate local nonya/Malay flavours to his dishes, but I think his chef has still a way to go before he masters the rempah.  So, I wouldn't recommend the  sambal petai 3.5/5 and chilli crabs 3/5.  The home made charcoal tofu is quite nice and worth ordering if you are after a tofu dish.  4/5 The trotters are not bad if you are hankering for some porky goodness but I felt it was a tad on the sweet side without enough savoury boldness to balance it out. 4/5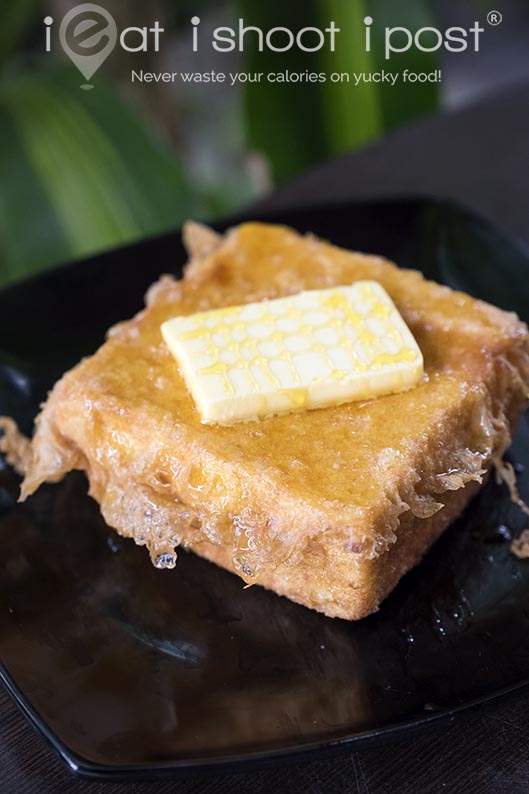 When you visit CDHK, always leave some space for their French Toast which makes for an excellent way to finish a lovely meal!  I would have given him a 4.5/5 if Francis had topped it with a slice of real butter instead of margarine.  4.25/5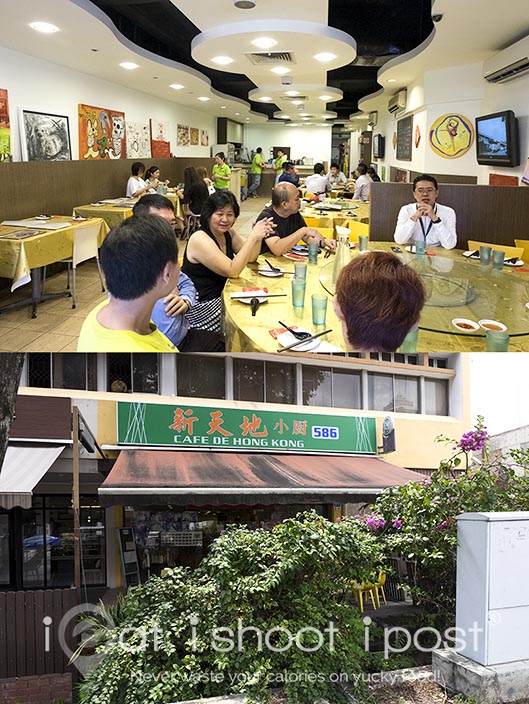 Conclusion
Great little eatery to enjoy zi char style food with a Hong Kong twist. Francis is quite a foodie and that makes a big difference to the dishes that he is serving up.  I really think that he should consider changing the name to Zi Char de Hong Kong!