Many thanks to the ieaters who turned up to be "guinea pigs" for Buzzing Cashier last Thursday! I think we all had a great experience seeing how a Variety show is made.
For those of you who are unfamiliar with Buzzing Cashier, the basic premise is that the Hosts look for a stall whose owners are not doing very well and really need help. They then bring some well known chefs to come teach them how to improve their recipe and after two weeks they bring a gang of tasters to see if their dish "can make it".

I guess its like a "makeover" of sorts. But as I spoke with the writers, I was quite impressed that the emphasis is about helping those hawkers who are really in need. So unlike a lot of other food programs, when they set out to choose hawkers to be featured, they are actually seeking those which are unknown, not doing well and really need a miracle to turn their lives around. So it really is a show with a social cause.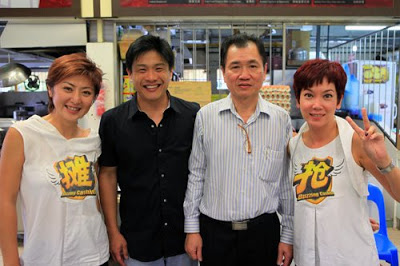 Yi Feng and Kim Ng with myself and Chef Han of Meritus Mandarin Hotel
During the shoot, I got to know the other two judges who can be called legends in their own rights. The first is Chef Han, who is the Executive Sou Chef of the Meritus Mandarin hotel for the last 36 years. Now, this is when we need to set some of Singapore's hawker history straight. Chef Han has been the man in charge of Chatterbox's Chicken Rice since its inception and is really the one who is responsible for its fame. However, I think the general public's perception is that Chatterbox's Chicken Rice chef left years ago to open his own stall in Pasir Ris. This is only half true. Basically, the chef who left was the chef in charge of making the chicken rice. But the real person in charge and more importantly, the one who taught the chicken rice chef, Chef Han, is still helming Chatterbox. So let's set the record straight once and for all.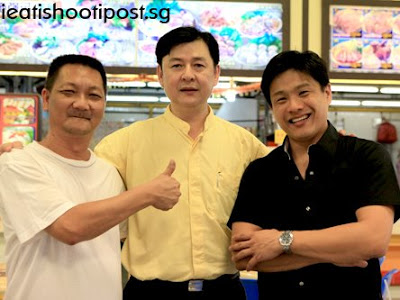 Chef William, Executive Chef of Copthorne King's Hotel
The Chief Chef of the episode was Chef William who is in charge of the Penang Buffet at Copthorne King's Hotel. Chef William is the ideal choice for the role of teaching the stall owner on how to cook carrot cake as he himself came from a family who sells carrot cake. Chef William is quite a hawker foodie himself and we had a great time discussing his favourite hawker haunts.
The first episode of Buzzing Cashier Season 2 airs this Monday, 6 July and the episode that we shot will be aired on 10 August. So do make sure to tune in!
More photos of the event can be seen on our facebook page.
If you are keen to be take part in the next buzzing cashier tasting event, do register yourself in the ieatishootipost facebook group.