With Holydrummer, Holybro and ieatjr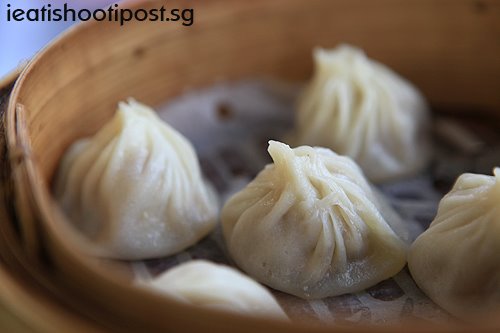 Xiao Long Bao $5 for 10
Slowly but surely, our hawker scene is changing to reflect the cultural transformation of our society.
Our Chinese culture is made up primarily of Southern Chinese people predominantly from Canton and Fujian province. Our forefathers came to our shores to seek a new life and some of them ended up opening hawker stalls selling food that they are familiar with. Now we are seeing new waves of migrants from other parts of China who are settling down and calling Singapore home. Some, like the friendly couple who run this stall, came first to work at the restaurants and later became permanent residents. They work hard, save up enough money and start a business of their own selling food that they are most familiar with. Who knows? In a couple of years, they might own a whole chain of restaurants selling Shanghainese food.

Seeing Xiao Long Bao being served at a hawker stall is a welcomed sight indeed. This is one of my favourite snacks but so far I can only eat it at a restaurant. This is not the first time I have come across hawker stalls selling Xiao Long Bao, but it is the first time that I have come across a stall which sells a descent one.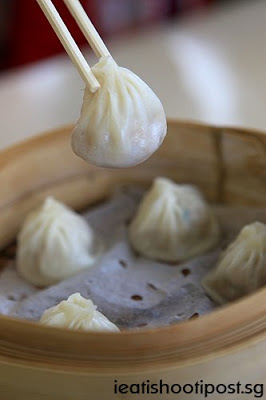 I had Holydrummer and Holybro with me that day who, being half Taiwanese, have eaten some of the best Xiao Long Bao in Taiwan. So I had some really good tastebuds with me that day. They both agree that this is one tasty Xiao Long Bao. The soup in the bao is excellent and not oily. And importantly, the skin is thin enough to be able to see through but still not break when picked up. It is not a perfect Xiao Long Bao as I felt that the skin could be just a little softer, but at $5 for 10 baos, I would be quite happy to just come here to get a quick Xiao Long Bao fix. 4.25/5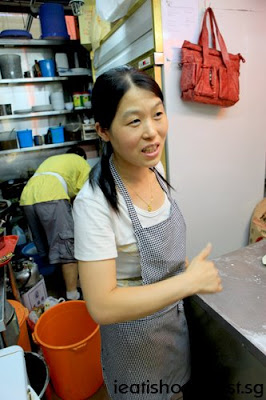 I remember my father telling me that Grandpa came to Malaya with just a small bag of clothes. They then arranged for him to be married to Grandma who would remain in China until he could afford to bring her over. At that time, Grandpa's intention was to make enough money in order to start a business in China. This couple shared with me a similar story where both of them are here to work in order to send money back for their kids in China. Well, only time will tell if their son will eventually speak Singlish and serve NS.

Conclusion
This is the cheapest Xiao Long Bao that is worth eating. In fact, we were discussing if the Xiao Long Bao were even better than some of the ones being served at the restaurants. I would say that soup wise, it will rival some of the best around.