Sapporo Miso Ramen
There are three dominant styles of Ramen in Japan. Sapporo, Tokyo and Kyushu. On the map of Japan, this corresponds to Northern, Middle and Southern regions of Japan. Because Ramen is such a recent food in Japan, there are many variations to the style of Ramen and each area develops its own style and it keeps evolving with new flavours being introduced.
There are four main types of soups in Ramen. The simplest is Shio (salt) which is a clear pork bone/chicken broth which is similar to our Bak Chor Mee soup, Shoyu, which is a soy sauce based clear soup, Tonkotsu, which is the familiar creamy pork bone soup which most Singaporeans associate Ramen with, and Miso which is the latest flavour to be developed.
It is believed that Shio was the oldest of the soups as it is most similar to the Chinese maotang (毛湯). However, the Japanese regard Shoyu to be the de-facto style of Ramen ie the Ramen that you would be served if you don't specify what soup you want. That is probably because the very first dedicated Ramen restaurant Japan was a stall called Rairaiken which was founded in the old district of Asakusa, Tokyo, in 1911 and Shoyu was the style of Ramen that they served.
The latest style of Ramen soup is the Miso Ramen for which the City of Sapporo in Hokkaido is famous for. This style of ramen was created in 1954, when a miso lover named Morihito Oomiya read a Reader's Digest article complaining that even though the Japanese invented miso, they did not use it for anything else but miso soup! He added miso paste to the then popular shoyu ramen and thus was born Miso Ramen. Today, there are more than 1000 Ramen-yas in Sapporo which is why Sapporo is known as the City of Ramen.
Nishiyama Seimen
When it comes to the soup, the creamy Tonkotsu soup is the one which I prefer. I think it is the one that sets Ramen apart from the local versions of our noodle soup and most similar to Laksa. The Miso based soup at Miharu takes a bit of getting used to. It is very salty as you would expect from a soup that is made from Miso Paste and Soy Sauce. To me, it lacks body but it is full of salty, umami flavour with the balance tilting a little too much towards saltiness.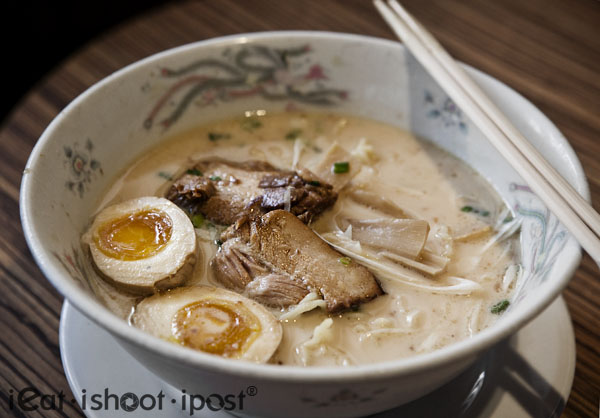 They do serve Tonkotsu Ramen even though it really isn't the specialty of Sapporo. Tonkotsu soup is the style that is popular in Kyushu which is the Southernmost part of Japan. But I guess they serve it here to cater to our local preference. The soup here is good but not really the best that I have eaten. The charshu was a real letdown. According to them, the soup base and the noodles are imported from Japan, but the pork is from Brazil. The Chashu was bland and dry which really is dissappointing.
One more thing you might notice about Sapporo style Ramen is the topping of buttered sweetcorn. This is very typical of Hokkaido style ramen and gives a bit of sweet contrast to the otherwise rather salty soup.
Ratings:
Noodles: 4.5/5
Tonkotsu Soup: 4/5
Miso Soup: 4/5
Charshu: 3/5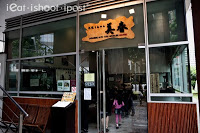 This project is sponsored by Standard Chartered. You can find out more about their excellent dining promotions at – www.standardchartered.com.sg.
The Bank's biggest dining promotion is back again till 16 June. This means you can enjoy 15% CashBack on any meal, in any restaurant, at anytime, anywhere is Singapore! So charge your meal to your Standard Chartered Credit/Debit card to enjoy 15% CashBack at all Ramen joints from now till 16 June and another 10% to 15% off (almost 30% off) at selected merchants!
The list of the Hungrygowhere Top 10 ramens can be found at the Hungrygowhere website. Voting is ongoing now for the 10 best ramens so you might want to cast your vote too!
I shall be keeping an eye on the the voting in order to make sure that I blog at least the top five.