You know why Singaporeans love Ramen so much? Well, its because we have been programmed to enjoy it since we were kids. Even though the first proper Ramen-ya only appeared in Singapore maybe ten years ago, the Japanese have prepared us for the subsequent invasion of Ramen into our society. It is a very subtle, but very effective strategy. They didn't even call it Ramen then, it was known simply and innocuously as "Maggie Mee".
Yes, we were all brainwashed by the 2 min Maggie Mee ads when we are kids. Instant noodles was, and still is one of the the easiest and tastiest way to prepare a hot meal. I know of people who will always include a few packs in their luggage when traveling overseas!
But instant noodles weren't invented by Maggie, they were invented by a very clever Japanese businessman known as Momofuku Ando. Ando-san was the inventor of Nissin's instant noodles which took Japan by storm in 1958 with the introduction of the very first instant noodles called "Chikin Ramen". Before the 50's Ramen was known in Japan as Shina Soba (Chinese Noodles) and it was also during the 50's that Ramen stalls started getting popular in Japan because of the need for cheap food after the war. It is arguable that the introduction of Chikin Ramen played a big role in the subsequent Ramen phenomenon which swept through Japan in the 80's. It is no coincidence then, that the yellow and wavy Ramen we pay $15 to eat nowadays reminds us so much of Maggie Mee!
When I asked where the best Ramen is in Singapore, I got many different answers. Most people consider Ramen to be one homogenous dish like Bak Chor Mee Soup. We would never compare Bak Chor Mee soup with Prawn Noodle Soup would we? But when it comes to Ramen, we tend to lump Ramen into the category of "Japanese Soup Noodles". And we would usually think of it as the Ramen with yellow wavy noodles and milky pork bone soup. I think this is the reason that there are so many varied opinions of Ramen. We might for instance not favour the Hakata style Ramen from Ippudo because its noodles are straight and firm but prefer the wavy, QQ ones from Miharu Ramen.
I realise that I still don't know much about Ramen and in the same spirit as when I started this blog, I want to go try the top Ramen in Singapore, learn all I can about Ramen and blog it so that I can say an Amen to Ramen.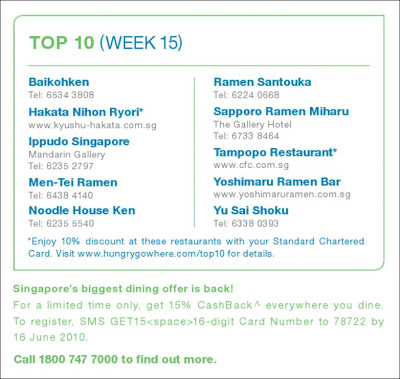 It just so happened that as I embarked on this journey that Standard Chartered has just published their Hungrygowhere top ten Ramen list! It is helpful that by using Standard Chartered Credit or Debit Cards to pay for the ramen, you can get 15% off at all Ramen joints and another 10% to 15% off (almost 30% off) at participating outlets! To register, SMS GET15[space]16-digit Card Number to 78722 by 16 June 2010.
I had recently conducted a survey on our facebook fan page and below is the list of top Ramen from our ieat facebook fans.
1. Ippudo
2. Noodle House Ken
3. Miharu
4. Ichiban Tei
5. Baikohken
6. Marutama
7. Tampopo
8. Santouka
9. Nantsuttei
What I am going to do is to come up with my own top ten based on both lists together with your nominations. I aim to blog the top 10 Ramens within the next few weeks, so get ready to do some serious slurrrppping! R…Amen?
If you feel that there are other Ramen that deserve to be in the top ten list, please do write in the comments! I plan to run another poll after the series to find the best of the best Ramen in Singapore.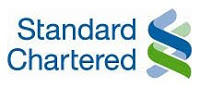 This project is sponsored by Standard Chartered.
You can find out more about their excellent
dining promotions at: www.standardchartered.com.sg