Wei Nan Wang Lor Mee: Inflation? What inflation?
Posted on: April 20, 2007
With iwatch_ueat and introducing our latest makankaki, gubak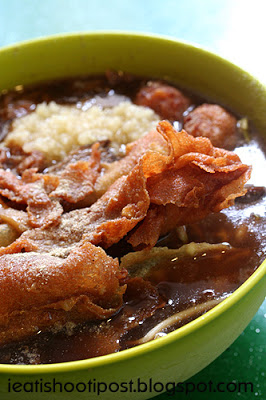 Once upon a time, there was a young couple who started selling Lor Mee in Bugis Street. Forty years later they have moved several times, but they are still happily married and selling the same stuff at almost the same price! And the couple lived happily ever after. Anyway, if you are really hungry and only have $2 in your pocket, head down to this stall and you can have a nice big bowl of Lor Mee with lots of ingredients for just $2. And the Lor Mee actually tastes quite good too. The sauce is not overly thick and has got a sourish tang to it. The crispy fried stuff soaked in the Lor was quite shiok. 4/5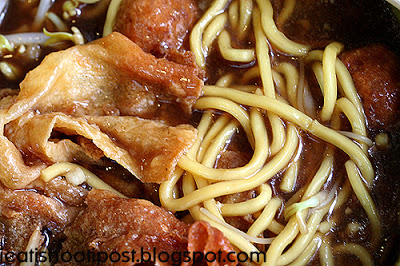 Conclusion
There's something really romantic about an old couple manning a store together. Reminds me of that song, "Love Me". You know, the one that goes "If you get there before I do, don't give up on me……….but between now and then, till I see you again, I'll be lov'in you…… Love Me" (Always thought I'd be in a Karaoke somewhere when I am 70 singing this song to my wifey… not that I can sing hor) They were lovely to talk to and very friendly. So you get value for money and service to boot. For $2, you really can't complain too much.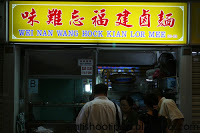 Recommended by Gubak
Wei Nan Wang Hokkien Lor Mee
Address:
Golden Shoe Carpark #03-03, Singapore
Opening hours:
9:30AM to 3:30PM