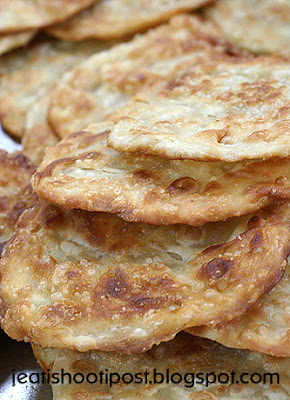 There are actually many variations of the ever popular Roti Prata in Singapore. One one end of the spectrum is the soft chewy type and on the other end, the super crispy type. All the rest fall in the middle of the spectrum somewhere. This prata would probably be very very close to the super crispy end of the spectrum.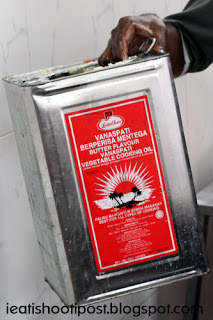 I remember a few years ago, the super crispy prata became very popular and there emerged many stalls around Singapore selling what is known as "Jalan Kayu" prata. Of course they were referring to the famous Thesevi's whose prata is quite different from the version they are selling.
This is a "no holds barred, eat at your own risk" prata which I will only recommend to the younger people with no history of coronary heart disease. Starting with the rich yellow dough which is evidence of the amount of margarine used, to the fact that they literally deep fry the prata in "Vanaspati Butter Flavour Vegetable Oil", you know this prata is really good for your palate but bad for your heart!
The prata itself is very crispy and when you bite into it, it just dissolves in your mouth. It was heavenly together with the curry they provide. 4.5/5 The butter flavoured veg oil does make it very tasty but I can't believe for the life of me that an artificially flavoured palm oil product can be good for you, even if it is vegetable oil. I don't think the manufacturers of this oil care very much about Trans Fats!
Conclusion
Very tasty but very sinful. The little devil on one shoulder is telling me to eat it while the little angel on the other side is cautioning me not to. In the end, I listened to my angel….. but not until I finished most of it.