San Lou $6 Fans of Aston's might wonder what the man himself actually eats. Well if you come to this Cze Char after 12mn, you might catch him tucking into a plate of San Lou. I actually ended up here because I reached Aston's just when he was about to close and he recommended this San Lou to me. Since then, I have been back three or four times to try other stuff that they have. Let me tell you why I come back. The food is reasonably good. Not die die must try, but they do have some pretty good stuff. The Lao Ban Niang is always very hospitable, parking is easy, they open till 4am everyday, its very comfortable Al Fresco dining, close to home AND for $1.50 per head you get free flow of hot crysanthemum tea. So that's why this is currently my most frequented supper place. Most of the fried noodles and hor funs here are pretty good. Most score around 4/5 including the San Lou. I don't know about you but I really have not tasted a 4.5/5 San Lou anywhere else, so maybe this is about as good as San Lou gets? San Lou is quite different from something like Beef Hor Fun. I mean a good Beef Hor Fun has that oooompph whereas a good San Lou only has that ahhhhhh. Do you know what I mean? MM Lee once said, Hong Kong and Bangkok has that buzz, but Singapore only has a hum. (paraphrased). I think that perhaps San Lou can only ever be good enough to have a hum but not a buzz. Or could it be that I have not had the ultimate San Lou yet?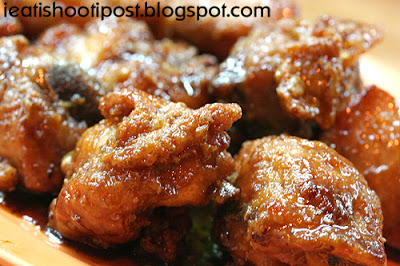 One dish that I would recommend if you really want that buzz is the Marmite Chicken. You either love it or hate it. For me, I love the salty, savoury, tingling taste of Marmite, so this one really hits your umami receptors with a rush! It is not only savoury but sweet as well and the chicken is freshly fried so it is nice and juicy. Ohhh yeah! 4.5/5 (Word of caution, Amagada would not even go near it! She does not like Marmite)
Conclusion
Like I said, it is the kind of place that has all the factors that suits me fine. Not too crowded, not too expensive, convenient and the food is not bad. So if you ever head down there after 10pm and see a guy chilling out with a teapot of crysanthenum tea, do come over to say hi ok?