This is another one of those food blogs to make Westerners cringe. (Not all, of course) As is widely known, we Chinese eat anything that has legs and have their backs facing heaven. (Where does that leave snakes and monkeys?) Not only that, we eat almost every part of the animal. That's cos in poverty stricken China, its not every day that you get to kill the prized pig. So don't waste all those lovely innards yah? Anyway, this blog is not about pigs, it is about fish. But what makes this fish soup special is that they serve fish skin as one of their specialties. Yes, I see you cringing. We both brother/sister, we both. Me, I'm no fish skin person. But as I say, if other people like it, I am willing to at least give it a try. I was brought up thinking that the skin of the fish is the part that makes it Chor (gives it its fishy odour). I actually grew up not liking fish much because of the fishy odour. So it was already an achievement for me to start eating fish, much less eating the most fishy part of the fish!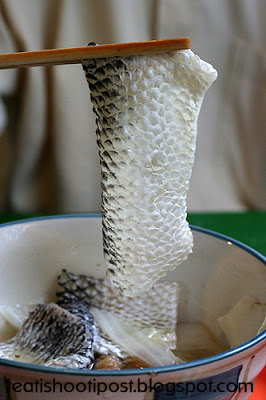 Fish skin or Snake skin? Truth be known , the skin actually tastes alright. It did not have that fishy odour that I was worried about. The texture was like soft pasta and was a bit slimy on the inside. Tastewise, I can't really describe. I guess it tasted like fish. The soup was good and Jason spikes his soup with a generous dash of Hua Tiao Chiu (Chinese Rice Wine) which gave it quite a kick. I arrived too late that day, so the fresh fish was sold out, but I was told by gubak that the fish is usually very fresh and the quantity generous. 4/5
Conclusion
I don't think I will specifically order the fish skin again, but the soup and the fried fish was pretty good and at $3 a bowl, I'd say its quite good value too.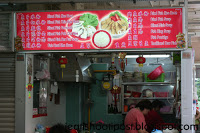 Recommended by Gubak