This Stall is Closed!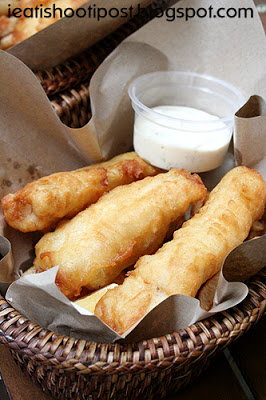 Atlantic Cod $16.50
The French have Foie Gras, the British have Fish n Chips. I always find it strange how two countries situated so close to each other can have such a difference in food culture. The British seem to lack imagination when it comes to food and Fish n Chips is just such an example of unimaginative food. But as they say, the simplest things in life are often the best and I admit that at times, I just crave to have a nice piping hot, crispy battered fish with a squeeze of lemon and tartare sauce. When I was living in Australia, there was all sorts of fish used for Fish n Chips. But here in Singapore, most places use Cream Dory (Sutchi). The Cream Dory is really the Vietnamese Catfish (Patin) and should not be confused with the John Dory which is a very different (and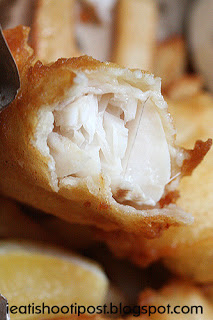 much more expensive and delicious) fish altogether. The Cream Dory is cheap and does not have a strong flavour so most local Fish n Chips stalls marinade it and fry either in batter or bread crumbs. It's cheap and good but if you want to try authentic Fish n Chips its got to be Fish from up in the North Atlantic, near the British Isles where Fish n Chips originated from. I have been looking for a nice Cod Fish n Chips for a while and heard about this restaurant which actually sells a variety of fish. This is one of the few places that you can get Atlantic Cod. Now "Cod" is quite a generic term applied to many different species of fish. Atlantic Cod can be considered THE Cod. It's the one that the English use for their Fish n Chips and its also the same fish used to make the dreaded Cod Liver Oil. Yukk. We sometimes confuse Atlantic Cod with Canadian Black Cod which is also known in Japan as Gindara. We sometimes call it Snow Fish (Pic Right). This should be rightly called the Sablefish which is now being farmed in the US and Canada in the arctic region. In contrast, the Atlantic Cod is now on the endangered species list. The Snow Fish has got a delicate, oily flesh (rich in omega 3 fatty acids –good for lowering cholesterol) which is quite different to the Atlantic Cod which has a dry and flaky texture.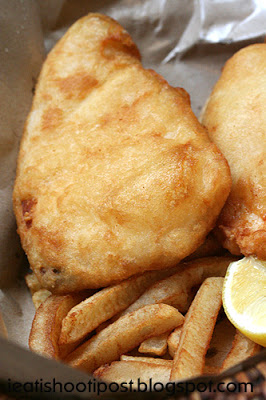 If you are used to the local version of Fish n Chips, you might find the Fish n Chips here a bit bland. Mr Morten, the Danish owner cum chef is determined to keep the Fish n Chips as authentic as possible. That means that the fish only get a dash of salt and pepper before being dipped into a light batter. That way you get to savour the real taste of the fish. 4.25/5
Conclusion
I was really pleased to be able to find Cod Fish n Chips! It was a great change from the usual Cream Dory. The fish here is very fresh as Mr Morten gets directly from a Singapore based Norwegian Fish trader. Prices are pretty reasonable as well. I remember that Harry Ramsden's used to sell Cod Fish for $26-$30! So, don't just restrict yourself to Cream Dory, get some Cod for a change!